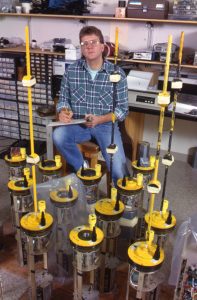 The Woods Hole Oceanographic Institution announces with great sorrow the death of retiree Bryan Scott Way on August 17 in Mashpee, Mass., after a valiant decade-long battle with cancer. He passed peacefully in his home surrounded by his family. He was 59 years old.
Bryan was born on October 18, 1961, in Melbourne, Florida to Eleanor and Warren.  Bryan quickly fell in love with the ocean. This would guide him for the rest of his life. He served in the Coast Guard and was eternally a sailor at heart. After his service, Bryan joined WHOI in 1998 as a research assistant in the Physical Oceanography Department.  During his tenure, Bryan was promoted several times and retired in 2005 as a senior engineering assistant II. Bryan was able to travel across the world working on marine electronics while employed at WHOI.
While his love of the sea was always present, his true passion was his family. He dedicated his life to his marriage, his children, and his grandchildren, who loved "Papa Bear" more than anyone else in the world. There is not a person who met Bryan who wasn't touched by his kindness and his absolutely selfless heart. He would truly do anything for the people he loved. It's the kind of mark we would all aspire to leave on this mortal world.
Bryan will be remembered by that altruism, along with his humor that could make everyone laugh until they cried, even during the darkest days. While cancer and failed back surgeries may have robbed him of his full health, he remained strong, gentle, and unwaveringly happy with the life he created. Through all his pain, the only thing you could ever see in Bryan was his devoted love and steadfast work ethic.
His memory will be cherished and kept alive by his adoring wife of 35 years, Doreen Way, who was his rock and inspiration during his courageous battle. She selflessly fought by his side as his advocate, caregiver, and love of his life. His legacy will live on in his children Bryan Way, Jr., and Brianna English; pretty-much-children Hannah Way and John English; and grandchildren Brooklyn, Jack, and Payton. He is survived by brother Ray Way and wife Gayla; brother Stuart Way and wife Elizabeth; sister Cathy Taylor; brother-in-law William Satkevich and wife Katie; and mother-in-law Roberta Martin. In addition, he will never be forgotten by his countless nieces and nephews.
The family wishes to thank all of those who helped Bryan fight the good fight through all those years – there are too many to name. Bryan will be laid to rest at the Massachusetts National Cemetery. Services will be private, but you are invited to consider a tribute donation to the Thymic Carcinoma Center of Oregon, 621 SW Morrison Street, Suite 900, Portland, OR 97205 or online at www.thymiccarcinomacenter.com/take-action.
Information for this obituary is from the Chapman Funeral Home website