Announcements
Funding Opportunities
FFOs for the Prevention, Control and Mitigation of Harmful Algal Blooms (PCMHAB) program and Harmful Algal Bloom (HAB) Socioeconomics Research program
The NCCOS Competitive Research Program (CRP) has posted Fiscal Year 2020 Federal Funding Opportunities (FFOs) for the Prevention, Control and Mitigation of Harmful Algal Blooms (PCMHAB) program and Harmful Algal Bloom (HAB) Socioeconomics Research program. NCCOS CRP will be hosting an overview and Q&A webinar on October 29 from 2-3pm EDT. Registration is required. The deadline for Letters of Intent for both programs is November 11, 2019, and for full applications is January 10, 2020.
The HAB Socioeconomic program funds socioeconomic research to assess impacts of the social and economic costs of HAB events as well as the costs and benefits of prevention, control, and mitigation efforts.
The PCMHAB Program supports the development, improvement and implementation of new and innovative prevention, control and mitigation technologies and strategies to help address the ever growing HABs issue in every state, in addition to supporting the socioeconomic research that assesses the impacts of HAB events.
These programs expect to fund up 6 projects at the level of $200,000 to $400,000 per year per proposal, for up to three years in duration. In addition, 1-2 large projects up to 4 years in duration are expected to be funded under PCMHAB at approximately $600,000 per year per proposal. The focus of PCMHAB is to develop, demonstrate, and make widely available new socially and environmentally acceptable strategies and methods for preventing, controlling, and mitigating HABs and their impacts.
Conferences

The 10th US HAB Symposium will be held November 3-7, 2019 at Perdido Beach Resort in Orange Beach, AL
The 10th US Symposium on Harmful Algae will take place from 3-7 November 2019 at the Perdido Beach Resort in Orange Beach, Alabama. This Symposium will focus on emerging HABs in the US, crossing the land-sea interface in temperate and subtropical zones in the face of climate change and shifting land use. Workshops will be held on November 3, including an Early Career Workshop for young investigators. Additional information regarding workshops will be added to the website soon.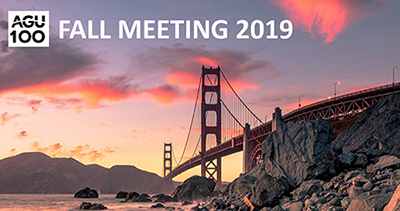 AGU Fall Meeting 2019
The American Geophysical Union (AGU) will have its centennial meeting "Advancing Earth and Space Science" from December 9-13, 2019 in San Francisco, CA. More than 25,000 Earth and space scientists from more than 100 countries will meet at this convention to discuss rapid developments in science, new approaches to observing the Earth, the introduction of new data streams, and more. The meeting will offer a comprehensive scientific program, including keynotes and breakout sessions on communications, policy, and educational outreach.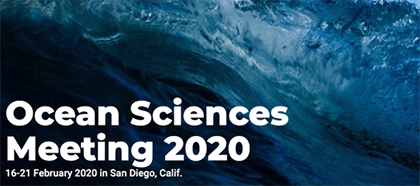 Ocean Sciences Meeting 2020
TThe biennial Ocean Sciences Meeting 2020 will be held from February 16-21, 2020 in San Diego, CA. This flagship conference for ocean sciences is co-sponsored by the American Geophysical Union (AGU), the Association for the Sciences of Limnology and Oceanography (ASLO), and The Oceanography Society (TOS). In anticipation of the UN Decade of Ocean Science for Sustainable development (beginning in 2021), over 5000+ scientists and professionals from all ocean disciplines will convene at this international conference. The conference will focus on environmental challenges, mitigating the effects of climate change, and working towards a resilient planet through the collaboration of scientists, government organizations, and communities.

The 11th International Conference on Toxic Cyanobacteria
The 11th International Conference on Toxic Cyanobacteria will be held in Kraków, Poland, from May 5-10, 2019.
Websites and Resources

HAN 61 is now online
Harmful Algae News, October 2018

CDC launches reporting system for harmful algal blooms and associated human and animal illnesses
The CDC recently launched a reporting system for harmful algal blooms, as well as a new website with important information for both health officials and the public. The One Health Harmful Algal Bloom System (OHHABS) collects data on harmful algal blooms and associated human and animal illness. This voluntary reporting system is accessible to state and territorial public health partners. OHHABS is an example of One Health surveillance. One Health is an approach that recognizes that human, animal, and environmental health are interconnected, and that human health, animal health, and environmental health communities can more effectively address many linked health challenges by working together. The new Harmful Algal Bloom website provides information about harmful algal blooms and associated illnesses for the general public, including ways that people can protect themselves, their families and their pets.
Last updated: October 15, 2019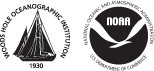 © Copyright WHOI 2007. All rights reserved.
About Us
|
Contact Us
|
Related Links
|
Site Map

The Harmful Algae Page is supported by a National Oceanic and Atmospheric Administration Center for Sponsored Coastal Ocean Research Coastal Ocean Program (NOAA/CSCOR/COP) grant to the National Office for Harmful Algal Blooms at Woods Hole Oceanographic Institution,
Dr. Don Anderson
, Director.