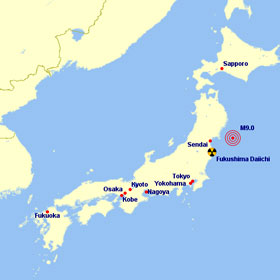 Related Links

Following the Tōhoku earthquake on March 11, 2011, a series of waves as high as 15 meters inundated the Dai-ichi nuclear power plants (NPPs) causing loss of power, overheating, and subsequent atmospheric releases of radionuclide contaminants. These atmospheric releases peaked around March 15, but releases of highly contaminated waters directly to the sea continued, peaking on April 6.

Several Japanese agencies, research groups and international scientists have been sampling and conducting studies of the ocean off northeastern Japan to understand health safety issues and consequences for ocean ecosystems and seafood. Even with these past and ongoing studies, many basic questions, and public concerns remain:

How long will the ocean be impacted?
Are all fish safe to eat?
What are risks to public health?
Although science cannot answer all of these questions with full certainty, it can constrain the known and unknown factors in order to make more informed choices and ease public anxieties. To address these, we are organizing a two-day science symposium at the University of Tokyo in the fall of 2012 and two, one-day colloquia in Tokyo and Woods Hole to present to the public the latest knowledge about the impacts of radionuclides released from Fukushima.



Science SymposiumUniversity of Tokyo, Nov. 12 to 13, 2012


The goal of the symposium is to present a scientific review of what we know and don't know about contaminants released at Fukushima, their fate in the ocean, and their potential to impact marine ecosystems and human health. The symposium will include wide-ranging discussion among invited participants of risk assessments, economic impacts, policy implications, and importantly, how this information is communicated to the public.
Read more
View presentations (ppt, pdf, mov)
View posters




Public ColloquiaUniversity of Tokyo, Nov. 14, 2012, Ito International Research CenterWoods Hole, Mass., 2013 (date to be determined)


Following the symposium in Tokyo, there will be two open, public colloquia held in Japan and the U.S., at which a panel of experts (formed from the symposium speakers and conference committee) will present their findings and, following the format of WHOI's Morss Colloquium, engage in a moderated question-and-answer period with the media and audience members.
View presentations (ppt, pdf, mov)



Funding


Funding to date has been provided by the Japan Foundation Center for Global Partnership; Woods Hole Oceanographic Institution (Morss Colloquium support); the Atmosphere and Ocean Research Institute, University of Tokyo; and the Gordon and Betty Moore Foundation.