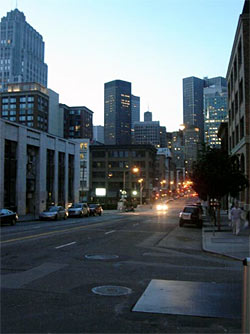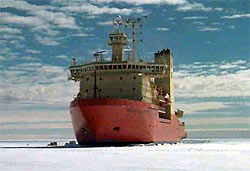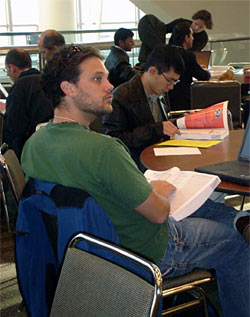 Related Files

AGU week is starting. Monday morning, throngs of geophysicists will pile into the Moscone Convention Center on 4th and Howard Streets and begin recounting their latest research in highly condensed, 15-minute presentations.
On Sunday evening I went to the registration/icebreaker social, a particularly appropriate event for AGU considering how important ice breakers (for instance, the Nathaniel B. Palmer ) are to the work that many of its scientists do. I lined up at one of a dozen or more alphabetized kiosks and claimed my two most important possessions of the coming week: my meeting name tag and AGU program guide.
The name tags let registrants into talks and poster sessions, but more importantly they mark the most absent-minded attendants: at the end of the day, someone is invariably found ordering dinner or walking the street while still wearing his nametag. Today it was me, ordering a tuna melt.
The AGU program guide makes tangible the sheer bulk of the oncoming 11,000 presentations. I've only ever lived in one or two towns where the phone book was larger than the AGU program. This year, it has 541 pages. And that's just to get through presentation titles and author last names. There's no filler: no abstracts, no ads, not even speakers' first names or affiliations. The decision to print the index in 6-point font seems a particularly cruel twist.
So here's how to read it: Remember that the program was designed by scientists. Although the information has been condensed, they've kept it meaningful and coherent, like laser light. Each presentation is identified by a string of letters and numbers, such as PP11C-06. The first two letters are an abbreviation of the subject area (from A for Atmospheric Sciences through V for Volcanology).
In this case, PP means Paleoceanography and Paleoclimatology. The next two numbers tell you the day (1 is Monday, 5 is Friday) and the time of day (1 is early morning, 2 is late morning, and so on). Within popular subjects, talks are given at the same time in different rooms, so the next letter tells you which room to look for. The last two numbers tell you in which 15-minute block the talk will be given. Posters use the same code system, except that the last number is four digits long. It tells you in which region of the vast, football-field-sized exhibit hall you can find a poster.
It's easy once you get the hang of it. PP11C-06 corresponds to the sixth talk in one of three concurrent sessions about paleoclimatology given on Monday morning: "Millennial Scale Variability in Tropical South American Vegetation During the Last Glaciation," presented by Konrad Hughen of the WHOI Marine Chemistry and Geochemistry department. Konrad has previously published work on how climate change spurred the collapse of the Mayan civilization in the 9th century A.D.
And that's where I'll be at 9:15. Now I just have to figure out where I'm going at 9:30.