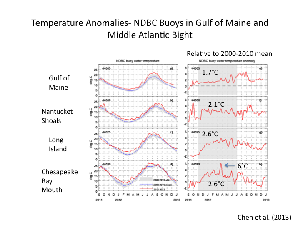 Related Links
Description
Ocean warming is changing the range and life-history timing of economically valuable marine fisheries species. Recent years show dramatic interannual variability in temperature over the continental shelf and slope south of New England (Figure 4). In late 2011 extending through the first half of 2012, this area experienced an unprecedented warming, raising the depth-averaged temperature over the continental shelf by over 2oC (Chen et al., 2014), which led to a number of challenges presented to the commercial fisheries and fisheries management system in the broader region (Mills et al. 2013). As a result, squid appeared inshore much earlier than usual in the summer of 2012 and a variety of sub-tropical species such as grouper and cobia were caught. The warmer temperatures earlier in the season allowed large numbers of lobsters to move inshore, and the extended season led to atypically large lobster landings which greatly reduced market prices (Mills et al. 2013). The timing of phytoplankton blooms was also impacted by this warm-water event, with blooms arriving substantially earlier than usual. The area south of New England is particularly sensitive to both short-term and long-term fluctuations as it is the northern limit for many sub-tropical species and the southern limit for many sub-polar species. Events like the warming in 2012 provide a glimpse into what the future might hold under climate change scenarios.
A firm understanding of the oceanographic conditions over the continental shelf is necessary for the development of ecosystem-based approaches to fisheries management. Yet at the same time that the region experienced an unprecedented warming event, severe budget cutbacks resulted in a serious reduction in hydrographic sampling by the National Marine Fisheries Service in the northeast. For example the ECOMON (Ecosystem Monitoring) program, which has been conducting baseline hydrographic and plankton measurements for a number of years, has had its ship-time reduced by more than 50 per cent. Concurrently, National Data Buoy Center buoys in the region have been frequently out of commission for periods of as long as a year, and this lack of monitoring capabilities severely affects both long-term and short-term understanding of oceanographic shifts in the region and their effects on the shelf and slope ecosystem.
The objective for this theme is to expand ocean climate measurements along the continental shelf and slope off southern New England through an innovative partnership with the commercial fishing fleet. The resulting oceanographic data will be relevant to addressing basic ocean research questions, identifying climate extremes and climate change impacts on key living marine resources, and incorporating ocean climate data into fishery management plans. Equally important, by engaging commercial fisherman directly in the collection and analysis of the data, we will help empower the fishing community to take a more active role in long-term stewardship. Specific tasks and products include:
coastal shelf oceanographic monitoring network established by providing field instruments and training to the commercial fishing fleet;
close communication with fishermen on the impacts of these physical changes through semi-annual meetings between scientists and fishermen and ongoing communications via the Commercial Fisheries Research Foundation;
broad dissemination of data collected to the fishing community and general public using web databases.
Partners
Commercial Fisheries Research Foundation
News and Events
June 2015: PI Glen Gawarkiewicz with summer student fellow Jacob Forsyth publishes a study in the Journal of Geophysical Research describing accelerated warming of the continental shelf off the northeast coast.
October, 2014- CFRF interns visit WHOI for CTD training.
September, 2014 - PI Glen Gawarkiewicz and Frank Bahr give CTD demo on dock in Newport RI.