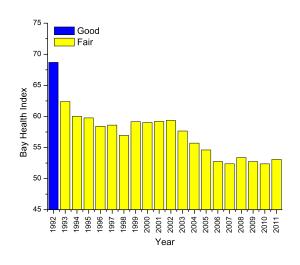 Related Files

Description
Ocean warming and altered freshwater inputs can accentuate the extent of water quality degradation from well-known pollution sources such as fertilizer runoff and sewage release (Duarte et al., 2009; Rabalais et al., 2009; Howarth et al., 2011). Excess nutrient inputs drive large algal blooms that can result in beach and shellfish area closures and fish kills, limiting recreational opportunities and tourism as well as threatening coastal commercial, recreational, and aquaculture fisheries. The collapse of large algal blooms and subsequent consumption by bacteria along the seafloor act to lower seawater dissolved oxygen and creates so-called coastal low-oxygen or hypoxic "dead-zones" (Howarth et al. 2011). Algal blooms related to degraded water quality also reduce light availability, which often leads to losses in submerged aquatic vegetation (Short et al. 1995) that is an important nursery habitat for many finfish and shellfish species.
Current monitoring of Buzzards Bay by the Buzzards Bay Coalition reveals that many of the coastal embayments along the bay exhibit the telltale signs of degraded water quality despite some nutrient management efforts: eelgrass coverage has declined more than 50% since the 1980s (BBNEP), water column nutrient and pigment concentrations have been increasing, algal blooms are becoming more abundant, and recently, dead-zones have been observed in the deeper areas of Buzzards Bay. These problems are attributed to increased nitrogen pollution through time, which can be summarized by the Bay Health Index, a score from 0 – 100 given to the Bay based on nutrient and algal pigment concentrations. The decline in water quality has left Buzzards Bay functioning at less than half its ecological value (Buzzards Bay Coalition, 2011), highlighting the need to identify and implement additional strategies to manage nutrient pollution.
Ocean acidification is an additional threat to coastal water quality, a topic that has just recently started receiving serious attention from the scientific and marine policy communities (Feely et al., 2009; Doney et al., 2009). The addition of carbon dioxide to seawater causes direct changes in seawater acid-base and inorganic carbon chemistry, the collective process often termed ocean acidification. Carbon dioxide acts as a weak acid when added to seawater leading to the release of hydrogen ions, increase in seawater acidity, and lower pH. Most of the extra hydrogen ions react with carbonate ions and lower their ambient concentrations, which is important because reduced seawater carbonate ion concentrations decrease the saturation levels of calcium carbonate, a hard mineral used by many marine microbes, plants and animals to form shells and skeletons.
Coastal acidification is driven both from carbon dioxide released into the atmosphere by fossil-fuel burning and by local pollution sources including excess nutrient inputs that drive algal blooms, the same processes linked to low-oxygen hypoxic zones. Acidification is particularly damaging to organisms that secrete calcium carbonate shells, such as oysters, hard clams, and bay scallops (Ries et al. 2009). Increasing acidity makes it less energetically favorable for these organisms to secrete their shells, which results in higher larval mortality, reduced growth, and increased predation (Kroeker et al. 2010, Gazeau et al. 2013, Kroeker et al. 2013). Acidification is already damaging shellfish aquaculture along the U.S. Northwest coastline resulting in large social and economic losses (Barton et al. 2012; Washington State Blue Ribbon Panel, 2011), and there is good evidence that increasing acidification may cause similar problems in the Northeast (Ries et al. 2009, Talmage and Gobler 2011). While nutrient eutrophication, low-oxygen zones, and acidification go hand in hand, the impact of these multiple stressors on coastal ecosystems is only poorly understood. Additionally, increases in freshwater inputs can further reduce carbonate saturation through decreases in salinity, further exacerbating the ocean acidification problem. Although there is rich historical data on nutrient pollution in Buzzards Bay, there has been little monitoring to date on the acidification. It is currently unknown as to the degree that Buzzards Bay is experiencing acidification and as Buzzards Bay is home to commercially important shellfish species, it is critically important to quantify ocean acidification in this region.
The objective for this theme is to better understand the impacts of multiple stressors such as warming and ocean acidification on coastal water quality and, using these results, to develop and test alternative management strategies to improve degraded coastal waters. A critical component will be science communication and outreach to provide the general public as well as local municipalities with the appropriate knowledge to implement these suggested strategies. Specific tasks and products include:
detailed analysis of historical water quality data to identify impacts of ocean warming;
expanded seasonal coverage for monitoring network to characterize growing water-quality degradation;
incorporation of seawater inorganic carbon measurements at a subset of the most vulnerable sites to assess ocean acidification;
continuous monitoring of physical variables such as temperature and salinity to capture the high-resolution variability in the physical controls of eutrophication;
municipal fact-sheets and public seminar series to increase the awareness of and solutions to water quality issues.
News and Events
Jan 2017: Check out our analysis of nitrogen loads, water quality, and climate change that was just published in Frontiers in Marine Science!
Jan 2016: Our manuscript describing coastal water quality, nutrient pollution, and climate change around Buzzards Bay has been officially published in Biogeosciences
Dec 2015: The Falmouth Enterprise highlights new grant funding to the Buzzards Bay Coalition by the EPA that leverages our expanded water quality sampling! Congrats to the Coalition!
August 2015: The first synthesis paper on coastal water quality, nutrient pollution, and climate change around Buzzards Bay is published as discussion paper in Biogeosciences.
June 2015: Water quality sampling with the Buzzards Bay Coalition Baywatchers program begins! Research Associate Jennie Rheuban and Research Assitant Shanna Williamson participate in water quality sampling for nutrients and carbonate system parameters.
June 2015: PI Scott Doney is member of Curriculum Committee for Association of Climate Change Officers (ACCO) Training Bootcamp, Climate-103: The Basics of Sea Level Rise and Impacts on Coastal Assets & Infrastructure. This bootcamp was presented initially at ACCO Climate Strategies Forum, Washington, DC.
April 2015: PI Scott Doney speaks about ocean acidification at the Northeast Coastal Acidification Network (NE-CAN) stakeholder workshop in Barnstable, MA.
March 2015: Research Specialist Hauke Kite-Powell featured in Boston Globe article Rising acid levels in oceans imperil region's shellfish.
February 2015: Research Specialist Hauke Kite-Powell from WHOI's Marine Policy Center gives testimony on the risk of ocean acidification in the Northeast at the National Caucus of Environmental Legislators (NCEL) event at the State House, organized by the office of Rep. Tim Madden. Several NCEL staff were in attendance, and ~two dozen legislators and staffers.
February 2015: Partner Rachel Jakuba from the Buzzards Bay Coalition gives presentation to the Woods Hole Science and Technology Education Partnership about citizen science monitoring of Buzzards Bay.
October, 2014: Research Assistant Shanna Williamson wins best poster prize in her session at the NOAA EPP conference at the University of Maryland Eastern Shore!
October, 2014: WHOI sponsors the Woods Hole Research Center's event: Ocean Acidification and Southern New England: A Conference
Partners