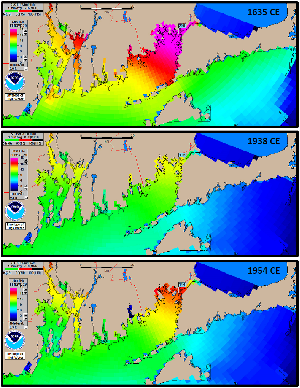 Related Files

Description
The influence of climate change can be seen in many facets of coastal environments relevant to our southern New England study area and research themes. Modeling and observational studies suggest a link between human-induced warming of sea surface temperatures and intense tropical cyclones (Emanuel, 2005; Knutson et al., 2010). Downscaling approaches indicate that climate warming may cause both more frequent and intense hurricanes along the U.S. east coast over the coming decades (Emanuel, 2013). Hurricanes have caused a marked increase in damage and loss of human life over the last century, largely because coastal population and wealth have increased (Pielke et al., 2008). The recent impacts of Hurricane Sandy, a minimal category 1 storm on the Saffir-Simpson scale (sustained winds of ~80 mph), in New York and New Jersey exemplify the vulnerability of developed coastlines to tropical cyclone strikes. Damage estimates from Hurricane Sandy exceed 71 billion USD. Alarmingly, new sedimentary proxy records indicate historically unprecedented levels of intense hurricane activity impacted the U.S. eastern seaboard and northeastern Gulf Coast over the last millennium driven by warm sea surface temperature anomalies in the Atlantic (van Hengstum et al., 2013). Given the recent increase in coastal populations and infrastructure, if similar levels of intense hurricane activity were to return, the results would be truly catastrophic.
The impacts of future storms will be exacerbated by continued sea-level rise that add to the coastal inundation caused by storm surge events. Current rates of sea-level rise in southern New England are more than three times the rate experienced over the preceding four millennia (Donnelly and Webb, 2004). Future projections call for sea-level rise rates to continue to increase as the ocean warms and glaciers and ice sheets melt in the coming century, with rates of sea-level rise potentially close to 10 mm yr-1 by 2100 (Stocker et al., 2013). Because of climate change driven shifts in the Gulf Stream, the U.S. Northeast may experience rates higher than the global average. Coastal planners and resource managers at local, regional, state, and federal levels need to plan and implement adaptation measures to protect their economic, social, and environmental security (e.g. Nicholls, et al., 2007).
The objective for this theme is to increase public awareness and decision maker sensitivity to the risks posed by sea-level rise and adverse storm impacts. Our intent is to integrate prehistoric and historical storm reconstructions with sea-level rise projections to enhance understanding and informed decision making by providing long-term historical and prehistorical context for coastal inundation risk. Specific tasks and products include:
web-based historic hurricane inundation tool;
assessment of wetland and artificial reef flood protection;
online tutorial on hurricane risk and sea-level rise;
freely available educational tools such as lesson plans and community activities.
Partners
News and Events
February 2015: PI Jeff Donnelly publishes study on historical hurricane activity in the AGU journal Earth's Future
October 24, 2014: PI Jeff Donnelly gave a presentation open to the general public at the Snow Library in Orleans entitled "A Perfect Storm: The Collision of Tropical Cyclones, Climate Change and Coastal Population Growth". Approximately 100 people attended.
October 23, 2014: PI Jeff Donnelly gave a talk at Massport about tropical cyclone risks and climate change which was attended by about 35 senior managers.