People Directory : Don Peters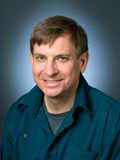 Don Peters
Senior Engineer
Applied Ocean Physics & Engineering
Office Phone: +1 508 289 3377
Fax: +1 508 457 2195
WHOI Mailing Address:
Woods Hole Oceanographic Institution
266 Woods Hole Rd.
MS# 17
Woods Hole, MA 02543-1050
Education
B.S. Pratt Institute, 1988, Civil Engineering
M.S. Massachusetts Institute of Technology, 1992, Ocean Engineering
Research Interests
Design of mooring equipment and components: surface buoys, electromechanical terminations, and seafloor instrument packages; development of lightweight mooring systems and components; design of oceanographic instrumentation and instrument delivery systems, including ROV systems and subsystems; applied knowledge of wide range of materials for long life and corrosion control.
[back]