Profile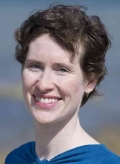 Sarah Cooley
Research Associate III
Marine Chemistry & Geochemistry
Ocean Acidification Scientist, Ocean Carbon and Biogeochemistry Program
Office Phone: +1 508 289 3859
WHOI Mailing Address:
Woods Hole Oceanographic Institution
266 Woods Hole Rd.
MS# 25
Woods Hole, MA 02543-1050
Education
Ph.D., 2006, University of Georgia School of Marine Programs
B.S., 1999, Haverford College
Research Interests
Computational and observational inorganic carbon chemistry
Socioeconomic impacts of changing ocean biogeochemistry
Applications of numerical models
Scientific communication
Carbon policy
Research Statement
My research uses oceanographic and social science data to forecast the total consequences of human-driven changes in the marine inorganic carbon cycle. Anthropogenic changes like ocean acidification will affect not only the marine environment but also the benefits, like economic revenue and protein supply, that marine ecosystems provide to human communities. Recently, I have assessed how ocean acidification could alter protein supply and economic revenue using ocean models and fisheries datasets. This research increasingly incorporates ecology, sociology, economics, resource management, risk assessment, and decision making under uncertainty.
Affiliations
AGU
ASLO
AAAS
Awards
Kavli Fellow 2010
Nominee, Best Article Prize for 5th Anniversary of Environmental Research Letters (Cooley and Doney 2009, ERL)
[back]