WHOI's Amy Bower Wins Unsung Heroine Award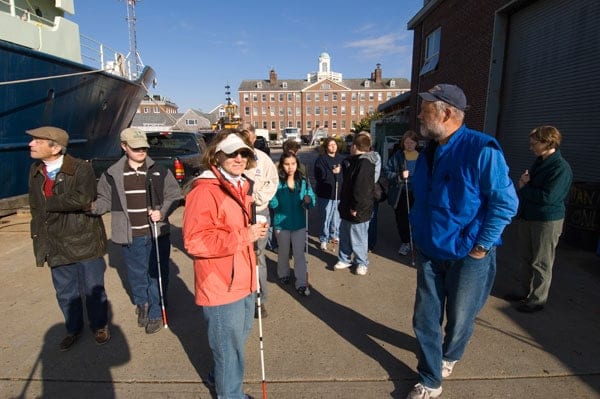 Amy Bower (foreground) leads a group of students from Perkins School for the Blind. (Photo by Tom Kleindinst, Woods Hole Oceanographic Institution)
---
May 18, 2010
Inspiration can come from unexpected sources. For Amy Bower, a physical oceanographer at the Woods Hole Oceanographic Institution (WHOI), it was triggered by a mundane-sounding requirement entitled "Criterion 2," part of a standard research grant proposal to the National Science Foundation in 2004.
Criterion 2 instructs the applying grantee to describe their project's "broader impact on society." Bower mulled that over with former WHOI Acting Director James R. Luyten, who simply told her: "Search around for something you might be good at."
"Then it occurred to me," she recalls. "Why not reach out to visually impaired students?" Then Bower, who is visually impaired, contacted a librarian friend at Perkins School for the Blind in Watertown, Ma., who put her in touch with Perkins science teacher Kate Fraser and school President Steven M. Rothstein.
That led to Bower's Criterion 2 proposal to involve Perkins students in her role as an oceanographic researcher. "I proposed to make myself available to them as a role model, to take a [Perkins] teacher to sea and to develop an expedition website" accessible to the students. Peer reviewers were impressed with her proposal.
Six years—and scores of enlightened students—later, Bower is among those chosen as a 2010 "Unsung Heroine of Massachusetts" by the Massachusetts Commission on the Status of Women (MCSW). She will receive the award at a ceremony from 1-4 p.m. on Wednesday (May 19) at the State House in Boston.
"I'm pleased and honored," she says. "One reason is because this will raise the visibility of Perkins and the students there at the state level. Their potential and possibilities will be noticed."
A typical Perkins visit starts with a visit to Bower's laboratory; it might also involve a short educational cruise, during which the students dredge the water's bottom and collect benthic species; listen to spoken water temperature readings from probes, as well as sounds from hydrophones lowered over the side.
They also visit the WHOI Exhibit Center to learn about the Institution's ocean science research and the vessels and tools developed by WHOI engineers and scientists for use in that research.  In addition, the students may visit the Marine Biological Laboratory, where they can have contact with live animals.
During their visit and afterwards, they can access OceanInsight, a Website Bower created especially for Perkins students and other visually impaired students. The site features "audio postcards"—audio files of shipboard sounds. In 2007, the site enabled the students to follow the activities of Bower and science teacher Fraser aboard the Knorr's expedition to the Labrador Sea. Bower also telephoned the Perkins students frequently to describe her research.
In addition, Bower makes frequent visits to Perkins to talk with students and judge student science fair projects.
"We're very excited about Amy's award," said Fraser. "She's certainly one of my heroes. I'm not a physical scientist—I focus on biology—and I've learned a lot from her about applying physics to the ocean. Working with her has been rejuvenating for me."
The Perkins students, she says, have benefitted greatly from Bower's teachings. "It was clear from the beginning that Amy was a natural with our students," Fraser says. "She has made a huge difference for our science programs at Perkins."
For her part, Bower says that Fraser "is a wonderful teacher. She deserves an award also."
Before the Bower-Perkins partnership, Bower says, "these students had no such opportunity" to immerse themselves in science at this level, Bower said. "It's very satisfying."
Bower will be one of 100 women to receive the 2010 Unsung Heroine award "for their outstanding contributions to their organizations and communities," according to the MCSW.
In his nomination letter to the commission, Perkins President Rothstein wrote, "Amy Bower's perseverance and accomplishments reflect an unflagging devotion to the ideal that women are as deserving of all the same opportunities as men, and career possibilities await all young people, regardless of visual impairments. She continues to be an inspiration and a pioneer to her peers and young people alike. It is an honor to nominate Amy Bower as an MCSW Unsung Heroine."
The Woods Hole Oceanographic Institution is a private, independent organization in Falmouth, Mass., dedicated to marine research, engineering, and higher education. Established in 1930 on a recommendation from the National Academy of Sciences, its primary mission is to understand the oceans and their interaction with the Earth as a whole, and to communicate a basic understanding of the oceans' role in the changing global environment.