WHOI Scientist Selected As Leopold Leadership Fellow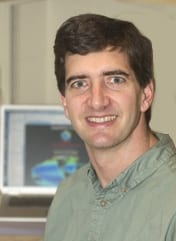 Scott Doney (Tom Kleindinst)
---
March 19, 2004
Woods Hole Oceanographic Institution (WHOI) Scientist Scott Doney has been chosen one of 20 academic environmental scientists from throughout the U.S. and Guam for a 2004 Leopold Leadership Fellow.
The Aldo Leopold Leadership Program provides scientists with intensive communications and leadership training to enhance their ability to communicate effectively with non-scientific audiences, especially policy makers, the media, business leaders and the public. Twenty Fellows are selected annually through a competitive application process. They spend two weeks in intensive training, one week in Connecticut in June and one week in Washington, DC in September. The 2004 Fellows represent a broad range of environmental science disciplines, including environmental engineering, wildlife veterinary medicine, tropical forestry, marine ecology and environmental economics.
Scott Doney is an Associate Scientist in the WHOI Department of Marine Chemistry and Geochemistry. He received a bachelor's degree in chemistry from Revelle College at the University of California San Diego in 1986 and a Ph.D. in chemical oceanography in 1991 from the MIT/WHOI Joint Graduate Program. He returned to WHOI in 2002 following eleven years in the Advanced Study Program and Climate and Global Dynamics Division at the National Center for Atmospheric Research (NCAR) in Boulder, CO.
Scott is a Fellow of the Institution's Ocean and Climate Change Institute and serves as co-chair of the Biogeochemistry Working Group of the Community Climate System Model. He is chair and editor of Ocean Carbon and Climate Change: An Implementation Strategy for U.S. Ocean Carbon Research, released earlier this month. His research interests include the global carbon cycle, marine biogeochemistry and ecosystem dynamics, large-scale ocean circulation and tracers, and air-sea gas exchange.
Doney says he applied for the fellowship because he has found it difficult to communicate to non-scientific audiences what research was underway in the ocean carbon cycle and why it was important. "I realized that policymakers, reporters and the general public come at these issues from a different angle, and I want to learn to be more effective in explaining what I am doing as well as what my colleagues are doing in terms of the bigger picture."
The Aldo Leopold Leadership Program was launched in 1998 with the goal of improving the flow of accurate, clear scientific information to policy makers, the media and the public by training outstanding academic environmental scientists to be better communicators of complex scientific information. The program is named for Aldo Leopold, a renowned environmental scientist who communicated his scientific knowledge simply and eloquently. His writings, including his 1949 book, A Sand County Almanac, are credited with infusing the emerging conservation movement with good science and a stewardship ethic.
WHOI is a private, independent marine research and engineering, and higher education organization located in Falmouth, MA. Its primary mission is to understand the oceans and their interaction with the Earth as a whole, and to communicate a basic understanding of the ocean's role in the changing global environment. Established in 1930 on a recommendation from the National Academy of Sciences, the Institution is organized into five departments, interdisciplinary institutes and a marine policy center, and conducts a joint graduate education program with the Massachusetts Institute of Technology.