Woods Hole Oceanographic Institution honored with IEEE Milestone for Technical Innovation and Excellence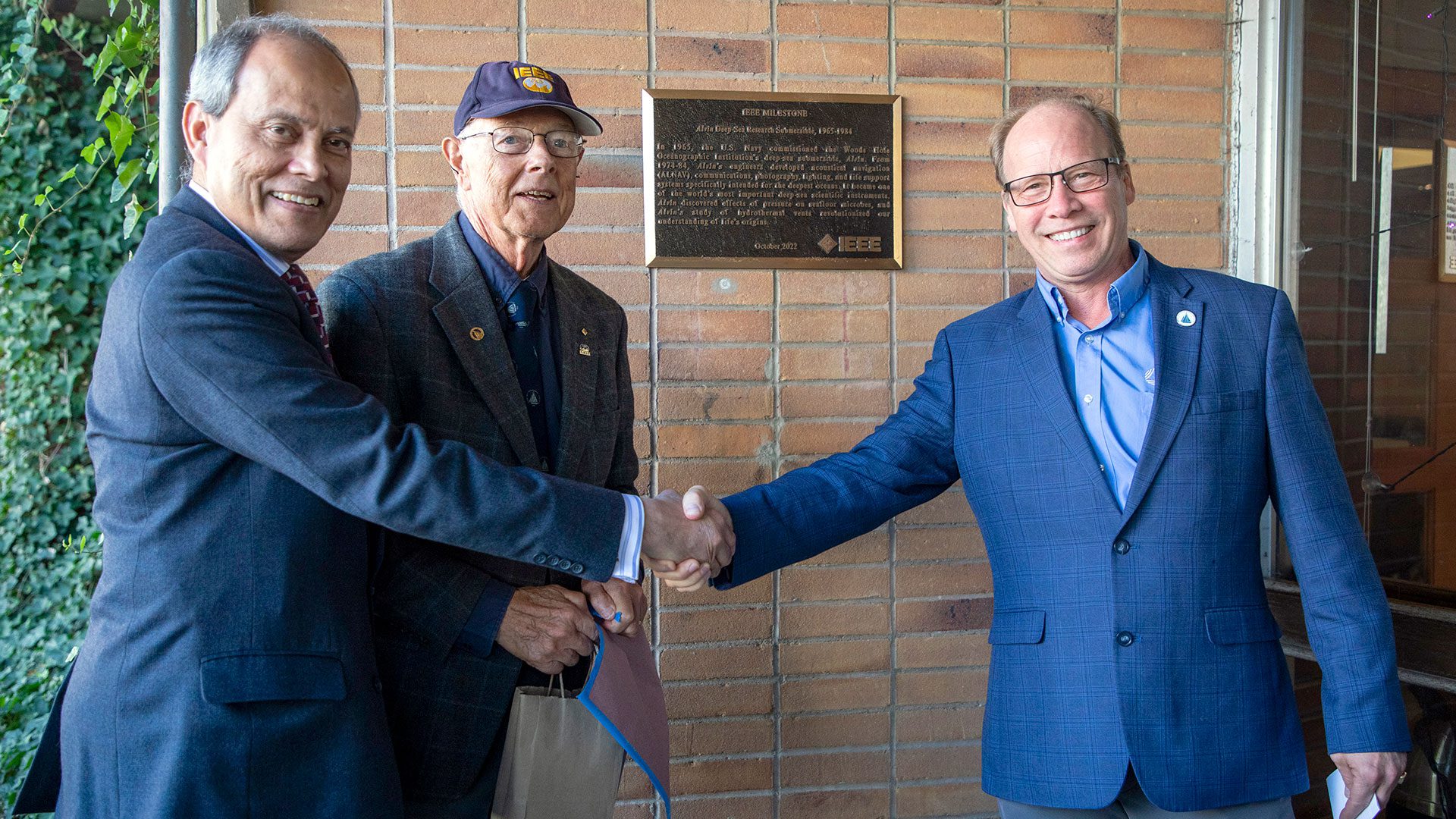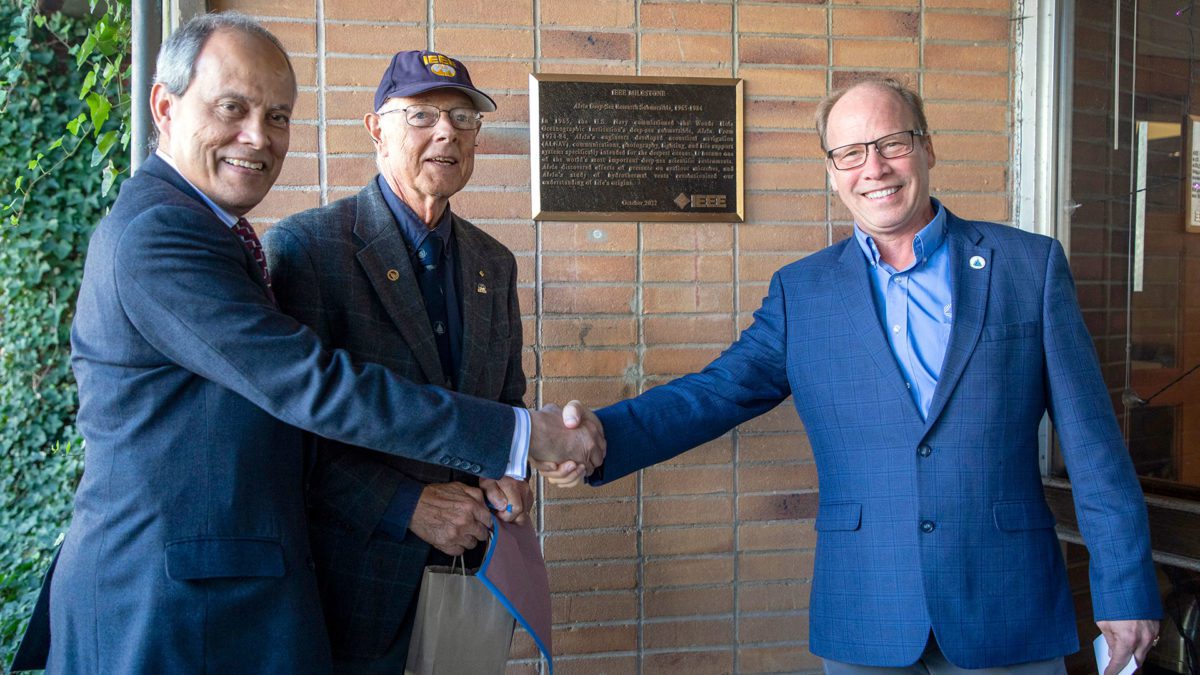 (L to R) Saifur Rahman, IEEE president-elect, Albert "Sandy" J. Williams, III, Scientist Emeritus, and Peter de Menocal, WHOI President and Director, at the IEEE Milestone dedication for HOV
Alvin
. (Photo by Jayne Doucette, ©Woods Hole Oceanographic Institution)
---
October 27, 2022
HOV Alvin recognized as one of world's most important deep-sea scientific instruments
Woods Hole, Mass. – Woods Hole Oceanographic Institution (WHOI) has been recognized by IEEE, the world's largest technical professional organization advancing technology, through its Milestone program for the long-running success of its human-occupied submersible Alvin.
The Milestone program honors significant technical achievements in all areas associated with IEEE. Milestones recognize the technological innovation and excellence for the benefit of humanity found in unique products, services, papers, and patents. Each Milestone recognizes a significant technical achievement that occurred at least 25 years ago in an area of technology represented in IEEE and having at least regional impact. To date, more than 240 Milestones have been approved and dedicated around the world.
"Alvin's significance to ocean science was, and continues to be, far reaching and profound," said Anna Michel, Chief Scientist of Deep Submergence for the National Deep Submergence Facility at WHOI, the National Science Foundation-funded group that oversees Alvin's operation. "It opened new avenues of research and discoveries in oceanography and evolutionary biology, and this IEEE Milestone commemorates the decades of Alvin's engineering breakthroughs that made these scientific discoveries possible and that allow the sub to remain at the leading edge of deep-ocean research."
Milestones can be nominated by any IEEE member, and after recommendation by the IEEE History Committee and approval by the IEEE Board of Directors, a bronze plaque commemorating the achievement is placed at an appropriate site with an accompanying dedication ceremony.
Alvin is named after Allyn Vine, the WHOI physicist and instrument developer who provided the creative vision to build the sub beginning in the 1950s. The U.S. Navy commissioned Alvin in 1965 and continues to support the submersible program. In the years that followed, engineers used Alvin as the motivation to develop acoustical navigation (ALNAV), communications, photographic, lighting, and life support systems specifically intended for use in the deep ocean. Over the years, Alvin has become one of the most widely used research submersibles in the world, amassing more than 5,100 dives over 57 years and undergoing periodic improvements that have repeatedly extended and improved its capabilities.
Alvin is well known for supporting exploration of the wreckage of HMS Titanic, leading the discovery of the effects of seafloor environmental conditions on microbial communities, and providing access to hydrothermal vents that revolutionized scientists' understanding of life on Earth. It even helped recover a lost hydrogen bomb in the Mediterranean Sea less than a year after it was commissioned.
Alvin continues to evolve–and to make history. In August 2022, after a two-year overhaul and upgrade, Alvin returned to scientific research with a new maximum depth of 6500 meters (4 miles). The added range puts roughly 99% of the seafloor within reach of the world's longest-operating, most active, and, by many measures, most successful human-occupied submersible program in the world.
"The Alvin Team are proud and honored to uphold the tradition of Deep Submergence at WHOI with this vastly improved submersible," said NDSF Director Andy Bowen. "Going to such extreme depths and exploring the ocean inside Alvin is anything but routine—and the fact that we do so with such regularity and success is a testament to the engineering excellence that Alvin embodies."
The Milestone plaque will be mounted at ​​WHOI's Smith Laboratory, which currently houses the team that oversees the sub's operation.
###
About Woods Hole Oceanographic Institution
Woods Hole Oceanographic Institution (WHOI) is a private, non-profit organization on Cape Cod, Massachusetts, dedicated to marine research, engineering, and higher education. Established in 1930, its mission is to understand the ocean and its interactions with the Earth as a whole, and to communicate an understanding of the ocean's role in the changing global environment. WHOI's pioneering discoveries stem from an ideal combination of science and engineering—one that has made it one of the most trusted and technically advanced leaders in fundamental and applied ocean research and exploration anywhere. WHOI is known for its multidisciplinary approach, superior ship operations, and unparalleled deep-sea robotics capabilities. We play a leading role in ocean observation and operate the most extensive suite of ocean data-gathering platforms in the world. Top scientists, engineers, and students collaborate on more than 800 concurrent projects worldwide—both above and below the waves—pushing the boundaries of knowledge to inform people and policies for a healthier planet. Learn more at whoi.edu.
About IEEE
IEEE is the world's largest technical professional organization dedicated to advancing technology for the benefit of humanity. Through its highly cited publications, conferences, technology standards, professional and educational activities, IEEE is the trusted voice in a wide variety of areas ranging from aerospace systems, computers, and telecommunications  to biomedical engineering, electric power and consumer electronics. Learn more at http://www.ieee.org
Plaque citation
Alvin Deep-Sea Research Submersible, 1965-1984
In 1965, the U.S. Navy commissioned the Woods Hole Oceanographic Institution's deep-sea submersible, Alvin. From 1974-84, Alvin's engineers developed acoustical navigation (ALNAV), communications, photography, lighting, and life support systems specifically intended for the deepest oceans. It became one of the world's most important deep-sea scientific instruments. Alvin discovered effects of pressure on seafloor microbes, and Alvin's study of hydrothermal vents revolutionized our understanding of life's origins.
"The value of Woods Hole Oceanographic Institution in the development of the global blue economy cannot be overstated," says Congressman William Keating (D-Mass.). "The groundbreaking work undertaken at WHOI has built the institution's reputation as the preeminent marine science institute in the United States. This reputation and the desire of countless researchers, business people, and innovators to operate in proximity to the institute has long since cemented southeastern Massachusetts as a global leader in the marine research sector. WHOI is central to further developing the blue economy in our region, and this study confirms what we have all known for many years about the importance of this vital institution."
More recently, WHOI-led expeditions have helped locate the wreckage of Air France flight 447, identified the location of the voyage data recorder of the sunken cargo ship El Faro, and provided the technology and expertise to accurately measure the flow of oil into the ocean from Deepwater Horizon and to assess the ecological impacts of the oil on open-ocean, seafloor, and coastal habitats.
Today, WHOI has grown from a single building on the Woods Hole waterfront and a single sailing ship to 58 buildings spread across two campuses and three advanced research vessels. The institution's national assets include a vastly upgraded Alvin, the remotely operated vehicle Jason, autonomous underwater vehicle Sentry and many labs, instruments, and personnel. Its planned facility, the Complex for Waterfront Access to Exploration and Research (CWATER), will create more jobs and attract new marine related activity, positioning southeast Massachusetts for growth.
In partnership with the Massachusetts Institute of Technology, the WHOI-MIT Joint Program in Oceanography/Applied Ocean Science & Engineering is credited with creating ocean-focused leaders in academia, government, and the private sector for more than 50 years. The institution also supports undergraduate, K-12, and informal educational programs designed to increase student opportunities, motivate young minds, and improve general knowledge about the ocean at every level of society.
"We know that the ocean plays an important role in our global, national, and regional economies," says Abbott. "While WHOI has played a fundamental role in understanding the ocean for decades, this study shows we also play an increasingly important role in reinforcing its economic connection to society. That connection will only grow as society becomes more interconnected via the movement of resources and information around the world, requiring us all to be better stewards of the ocean that supports us."
"WHOI drives our region's and the state's maritime research economy," says Mass. State Rep. Dylan Fernandes (D-Falmouth). "As a Falmouth resident, I've seen up close the remarkable positive impact WHOI has on the local community and this study highlights for all to see the value that WHOI provides to Massachusetts."
WHOI commissioned the study by the UMass Donahue Institute to expand on a 2018 white paper written by policy experts at WHOI, who initially looked at the magnitude of WHOI's payroll, vendor payments, and other activity to provide a picture of direct economic benefit to the region. See presentation of findings here.
The Woods Hole Oceanographic Institution is a private, non-profit organization on Cape Cod, Mass., dedicated to marine research, engineering, and higher education. Established in 1930 on a recommendation from the National Academy of Sciences, its primary mission is to understand the oceans and their interaction with the Earth as a whole, and to communicate a basic understanding of the oceans' role in the changing global environment. For more information, please visit www.whoi.edu.