WHOI Chosen as Location of New NSF-funded Ocean Bottom Seismograph Instrument Center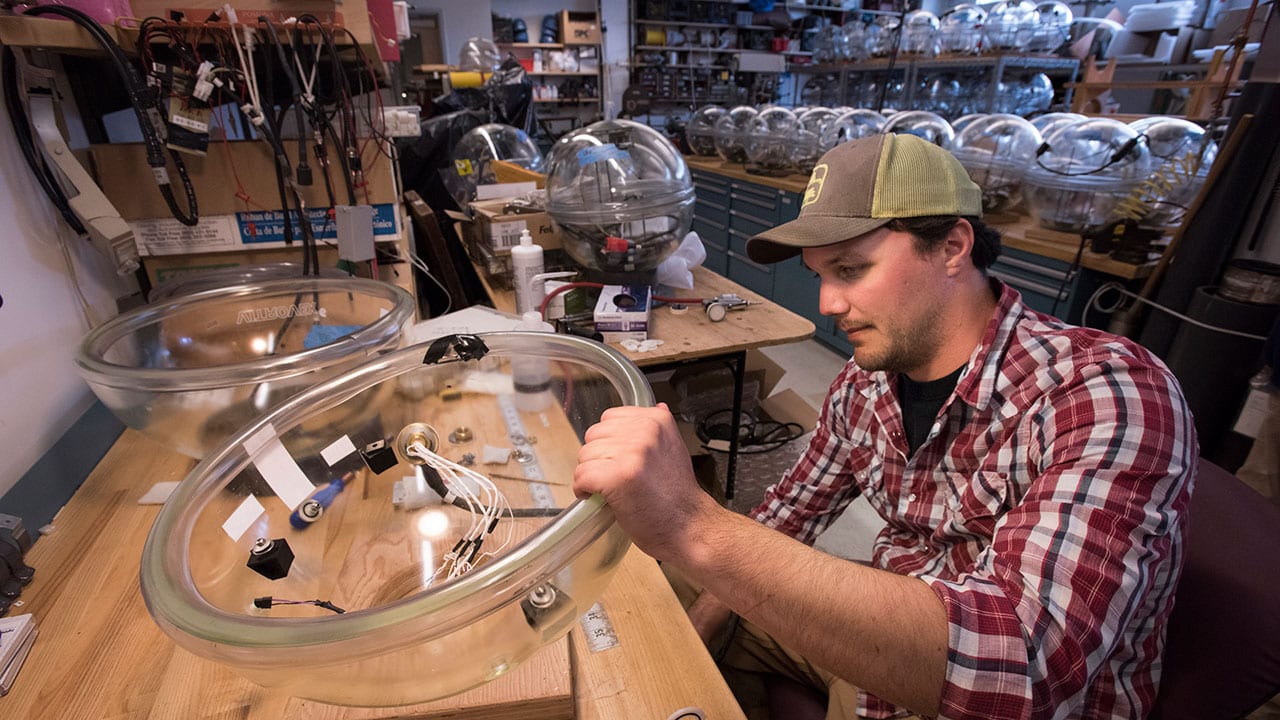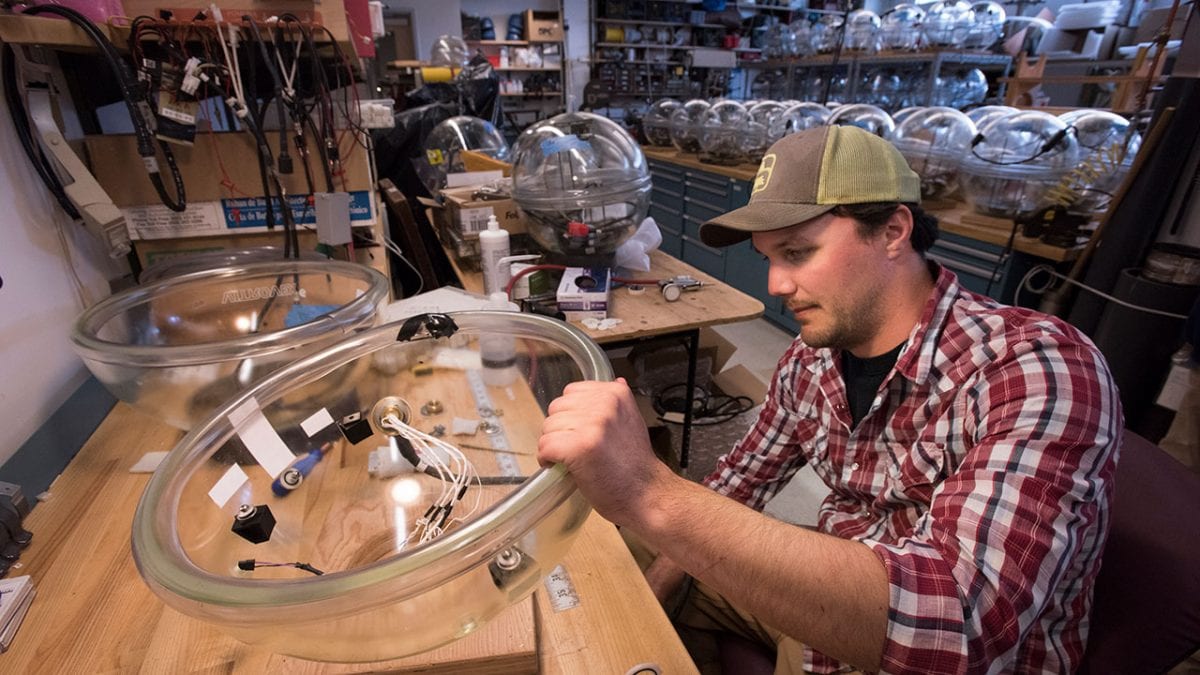 WHOI engineer Daniel Kot assembles an ocean-bottom seismograph in the OBS Lab at WHOI. The lab will serve as the foundation for the new OBS Instrument Center being established under a five-year cooperative agreement between WHOI and the National Science Foundation. (Photo by Thomas Kleindinst, Woods Hole Oceanographic Institution)
---
August 14, 2018
The National Science Foundation (NSF) has announced that the Woods Hole Oceanographic Institution (WHOI) will operate a new center to provide seafloor seismographs and technical support to the U.S. academic community beginning in August 1, 2018. The new Ocean Bottom Seismograph Instrument Center (OBSIC) will be housed at WHOI under a 5-year cooperative agreement, with John Collins serving as Director. The OBSIC replaces the Ocean Bottom Seismograph Instrument Pool, which as created by NSF in 1999 and was jointly operated by WHOI and two other academic institutions.
"Providing OBS capabilities to the broader academic research community is a high priority for NSF, as OBSs provide a unique mechanism by which to study seismic activity and the structure and dynamics of the ocean basins," said Candace Major, a program director in the National Science Foundation's Division of Ocean Sciences, which funded the grant.
Ensuring access for the research community to start-of-the-art instrumentation is a fundamental way that WHOI helps advance discovery in the earth and ocean sciences. It also helps advance knowledge about processes that can have far-reaching effects on society. "The forces that create and alter the bottom of our oceans are the same ones that drive volcanoes and earthquakes and that create tsunamis like the one that damaged the Fukushima Dai-ichi nuclear power plant in 2011," said WHOI President and Director Mark Abbott. "Society needs a better understanding of these forces, and ocean-bottom seismology is one of the best tools we have to look beneath the seafloor and study the changing nature of our planet."
The new instrument center will be housed within the Geology and Geophysics (G&G) Department at WHOI and will draw on the Institution's 40-year history of designing, developing, and deploying some of the most advanced seafloor seismic instruments in operation. "Our mandate, and our overriding goal, is to improve efficiency and standardization in hardware and processes, while maintaining the highest levels of service and data quality," said Rob Evans, G&G Department Chair. "Our experience of building and operating OBS, and also using OBS data to make fundamental discoveries, provides a strong base for providing instrumentation and data of continuously increasing quality."
The Woods Hole Oceanographic Institution is a private, non-profit organization on Cape Cod, Mass., dedicated to marine research, engineering, and higher education. Established in 1930 on a recommendation from the National Academy of Sciences, its primary mission is to understand the ocean and its interaction with the Earth as a whole, and to communicate a basic understanding of the ocean's role in the changing global environment. For more information, please visit www.whoi.edu.