WHOI Center for Marine Robotics Receives NextGEN Award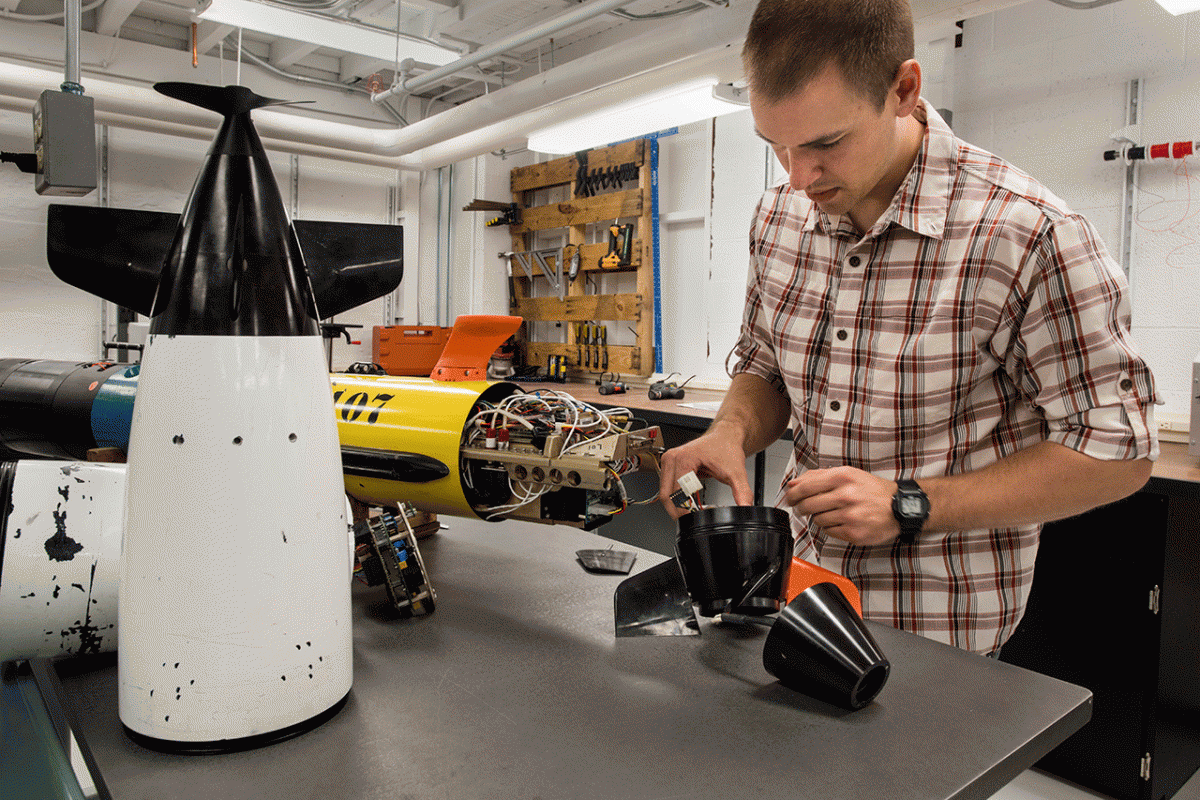 ---
January 29, 2018
The Center for Marine Robotics at Woods Hole Oceanographic Institution (WHOI) was chosen to receive a NextGEN award by the Massachusetts TechHUB Caucus.
The awards, which were announced Jan. 29, 2018, at the Caucus' third marquee Innovation Day event at the State House, recognize tech firms and organizations that are leading and innovating in their field and contributing to the Massachusetts tech economy for the next generation.
WHOI established the innovative Center for Marine Robotics (CMR) in 2012 to help speed the development of robotic technologies in the region through collaborations with industry sponsors, academic partners, and key government agencies. CMR was one of six award winners celebrated at the Innovation Day event.
"We're extremely honored to be chosen for the NextGEN award," says James Bellingham, director of CMR and a pioneer in the development of autonomous marine robots. "Massachusetts and New England have been home to the leading innovators in the maritime industry since the age of sail. And now we're leading in the new maritime frontier: marine robotics."
WHOI researchers and engineers have helped shape ocean science and engineering for more than 85 years. Today, the Institution and CMR sit at the center of a growing marine robotics innovation hub in New England.
"We were proud to nominate WHOI and its Center for Marine Robotics for the inaugural NextGEN awards," says Wendy K. Northcross, chief executive officer of the Cape Cod Chamber of Commerce. "As an anchor institution in our region's burgeoning blue economy, WHOI demonstrates success on many levels, and we are excited to share the story of their innovative work and progressive work environment with others. We support the launch and growth of companies, like the Center for Marine Robotics, which are connected to the water."
"We are committed to ensuring that the state of Massachusetts recognizes and supports Falmouth's world renowned scientific institutions, which boost our blue economy and enrich our local community," adds Rep. Dylan Fernandes, D-Falmouth. "The Woods Hole Oceanographic Institution has long been a global leader in innovation and their couldn't be a more worthy recipient of these awards."
CMR is developing robots that are changing the way people and machines work together in the ocean. One current project under development is a long-range autonomous robot that will identify and map oil spills that occur under ice-covered oceans. A project of the Arctic Domain Awareness Center, funded by the U.S. Department of Homeland Security, the vehicle can track an oil plume and transfer real-time data back to ship or shore, giving first responders critical information earlier to make informed decisions.
"Robotic systems are opening the ocean to humans in brand new ways," says Bellingham. "Odds are that anytime an autonomous robot goes in the water—even on the opposite side of the world—it was likely built right here in Massachusetts."
CMR is also helping drive innovation in the region with the Dunkworks lab, a state-of-the-art, rapid prototyping center that opened its doors last summer. The collaborative facility, which is available to marine robotics businesses on a membership-fee basis, allows users to quickly take designs from concept to tested devices that are ready for application in the ocean.
"Membership in WHOI's Center for Marine Robotics is a great way for companies of all sizes to grow and be more connected to the world's leading marine technology cluster found right here in our region," says CMR Assistant Director Leslie-Ann McGee.
Other NextGEN Award winners included: 128 Technology, Burlington; MachineMetrics, Northampton; Optimus Ride Inc., Boston; Partners Connected Health Innovation, Boston; and SolidEnergy Systems, Woburn.
"The winners of the NextGEN awards are transforming the future of technology and driving the next generation of economic growth," says TechHUB Caucus co-chair Senator Karen Spilka (D-Ashland).
The TechHUB Caucus is supported by a Working Group that includes: Dell, Google, MassTLC, TechNet, the MassTech Collaborative, Microsoft, MITX, and Verizon.
#
The Cape Cod Chamber of Commerce is a 1,268-member organization that advocates on behalf of business to strengthen and promote regional economic vitality while addressing related cultural, environmental and community concerns. We are a catalyst and advocate for a vibrant economic community in order to create a better Cape Cod and a sustainable future.  www.whycapecod.org, www.capecodchamber.org
The Blue Economy Project is an initiative of the Cape Cod Chamber of Commerce with support from Governor Baker's Seaport Economic Council and the Cape Cod Commission.  Recognizing that the Cape Cod region's environment is its economy, the Blue Economy will be the fulcrum that balances our economic and environmental health, creates a new regional identity focused on pride in our water and coastal resources, and supports a more balanced and sustainable year-around economy for its residents. www.bluecapecod.org
The Woods Hole Oceanographic Institution is a private, non-profit organization on Cape Cod, Mass., dedicated to marine research, engineering, and higher education. Established in 1930 on a recommendation from the National Academy of Sciences, its primary mission is to understand the ocean and its interaction with the Earth as a whole, and to communicate a basic understanding of the ocean's role in the changing global environment. For more information, please visit www.whoi.edu.