Van Mooy awarded fellowship at Southampton, U.K.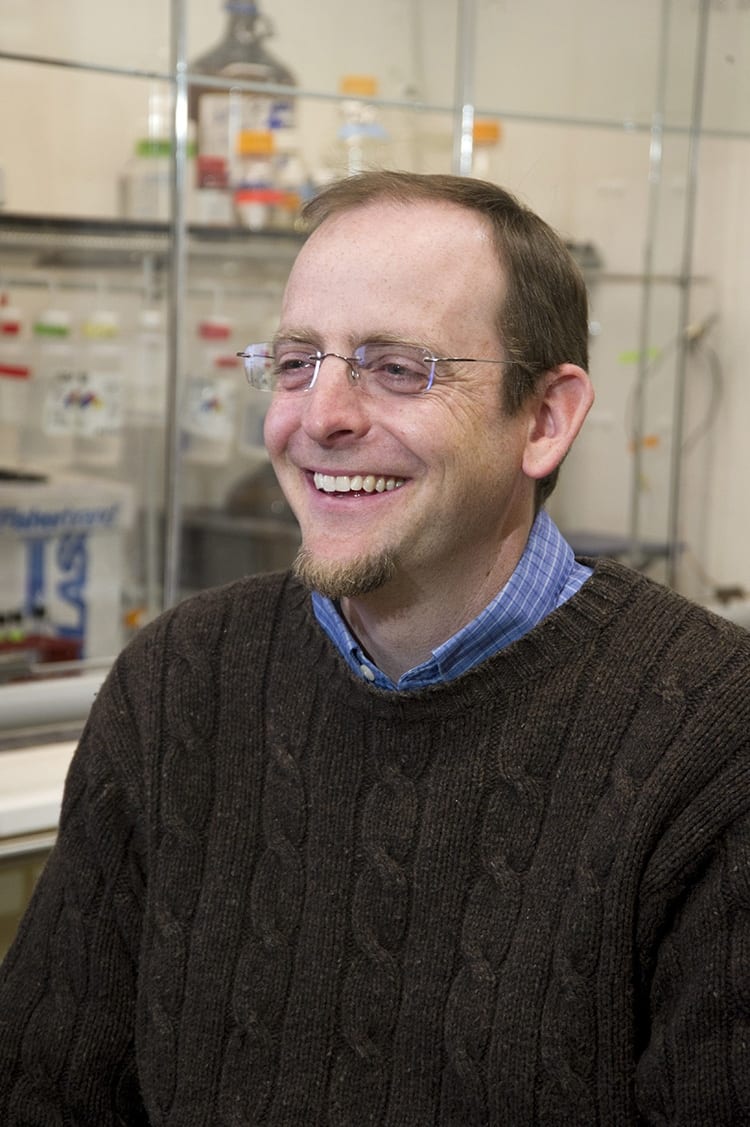 ---
June 25, 2013
Woods Hole Oceanographic Institution (WHOI) biochemist Benjamin Van Mooy has been awarded one of two inaugural fellowships at the University of Southampton in England. The Diamond Jubilee International Visiting Fellowship was established last year to commemorate the university's 60th anniversary and to foster international collaboration.
Van Mooy will spend about one month a year over the next three years of the fellowship at the University of Southampton working with students and researchers on emerging oceanographic concepts. He plans to begin there in the fall.
In collaboration with colleagues at the University of Southampton, he will design and conduct experiments at sea and analyze samples in the university's lab. In addition to guest lecturing and collaboratively writing scientific papers, Van Mooy also will be involved with new grant and funding opportunities, student exchanges, and joint teaching initiatives. This opportunity comes after several years of working toward building collaborations with the University of Southampton.
"It is hard to get international collaborations started because convincing two governmental funding agencies to support the same project at the same time is really difficult. Non-governmental sources like the Diamond Jubilee Fellowship can go a long way toward building the early momentum that you need to get governmental funding agencies to buy-in to what you are doing," he said.
His research interests focus on understanding the chemical communication between microbes in marine biofilms, the molecules that make up the cell membranes of plankton, and the biogeochemical cycling of carbon, nitrogen, and phosphorus in the upper ocean.
Van Mooy "elegantly combines field-based observations with laboratory experiments, bringing new insights to the field of biogeochemistry," said Rachel Mills, associate dean of Natural and Environmental Sciences at the University of Southampton, who nominated Van Mooy for the fellowship.
He currently holds "Visiting" faculty status in the university's Natural and Environmental Sciences department.
"The University of Southampton has such unique research strengths, and I'm eager to forge new collaborations with my colleagues involved in the Institute of Life Sciences," he said.
Van Mooy received his Ph.D. in Chemical Oceanography from the University of Washington. He came to WHOI as a postdoctoral scholar in 2004 and has been on the scientific staff in the Marine Chemistry and Geochemistry department since then.
He hopes to bring University of Southampton collaborators on his future WHOI research cruises.
"Our congratulations to Dr. Van Mooy for being selected to receive one of the inaugural Diamond Jubilee Visiting Fellowships offered by the University," said Southampton Vice-Chancellor Don Nutbeam. "His experience and expertise will only serve to enrich the intellectual landscape for our staff and students as well as the wider community to ultimately enable world-leading and world-changing research."
The Woods Hole Oceanographic Institution is a private, non-profit organization on Cape Cod, Mass., dedicated to marine research, engineering, and higher education. Established in 1930 on a recommendation from the National Academy of Sciences, its primary mission is to understand the ocean and its interaction with the Earth as a whole, and to communicate a basic understanding of the ocean's role in the changing global environment. For more information, please visit www.whoi.edu.