Perkins School for the Blind Students Engage in STEM Learning Through Sound and Touch at Woods Hole Oceanographic Institution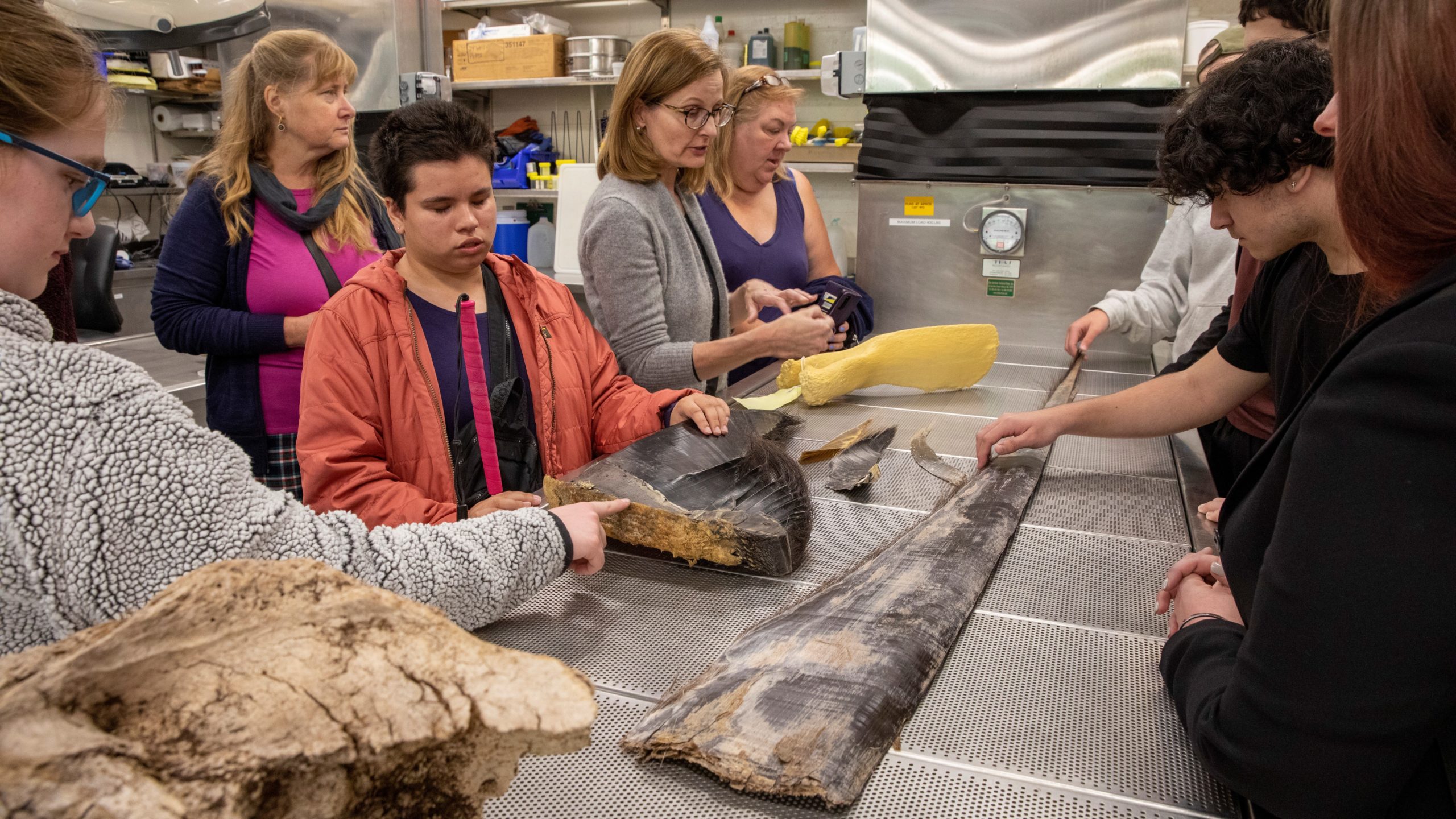 Woods Hole, Mass. — Students in Perkins School for the Blind's Outreach Program recently spent the day at the Woods Hole Oceanographic Institution,  part of an annual program connecting students engaged in STEM learning through sound and touch, with WHOI oceanographers and researchers.
New this year, a team from the Broader Impacts Groups (BIG), a student-run organization that helps to bring ocean science into the community,  participated in the program.
Participant were met with a full day of educational and fun activities including:
Marine mammals and the different ways humans and industry impact their health, populations, and ecosystems.
Exploring how data as sound, or data sonification, can be used to learn about the ocean and sea life.
Participating in group activities on topics including the threat of harmful algal blooms (HABs), hurricane activity in the Gulf of Mexico, exploration of scuba diving equipment, and sea creatures.
The Perkins Outreach program brings together students from Perkins School for the Blind and public-school students who are visually impaired for activities and other events, fostering community and independence.
Dr. Amy Bower, a senior scientist in physical oceanography at WHOI, who is also visually impaired, has led this program since its inception in 2014.
"This program offers participants the opportunity to be immersed in our ocean work and passions and provides the opportunity to engage senses such as touch and hearing, as they discover the ocean and its inhabitants," said Dr. Amy Bower. "We hope that this program continues to empower and inspire these students to follow their dreams."
About Woods Hole Oceanographic Institution:
The Woods Hole Oceanographic Institution (WHOI) is a private, non-profit organization on Cape Cod, Massachusetts, dedicated to marine research, engineering, and higher education. Established in 1930, its primary mission is to understand the ocean and its interaction with the Earth as a whole, and to communicate an understanding of the ocean's role in the changing global environment. WHOI's pioneering discoveries stem from an ideal combination of science and engineering—one that has made it one of the most trusted and technically advanced leaders in basic and applied ocean research and exploration anywhere. WHOI is known for its multidisciplinary approach, superior ship operations, and unparalleled deep-sea robotics capabilities. We play a leading role in ocean observation and operate the most extensive suite of data-gathering platforms in the world. Top scientists, engineers, and students collaborate on more than 800 concurrent projects worldwide—both above and below the waves—pushing the boundaries of knowledge and possibility. For more information, please visit www.whoi.edu
About Perkins School for the Blind
Perkins is an international NGO working to create a world where every child can learn, and that includes the 240 million children with disabilities around the world, the vast majority of whom lack access to skilled educators or services. Our school in Watertown is the heart of our organization, where our educators prepare students ages 3-22 with the academics and life skills they need to define their own success. Around the world, we partner with families, educators, public schools, and governments to create truly accessible learning opportunities for more children with complex disabilities. Together with our partners and supporters, we are building a world where every child belongs.