WHOI Hosts Bilingual Science Symposium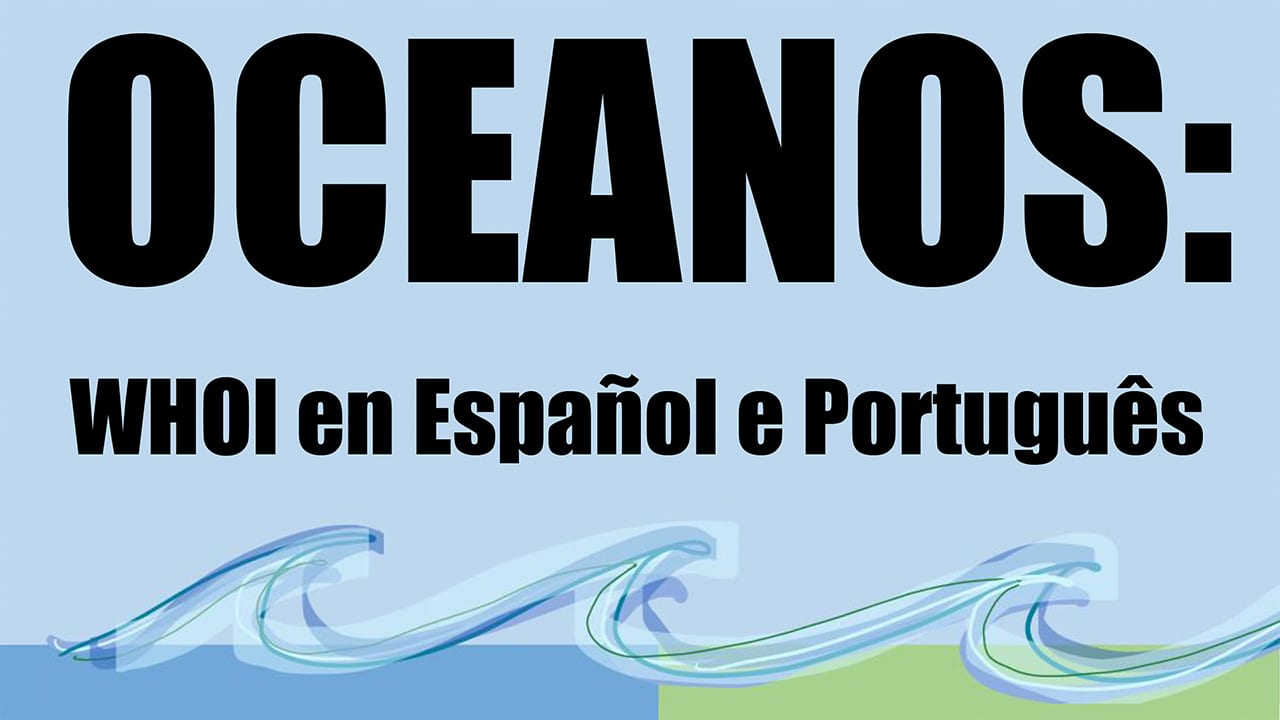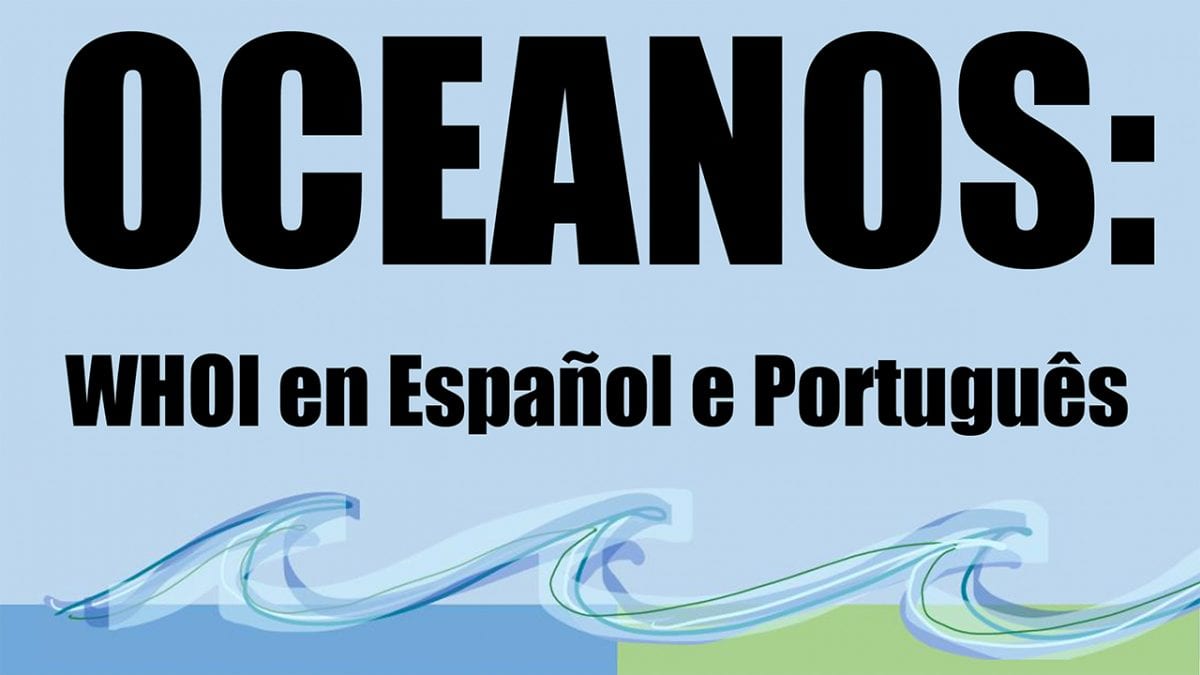 ---
September 7, 2017
The organizers of a new event at Woods Hole Oceanographic Institution (WHOI) want to make ocean science more accessible to people who are not native English speakers by reaching out to two of the largest non-English-speaking communities on Cape Cod: those who speak Spanish or Portuguese. The symposium, "OCEANOS: WHOI en Español e Português," will feature short presentations in either language about marine and related research by students and scientists from WHOI and other science institutions in Woods Hole, Mass. The event is free and open to the public, and pre-registration is recommended.
"There are many Spanish and/or Portuguese speakers in our area who may not even be aware of the amazing science research going on right here in Woods Hole," said event co-organizer Gabriela Farfan, a MIT-WHOI Joint Program student in marine chemistry. "We hope this symposium will help change that."
Farfan, a first-generation native Spanish speaker from Chile, will present her doctoral research examining the impacts of climate change on the structure and chemistry of coral reefs. Other planned topics range from subsea seismology to the ecology of tiny marine crustaceans.
The symposium keynote speakers will be Drs. Marcia Macedo and Paulo Brando, ecosystem ecologists from the Woods Hole Research Center. Macedo and Brando, who are both Brazilian, will discuss the connections between oceans, climate, and the health of Amazon forests and rivers.
Event co-organizer and research assistant Luis Valentin-Alvarado will talk about his work in the Marine Chemistry & Geochemistry Department at WHOI, studying the role of proteins as master regulators of biogeochemical cycles in the ocean. Valentin-Alvarado is from small town in Puerto Rico.
"Science—and scientists—can sometimes seem unapproachable to people outside the scientific community," Valentin-Alvarado said. "That's why it's so important for us to communicate our research to the broadest possible audience." To facilitate global participation, WHOI will broadcast the OCEANOS symposium via Facebook Live.
The symposium will take place at 2 p.m. on Saturday, Sept. 16, 2017, in Room 507 of the Clark Building on the WHOI Quissett Campus. Light refreshments will be served.
Español
WHOI será el anfitrión del primer simposio bilingüe
Los organizadores de un nuevo evento en Woods Hole Oceanographic Institution (WHOI) quieren que las ciencias oceanográficas sean más accesibles para personas que no hablan inglés o que tengan un nivel de inglés limitado. Buscan además, hacer conexiones con dos comunidades
Latinas en Cape Cod: aquellos que hablan portugués y/o Español/Castellano. El simposio, "OCEANOS: WHOI en Español e Português," presentará charlas en los dos idiomas por estudiantes y científicos de WHOI y otras instituciones en Woods Hole, MA. El evento es gratis y abierto para el público general. Es recomendado pre-registrarse.
"Hay muchas personas en Cape Cod que hablan español y/o portugués que quizás no saben sobre las maravillosas investigaciones científicas que se estan llevando a cabo en Woods Hole," palabras de uno de los organizadores, Gabriela Farfán, estudiante de doctorado en el programa combinado entre MIT y WHOI en oceanografía química. "Esperamos que este simposio pueda ayudar a cambiar eso."
Farfán, es chilena de primera generación en los Estados Unidos, presentará sus investigaciones doctorales sobre el impacto de cambios climáticos en la estructura y química de los arrecifes de corales. Otras presentaciones serán sobre un rango de tópicos marinos, desde la sismología bajo del océano hasta la ecología de pequeños crustáceos marinas.
Los oradores principales del simposio serán la Dra. Marcia Macedo y el Dr. Paulo Brando, los mismos son ecólogos de ecosistemas en Woods Hole Research Center (WHRC). Macedo y Brando, nativos de Brasil, estarán hablando acerca de las conexiones entre los océanos, clima y la salud de los ríos, y bosques en el Amazona.
El otro organizador del evento y asistente de investigaciones científicas en el departamento de Oceanográfica Química en WHOI, Luis Valentín-Alvarado, hablará sobre el rol de las proteínas de microorganismos como reguladores maestros de ciclos biogeoquímicos en el océano. Valentín-Alvarado es de un pueblo pequeño en Puerto Rico.
"La ciencia—y los científicos—a veces pueden aparecer inaccesibles para personas fuera del mundo científico," dice Valentín-Alvarado "Por eso es muy importante comunicar nuestras investigaciones y trabajos a una audiencia más general." Para facilitar participación mundial, WHOI va a transmitir el simposio OCEANOS atreves de Facebook Live durante las horas del evento."
El evento comenzará a las 2 de la tarde (EST) el Sábado, Septiembre 16, 2017, en la sala 507 del edificio Clark en el campus Quissett de WHOI. Habrán refrescos y comida simple.
Português
WHOI Apresenta Simpósio Bilíngue de Ciência
Os organizadores de um novo evento no Instituto de Oceanografia de Woods Hole (WHOI) desejam tornar a pesquisa oceânica mais acessíveis a pessoas que não são falantes nativos de inglês, alcançando duas das maiores comunidades que não falam inglês em Cape Cod: os que falam espanhol ou português. O simpósio, "OCEANOS: WHOI em Español e Português", contará com pequenas apresentações em ambas as línguas sobre a pesquisa marinha, apresentadas por estudantes e cientistas do WHOI e outras instituições de Woods Hole, Mass. O evento é gratuito e aberto ao público, é recomendável realizar uma pré-inscrição.
"Existem vários falantes de espanhol e/ou português na nossa área que podem não estar cientes das incríveis pesquisas científicas que estão acontecendo aqui em Woods Hole", disse a co-organizadora Gabriela Farfan, estudante de química marinha do Joint Program do WHOI-MIT. "Esperamos que esse simpósio nos ajude a mudar isso".
Farfan, uma falante nativa de espanhol do Chile, irá apresentar a sua pesquisa de doutorado, onde examina os impactos das mudanças climáticas na estrutura e química de recifes de coral. Outros tópicos planejados vão de sismologia submarina a ecologia de minúsculos crustáceos marinhos.
Os palestrantes de plenária serão a Dra. Marcia Macedo e o Dr. Paulo Brando, ambos ecólogos do Woods Hole Research Center. Os pesquisadores brasileiros apresentarão sobre as conexões entre o oceano, o clima, as florestas e os rios da Amazônia.
O co-organizador e assistente de pesquisa Luis Valentin-Alvarado falará sobre o seu trabalho no Departamento de Química Marinha & Geoquímica do WHOI, onde estuda o papel das proteínas como grandes reguladoras dos ciclos biogeoquímicos nos oceanos. Valentin-Alvarado é natural de uma pequena cidade em Porto Rico.
"A ciência – e os cientistas- podem parecer algumas vezes inacessíveis a pessoas fora da comunidade científica", disse Valentin-Alvarado. "Por isso é tão importante para nós divulgar a nossa pesquisa para o maior público possível". Para facilitar uma participação global, WHOI irá transmitir o simpósio OCEANOS pelo Facebook Live.
O simpósio irá acontecer às 14 horas do sábado, 16 de setembro de 2017, na sala 507 do prédio Clark no campus Quissett do WHOI. Serão servidos pequenos lanches. Mais informações sobre esse evento gratuito estão disponíveis aqui.
The Woods Hole Oceanographic Institution is a private, non-profit organization on Cape Cod, Mass., dedicated to marine research, engineering, and higher education. Established in 1930 on a recommendation from the National Academy of Sciences, its primary mission is to understand the ocean and its interaction with the Earth as a whole, and to communicate a basic understanding of the ocean's role in the changing global environment. For more information, please visit www.whoi.edu.