Alexander von Humboldt Foundation Honors Two WHOI Scientists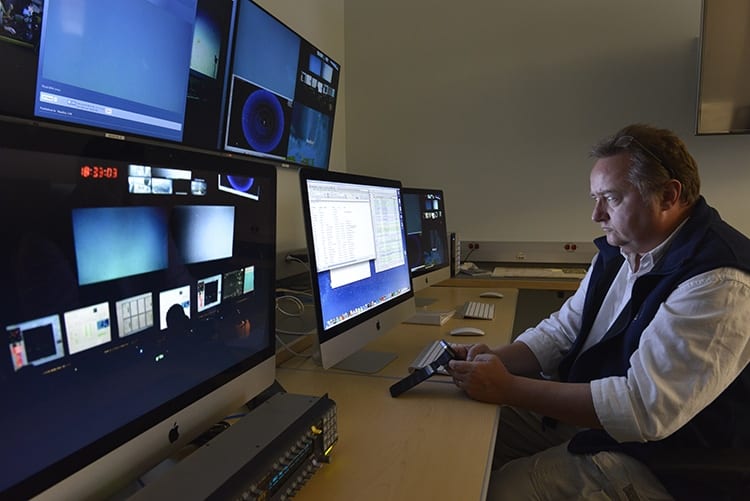 ---
December 12, 2014
The Alexander von Humboldt Foundation in Bonn, Germany, has recognized two Woods Hole Oceanographic Institution (WHOI) scientists with honors: Chris German received a Humboldt Research Award and Caroline Ummenhofer was chosen for a Humboldt Research Fellowship.
Named for the 19th-century German naturalist and explorer, the Humboldt Research Awards are based on nominations made by German institutions and are given "in recognition of a researcher's entire achievements to date to academics whose fundamental discoveries, new theories, or insights have had a significant impact on their own discipline and who are expected to continue producing cutting-edge achievements in the future," according to the foundation.  The foundation maintains a network of more than 24,000 "Humboldtians" from all disciplines in more than 130 countries, including 43 Nobel Prize winners.
The Humboldt Foundation also grants more than 600 research fellowships for postdoctoral and experienced researchers each year. These selections are based on a researcher's proposal as well as past work.  The timetable for research projects is flexible and allows as many as three stays in Germany within three years.
Humboldt fellows and research award recipients receive generous funding for temporary research visits in Germany to perform projects of their choice with German partners.  Chris German, a senior scientist in the Geology and Geophysics Department, and Caroline Ummenhofer, an assistant scientist in the Physical Oceanography Department, will both be hosted by GEOMAR Helmholtz Centre for Ocean Research Kiel.
Chris German
"I am very pleased to be recognized in this way, and especially at this international level," German said. "What is particularly exciting about the award—beyond the recognition itself—is that it also includes funds to support an extended visit for me to work with colleagues in Germany."
German is well known for his research on hydrothermal vents, and in particular for demonstrating that vents can occur in all the world's ocean basins—even along the least volcanically active chains.
In 2010, he led the first expedition to search for deep-sea hydrothermal vents along the Mid-Cayman Rise—an ultraslow spreading ridge located in the Cayman Trough, which is the deepest point in the Caribbean Sea.  The team identified the deepest known hydrothermal vent site and two additional distinct styles of venting.
German joined the WHOI staff as a senior scientist in 2005 and in January 2006 was named Chief Scientist for Deep Submergence, advising the federally funded National Deep Submergence Facility, which operates a small fleet of deep-sea vehicles— including the Alvin submersible—for the science community.  In that role, he worked extensively on the development of new types of vehicles and how they could be used to advance research in remote parts of the oceans.
"Two colleagues in Germany, in particular, were especially supportive of that work: Dr. Colin Devey at GEOMAR in Kiel and Dr. Antje Boetius of the Alfred Wegener Institute in Bremen.  Both played important roles in providing shiptime opportunities to experiment with novel uses of autonomous underwater vehicles (AUVs), such as ABE and Sentry, and most recently, the new remotely operated vehicle (ROV) Nereid Under Ice."
In Kiel, German will continue his research on hydrothermal vents in collaborative projects with Devey. "GEOMAR is an ideal location for this, because many colleagues are working on the same subjects," he added.  German also plans to establish systems that enable scientists to control operations with deep-sea robots from control centers onshore.
German earned his bachelor's degree in geological sciences in 1984 and his PhD in marine geochemistry in 1988 — both from the University of Cambridge, UK, which also awarded him an ScD degree in 2007.  In 2010, he received an Excellence in Research Award from the Petersen Foundation in Germany.  He has previously served as co-chair of the InterRidge program—which promotes international, cooperative studies of mid-ocean ridges—and the ChEss Project, a part of the Census of Marine Life.  German has just been appointed a member of NOAA's Ocean Exploration Advisory Board.
Caroline Ummenhofer
"I'm thrilled and honored to receive an Alexander von Humboldt Fellowship, particularly since this award promotes academic collaborations," Ummenhofer said.
Ummenhofer's lab specializes in research on the interactions between the ocean and the atmosphere, the water cycle and extreme weather events, which she examines with the aid of computer models of the ocean and atmosphere.  A keygoal of her research is to bridge the gap between ocean and climate dynamics and its impacts. She also aims to provide practical outcomes of use to stakeholders in the agriculture and water management sectors and the broader public.
In Kiel, Ummenhofer will be working on high-resolution ocean models with Prof. Claus Böning's modeling group. "GEOMAR has outstanding expertise in this field, so my cooperation offers new possibilities," she said.
While the Kiel modelers focus mainly on the Pacific and the North Atlantic, Ummenhofer is primarily focused on the Indian Ocean—its variability and role for regional rainfall variations and droughts in the surrounding countries, spanning from seasonal to decadal timescales. Despite its importance for regional climate, the Indian Ocean is arguably the least observed of the tropical ocean basins.  It also appears to be particularly vulnerable to climate change and has sustained robust warming over recent decades.
"It plays an important role in many processes such as the monsoon, but is often overlooked by researchers," added Ummenhofer. Along with her German collaborators, she will investigate long-term changes in the Indian Ocean using state-of-the-art numerical ocean models and paleo proxies that provide information how the marine environment has evolved in the past.
Born in Freiburg, Germany, Ummenhofer has spent her entire career in various scientific institutions in England, Australia and the USA. She joined the WHOI staff in 2012 as an assistant scientist in the Physical Oceanography Department.
She received a Joint Honours B.Sc. in Marine Biology and Physical Oceanography from the University of Wales, Bangor, UK, and a PhD in Applied Mathematics, specializing in climate modeling, from The University of New South Wales (UNSW), Sydney, Australia. Her PhD thesis received the Uwe Radok Award in ocean/atmosphere/climate science by the Australian Meteorological and Oceanographic Society.
Ummenhofer was a Postdoctoral Fellow at the Australian Research Council Centre of Excellence for Mathematics and Statistics of Complex Systems, held a Vice-Chancellor Postdoctoral Fellowship at UNSW, and was a Visiting Fellow with the Commonwealth Scientific and Industrial Research Organisation Marine and Atmospheric Research in Hobart, Australia.
The Woods Hole Oceanographic Institution is a private, non-profit organization on Cape Cod, Mass., dedicated to marine research, engineering, and higher education. Established in 1930 on a recommendation from the National Academy of Sciences, its primary mission is to understand the ocean and its interaction with the Earth as a whole, and to communicate a basic understanding of the ocean's role in the changing global environment. For more information, please visit www.whoi.edu.