Construction Begins on New Regional Class Research Vessel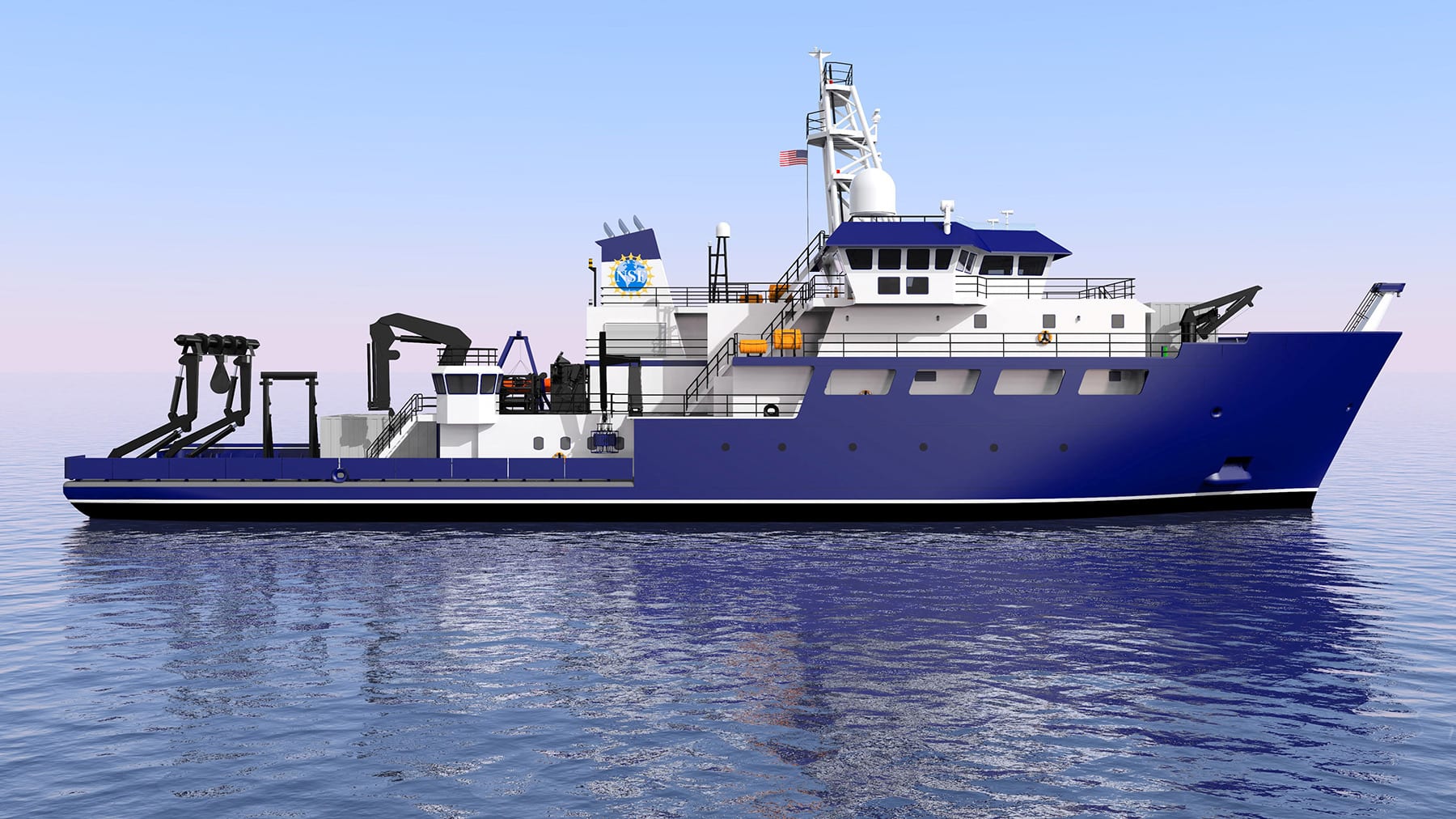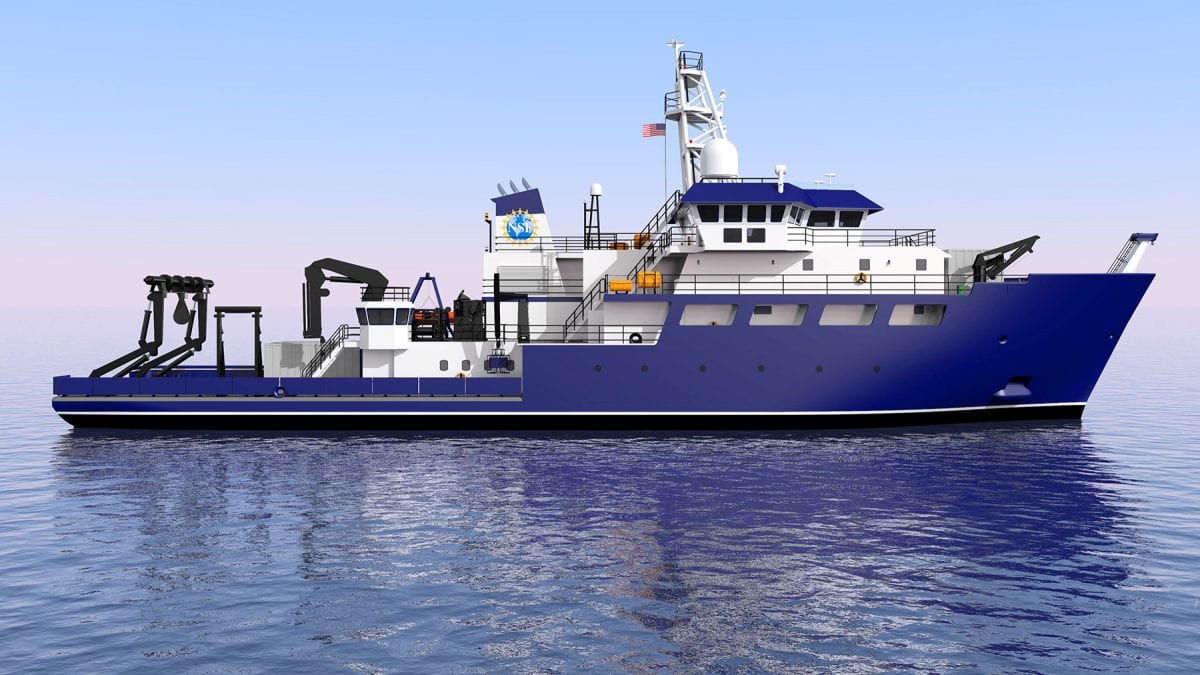 An artist's rendering of R/V
Resolution,
which will be homeported at the University of Rhode Island's Narragansett Bay Campus starting in 2021. (Glosten Associates)
---
May 9, 2019
WHOI takes part in keel-laying ceremony for R/V Resolution to be operated by the East Coast Oceanographic Consortium beginning in 2022
Officials from the Woods Hole Oceanographic Institution (WHOI) took part in a keel-laying ceremony this week to mark the start of construction of the R/V Resolution, a new $125 million Regional Class Research Vessel (RCRV) funded by the National Science Foundation (NSF). The new ship will support a range of scientific studies aimed at providing a better understanding of regional ocean currents, ocean-atmosphere interactions, climate-induced changes in the oceans, fish migrations, seafloor structure, marine mammal populations, and the food web dynamics in the deep ocean.
The Resolution will be operated by the East Coast Oceanographic Consortium (ECOC), which is led by the University of Rhode Island Graduate School of Oceanography (URI) and co-founded by WHOI, URI, and the University of New Hampshire School of Marine Science and Ocean Engineering (UNH). The ship is the second in a series of three Regional Class Research Vessels funded by NSF and will provide the ECOC founding members—along with 12 associate member organizations—access to cutting-edge technologies and new opportunities for oceanographic and geophysical exploration in the eastern North Atlantic.
"A state-of-the-art research vessel is an essential, complex, and expensive resource," said Robert Munier, Vice President for Marine Facilities and Operations at WHOI. "Operating a research vessel within a consortium provides two distinct benefits: broad access to the sea for scientists and engineers; and higher utilization at lower costs. WHOI's strengths in science and engineering will be additive to those of our partners, and will be available to the ECOC to help ensure the highest utility, quality, and reliability of the consortium's vessel to the user community."
According to URI President David M. Dooley, the ship continues the university's rich tradition of oceanographic research and education. "The R/V Resolution will play a central role in building on that important research legacy and in enhancing the educational and research experience of our students for generations to come," he said.
Munier and WHOI President and Director Mark Abbott joined officials from URI, Gulf Island Shipyards, and NSF for the ceremony in Houma, Louisiana, during which Rhode Island Governor and ship's sponsor Gina Raimondo welded her name onto a steel plate that will be installed in the ship. "The National Science Foundation is pleased to welcome Resolution to the new Taani-class of research vessels," said Terrence Quinn, Director of NSF's Division of Ocean Sciences. "This is an exciting time as we enhance and update the nation's Academic Research Fleet and create new opportunities for research, education and outreach in ocean science and exploration."
Regional Class Research Vessels will conduct operations in the coastal ocean ranging from near-shore environments to the outer continental rise, as well as the open ocean. The 199-foot Resolution will have a range of more than 5,000 nautical miles, berths for 16 scientists and 13 crew members, a cruising speed of 11.5 knots, and a maximum speed of 13 knots. Its endurance, draft, ice classification, and science mission equipment are tailored to meet the needs of scientific research conducted throughout the Atlantic Ocean and adjoining waters. The ship will be able to stay at sea for about 21 days and will routinely send streams of data to shore via satellite.
Resolution is scheduled for delivery to the ECOC in January 2022  and to arrive at its home port at the URI Narragansett Bay Campus that summer. After an additional six months of outfitting and testing, the ship will become fully operational. At that time, with the approval of NSF, Resolution will receive a University-National Oceanographic Laboratory System (UNOLS) Research Vessel Designation and begin conducting funded science expeditions starting January 2023.
Woods Hole Oceanographic Institution is a private, non-profit organization on Cape Cod, Mass., dedicated to marine research, engineering, and higher education. Established in 1930 on a recommendation from the National Academy of Sciences, its primary mission is to understand the ocean and its interaction with the Earth as a whole, and to communicate a basic understanding of the ocean's role in the changing global environment. For more information, please visit www.whoi.edu.