San Francisco Is First Port of Call for Nation's Newest Research Ship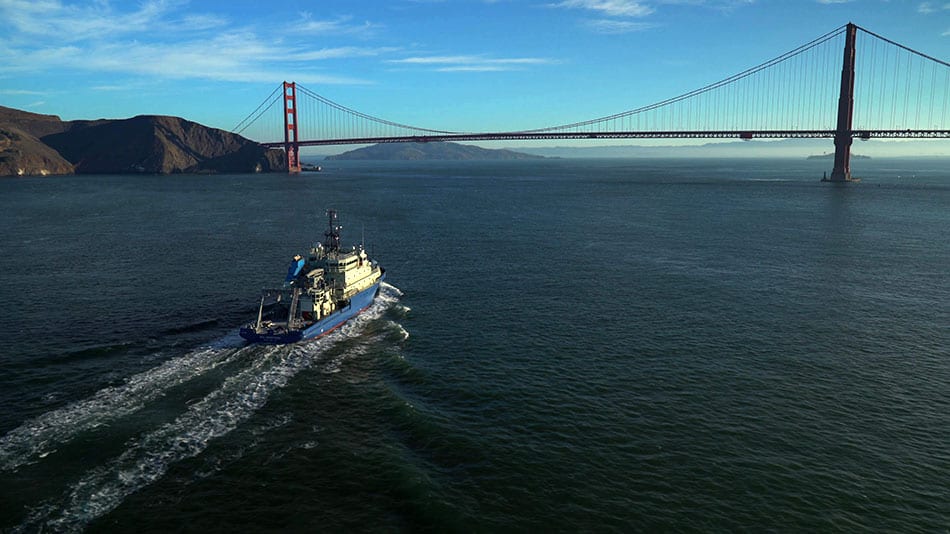 R/V
Neil Armstrong
approaches the Golden Gate Bridge on November 7, 2015, during the ship's maiden voyage from Anacortes, Wash.
(Photo by Bay Aerial, ©Woods Hole Oceanographic Institution)
---
November 9, 2015
California welcomed the most recent addition to the US's academic research fleet, the Neil Armstrong, as it made its first port of call in San Francisco over the weekend.  The 238-ft., state-of-the-art ship made its way down the West Coast from Anacortes, Wash., where it was built.
The Neil Armstrong, named for the renowned astronaut and test pilot, and the first man to set foot on the moon, is owned by the US Navy and operated by the Woods Hole Oceanographic Institution (WHOI), an independent, non-profit research and education organization based on Cape Cod in Massachusetts.  The ship will be used by ocean scientists from around the world, carrying on its namesake's legacy of exploration, and enabling the next generation of oceanographic science and discovery.
"Getting a new research vessel for the nation is a rare and special occurrence," said WHOI President and Director Mark Abbott.  "State-of-the art ships like the Neil Armstrong with ocean basin-scale capabilities are essential to keep our nation at the forefront of ocean sciences. Ships play a vital role in the interdisciplinary research that has yielded discoveries that have revolutionized our understanding of ocean currents, Earth's climate, and the origin of life on this planet and potentially other planets. What we've learned from ocean research has given the US advantages in our national defense, as well as contributing to biomedical advances, stimulating economic growth, and aiding in the management of the ocean's precious resources."
Neil Armstrong docked at Pier 30/32 on San Francisco's Embarcadero on Saturday, November 7, 2015, at approximately 8:30 a.m.  On Sunday and Monday, the vessel hosted tours by Congressional staff, staff from the US Navy's Office of Naval Research as well as other supporters of ocean sciences.
"We were pleased that so many were able to come out this weekend and tour this great new ship," said WHOI VP for Marine Operations Rob Munier.  "Its captain and crew are excited to begin a long, fruitful association with this ship, which is a major national asset that stands to make great contributions to our understanding of the ocean."
On Nov. 10, the ship will continue its transit to the US East Coast, passing through the Panama Canal, and arriving in the Southeast US in December at a port and shipyard to be determined.
One of only seven large research vessels in the US academic research fleet, this unique vessel will be equipped to support advanced mapping, sampling, and exploration of the global ocean in a range of conditions and with diverse mission requirements.  It is capable of operating in any ocean, except ice-covered seas. It accommodates 24 scientists and 20 crew on scientific missions lasting up to 40 days.
The ship was ordered by the US Navy in May 2010 and built at the Dakota Creek shipyard in Anacortes, Wash. It was launched in February 2014, and christened on March 29, 2014, by Carol Armstrong, Neil Armstrong's widow. It passed sea trials on August 7, 2015, and was delivered to the US Navy September 23, 2015. The R/V Neil Armstrong was officially turned over to WHOI that same day.
After completing a shipyard period in late 2015 and 2016, the ship will begin a series of cruises to assess and verify its scientific capabilities. In the spring of 2016, it will begin active duty with cruises to support retrieval and deployment of instruments that are part of the Ocean Observatories Initiative, an NSF-funded effort to monitor conditions in the ocean and atmosphere in real-time at locations around the globe, and to conduct physical oceanographic studies of regions of the North Atlantic that are critical to Earth's climate system.
About WHOI
WHOI is the world's largest private, non-profit oceanographic research institution and a global leader in the study and exploration of the ocean. WHOI is renowned not only for its scientific research but for the ability of its seasoned crew and marine operations staff to ensure the safety and success of the most complex oceanographic expeditions. Learn more about WHOI at whoi.edu.