Jessica Tierney Receives Macelwane Award from American Geophysical Union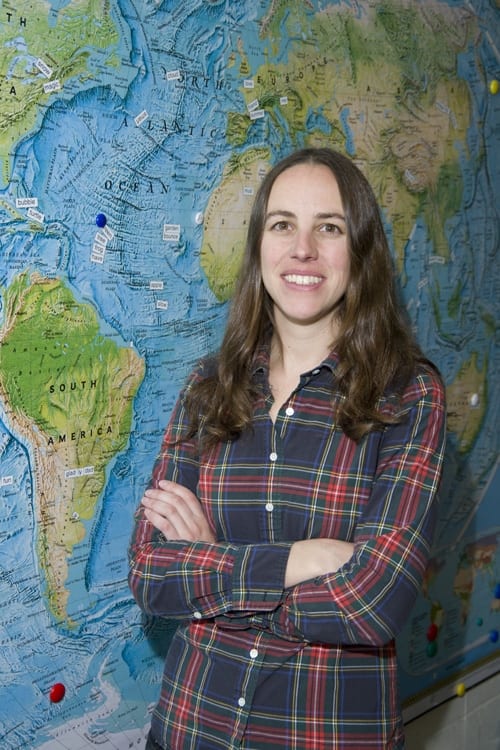 ---
December 15, 2014
Woods Hole Oceanographic Institution Assistant Scientist Jessica Tierney has been selected to receive the 2014 James B. Macelwane Medal from the American Geophysical Union (AGU).
The James B. Macelwane Medal is given annually to three or up to five honorees in recognition of "significant contributions to the geophysical sciences by an outstanding early career scientist." Criteria for medal selection include the depth and breadth of research, its impact, creativity, and novelty.
"It's truly an honor to receive this medal," Tierney said. "I feel humbled to join the ranks of the many outstanding geoscientists who have received this award in the past."
Tierney will receive the award at the 2014 AGU Fall Meeting during the Honors Tribute, which will take place Wednesday, December 17, 2014, in San Francisco.  In addition to the medal, she will be conferred as an AGU Fellow.
Tierney's work focuses on past climate change by studying molecules preserved in sedimentary archives, such as lake and ocean cores.
"I like paleoclimate work because it is a discipline that combines historical narrative with earth science," said Tierney. "Just as history informs us about human behavior, paleoclimate informs us about the nature of climate change on Earth. In doing so, it also helps the climate community predict the effects of anthropogenic global warming."
Professor Kim Cobb of the Georgia Institute of Technology, who nominated Tierney for the medal, wrote, "Jess combines a strong vision for paleoclimate science with the skills and leadership qualities necessary to move the field to its next level of evolution – one focused on delivering rigorous constraints on climate variability and change in sensitive areas of the Earth's climate system."
Tierney earned her Ph.D. in geology in 2010 from Brown University, where she earned the Sigma Xi Outstanding Graduate Student Award.  From 2010–2012she worked at Columbia University's Lamont-Doherty Earth Observatory as a NOAA/UCAR Climate and Global Change Postdoctoral Fellow.  She joined the staff of Woods Hole Oceanographic Institution in 2012 as an assistant scientist.
The Woods Hole Oceanographic Institution is a private, non-profit organization on Cape Cod, Mass., dedicated to marine research, engineering, and higher education. Established in 1930 on a recommendation from the National Academy of Sciences, its primary mission is to understand the ocean and its interaction with the Earth as a whole, and to communicate a basic understanding of the ocean's role in the changing global environment. For more information, please visit www.whoi.edu.