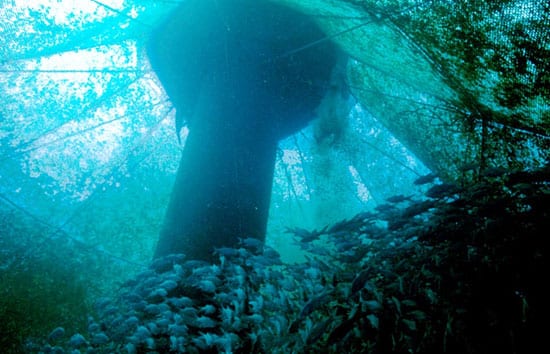 A Whole New Kettle of Fish
New legislation and task force to explore open-ocean aquaculture
With most of the world's fisheries already fully exploited or overexploited, the wild catch will not meet increasing worldwide demand for seafood—which the U.S. Department of Commerce projects will triple by 2025. The United States also imports nearly 70 percent of the seafood Americans consume, resulting in an $8 billion shellfishing industry trade deficit.
A solution, according to the Bush administration, is to greatly expand fish farming, or aquaculture, particularly in the open ocean. But researchers and conservationists see both benefits and threats to the environment as the fishing industry converts from wild harvests to domesticated operations.
In June, the Commerce Department submitted legislation to Congress to develop aquaculture in offshore waters. It is part of a "U.S. Ocean Action Plan," the administration's response to An Ocean Blueprint for the 21st Century, the 2004 report of the U.S. Commission on Ocean Policy. The new legislation is being co-sponsored by Senators Ted Stevens (Republican from Alaska) and Daniel Inouye (Democrat from Hawaii), Chairman and Co-Chairman, respectively, of the Senate Committee on Commerce, Science, and Transportation.
The bill authorizes the National Oceanic and Atmospheric Administration (NOAA) to establish a system to issue permits and collect fees for aquaculture operations within the U.S. Exclusive Economic Zone—the strip of federally controlled waters from 3 to 200 miles (370 kilometers) off the coast. The proposal also authorizes NOAA to establish environmental regulations if "existing requirements are inadequate" and to support research and development programs for fish farming. NOAA already supports pilot projects off the coasts of Hawaii, New Hampshire, and Puerto Rico.
In anticipation of the legislation, The Pew Charitable Trusts and The Lenfest Foundation awarded $600,000 to Judy McDowell, WHOI biologist and director of the Woods Hole Sea Grant program, to direct a Marine Aquaculture Task Force. The independent panel of leaders from science, industry, and conservation groups has been asked to develop a set of policy recommendations on open-ocean aquaculture.
"Opening our oceans to aquaculture holds great promise and great risk," said Dick Pittenger, the retired vice president of marine operations for WHOI who was named chairman of the task force. "The challenge is to see if we can protect the environment without inhibiting the growth of the industry."
As the Ocean Commission noted last year, the federal government has inconsistent laws and regulations for managing ocean waters. "What is the process for giving exclusive legal rights over a piece of federal ocean real estate?" said Hauke Kite-Powell, a research specialist in the WHOI Marine Policy Center who is studying governance issues. "How do you decide among competing interests? How much say should states have? What can we learn from other offshore management regimes, such as minerals, oil, and gas?"
Offshore aquaculture has some natural advantages over coastal fish-farming operations because open-ocean winds, waves, and currents can naturally remove excess feed, disperse wastes, and maintain water quality. Offshore operations also don't conflict with recreational and real estate interests.
But there are environmental and ecological questions, such as which species should be farmed and where. Some researchers are concerned that domesticated fish—and the medicines and disease outbreaks sometimes associated with high-density fish farms—could threaten natural stocks of fish.
The task force will conduct public hearings and fact-finding trips to regions most likely to be affected by a boom in aquaculture, such as Maine, the Pacific Northwest, Florida and the Gulf Coast, Hawaii, and Alaska. (The first meeting was held in Woods Hole in July.) Members also will review scientific literature and interview representatives of industry, government, and environmental groups. They plan to issue a report by the fall of 2007 and to contribute, if asked, to congressional hearings on aquaculture legislation.
"The task force will recommend a suite of science-based standards for guiding offshore aquaculture," said McDowell. "If open-ocean aquaculture is going to happen, let's make sure the right policies and regulations are in place."
Related Articles
Topics
Featured Researchers
See Also