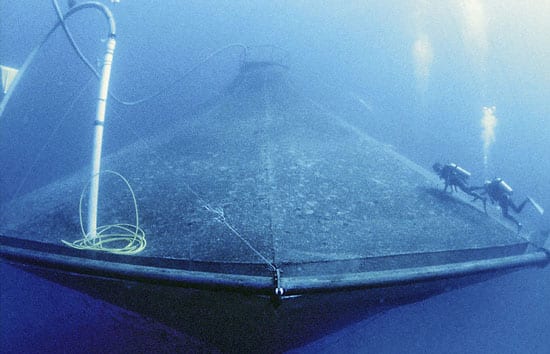 New Regulations Proposed for Offshore Fish Farms
WHOI-led task force recommended tough environmental standards
Newly proposed legislation to regulate large-scale fish farming in the oceans around the United States incorporates major recommendations from a blue-ribbon task force organized by the Woods Hole Oceanographic Institution (WHOI).
Established in the summer of 2005, the independent Marine Aquaculture Task Force was charged with examining the risks and benefits of offshore fish farming and recommending national policy to guide the industry's development. The panel was established through a grant from the Pew Charitable Trusts and the Lenfest Foundation.
In January 2007, after 18 months of study and public hearings, the task force recommended strong national environmental standards to regulate offshore marine aquaculture and federal leadership by one agency—the National Oceanic and Atmospheric Administration (NOAA)—as opposed to the byzantine mix of agencies currently involved.
The new National Offshore Aquaculture Act of 2007—crafted by NOAA and introduced on April 24 by U.S. Rep. Nick Rahall (D- W.Va.), chairman of the House of Representatives' Natural Resources Committee—specifically charges NOAA with establishing stringent standards and coordinating offshore its aquaculture regulation efforts with individual states. Several national aquaculture programs proposed in the past decade have been criticized for a lack of environmental safeguards.
"The legislation is proposing environmentally sound standards," said Judith McDowell, chair of the WHOI Biology Department, who served as the science director for the task force. "That was the hope of the task force, and it seems to be happening."
Aquaculture—the farming of fish, shellfish, and aquatic plants—accounts for nearly half of all seafood consumed in the world today. The industry is growing rapidly as wild fish stocks decline. The federal government has proposed a fivefold increase in U.S. aquaculture production.
Seafood industry groups and researchers have been testing large nets, pens, and other apparatus for raising fish in deep-water environments, tens of miles away from the shore. Offshore aquaculture has some natural advantages over coastal fish-farming operations because open-ocean winds, waves, and currents can naturally remove excess feed and wastes. Moving offshore also reduces conflict with boaters and real estate interests.
But there are environmental and ecological questions, such as which species should be farmed and where, and what level of discharges from aquaculture facilities can be safely absorbed by the ocean. Some researchers are concerned that domesticated fish—and the medicines and disease outbreaks sometimes associated with high-density fish farms—could escape and compromise natural fish stocks.
The task force was chaired by Rear Adm. (ret.) Richard F. Pittenger, former WHOI vice president for marine facilities and operations. It included experts from scientific, policy-making, business, and conservation organizations. The group met with many stakeholders, balancing their opinions against the best available science.
"We listened to the fishermen and others whose lives and livelihoods are tied to the oceans," said task force member Arliss Sturgulewski, a former Alaska state senator. "Because of the potential impacts on fisheries-dependent communities, there is strong disagreement about whether marine fish farming should expand. But there is universal agreement that if it does go forward, it should be done with appropriate safeguards for and consultation with coastal states and communities."
"If we are going to move offshore with aquaculture, we should do it right and make sure the right policies and regulations are in place," added Pittenger. "Modern agriculture developed without a lot of oversight and regulation, leading us to a lot of our current problems with pollution from fertilizers and pesticides. We don't want to repeat the same mistakes in the water."
In its report, the task force also recommended streamlining and simplifying permitting and application processes; market-based incentives for businesses to invest in sustainable, ecologically sound fish-farming projects; as well as funding and incentives for research, development, and deployment of technologies and techniques for sustainable fish farming.
Topics
Featured Researchers