Stamp of approval: David DuBois highlights WHOI with special-edition pictorial postmarks
By Toni Parras | January 8, 2020
David DuBois is senior distribution assistant in the Facilities department at WHOI. He began his WHOI career in the summer of 1981 while living in a campground in nearby Sippewissett, and has since worked in various departments, from Biology to Geology & Geophysics and Computer & Information Services. He has served as a shipboard scientific services technician on the R/V Atlantis, seeing many launches and recoveries of the Alvin submersible. An avid stamp collector, David has been involved with three Pictorial Postmarks for WHOI over the years.
How did you come to work at WHOI?
I grew up on a dairy farm in Valatie, New York, the eldest of four children. I have fond memories of my parents taking us on camping trips up and down the east coast from Nova Scotia to South Carolina. As a kid I was a big fan of Jacques Cousteau and his Undersea World TV series. While a student in Duke University's "Preparatory to Advanced Studies in Oceanography," I participated in a research cruise to Puerto Rico aboard the R/V Columbus Iselin, named after a former WHOI director. One of my more interesting cruises was while working with the Ocean Bottom Seismology Group in the Gulf of California during the filming of James Cameron's 3-D IMAX movie, "Aliens of the Deep."
What do you do at WHOI?
On a day-to-day basis, I work with one other distribution assistant to deliver all the mail that comes to the Institution. To make the job more interesting, we alternate routes on the Woods Hole Village and Quissett campuses each week. We cover a lot of miles in our little transit vans and see just about everyone in the Institution. We also help out with other tasks when needed (for example, with building services, conference and food services, and the warehouse). We even keep the walkways and parking lots clear of snow and ice in the winter months. For this, we were honored with the Institution's Penzance Award in 2015.
What do you love most about working at WHOI?
The setting is right up there—Cape Cod and the Islands. However, it is great to get away and I've been fortunate to visit some once-in-a-lifetime places. I loved going to sea and working as a team with fellow technicians, engineers, students, scientists, and ship's crew. Sunrises and sunsets are better at sea, too! More recently, working in Distribution, the smiles and thank you's of recipients are so worth the steps and miles!
Tell us about the Pictorial Postmark—what is it and how does it work?
Pictorial postmarks are a service provided by the U.S. Postal Service (USPS) to commemorate local community events. USPS and WHOI employees staff a table where our custom-designed rubber stamp is used to cancel commemorative envelopes, postcards, and other mail items (in postal lingo, "cancel" means to mark the postage stamp or postal stationery to prevent its re-use). After the one-day live event, the postmark is available for an additional 30 days by mail-in service at the Boston District Office.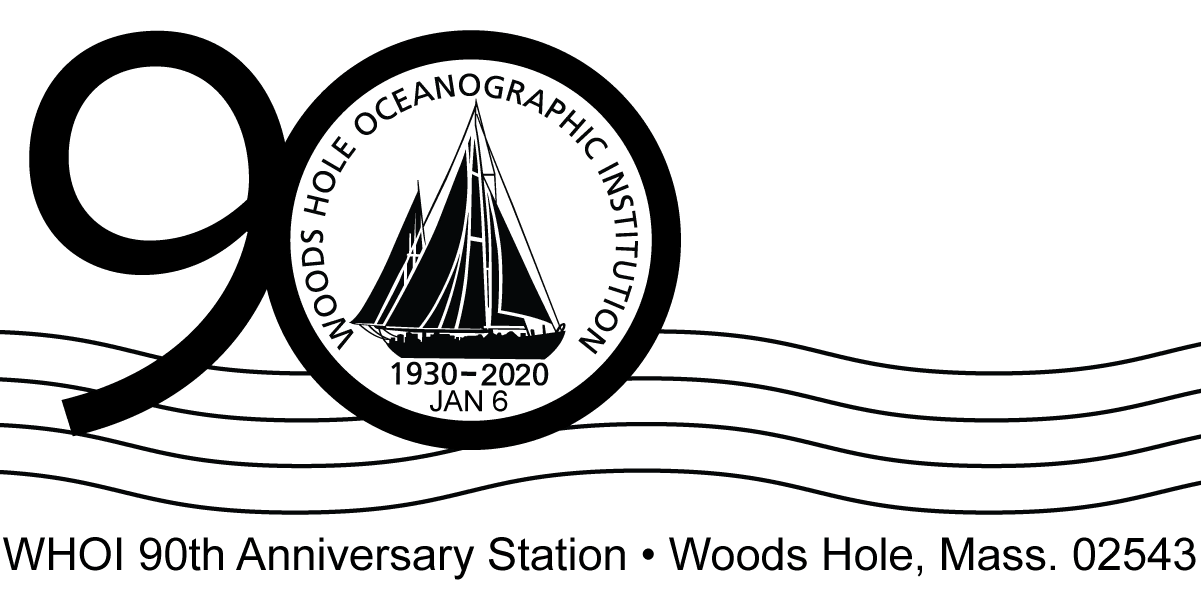 This will be the third pictorial postmark initiative that I have been involved in organizing. The first was in 2005 marking WHOI's 75th anniversary. The second was in 2018 celebrating Alvin's 5,000th dive. This current one celebrates WHOI's 90th anniversary, January 6, 2020 and features artwork created by WHOI graphic designer Natalie Renier.
It's fun to mix the field of oceanography with a hobby like philately (the study of stamps and postal history). Stamps depicting different ships, expedition mail, and submersible dive covers (where sub pilots or dive participants take envelopes down in the subs and document the dive; a "cover" is another name for an envelope)—are all facets of the hobby that I am interested in. I invite anyone with similar interests to join our Cape Cod Area Philatelic Group.