Welcome to New York City
R/V Neil Armstrong
Fleet Week 2017, May 24-26
Tour R/V Neil Armstrong
May 25, 10:00 a.m. - 12:30 p.m.   •   May 26, 10:00 a.m. - 12:00 p.m.
Intrepid Sea Air & Space Museum • Pier 86 (46th St. & 12th Ave.)
See inside one of the nation's most advanced oceanographic research vessels.
Meet scientists and crew who sail on the ship.
View underwater vehicles and other equipment used to explore the ocean.
Learn about the science and technology that is revealing new information about our planet.
Tours are free, but space is limited and available only on a first-come, first-served basis. Visitors to the ship must have a valid photo ID. Tours will last 20 minutes and require the ability to climb several flights of stairs. Please wear sensible shoes. No backpacks or strollers will be permitted on board.
Meet the ship
Neil Armstrong was built by the U.S. Navy to advance knowledge of the ocean and our planet. The ship can put to sea for up to 40 days with 44 scientists and crew and will be equipped to conduct advanced oceanographic research almost anywhere in the world. Neil Armstrong will be based in Woods Hole and operated by the Woods Hole Oceanographic Institution to provide scientists with the means to study the global ocean and its importance to life on Earth.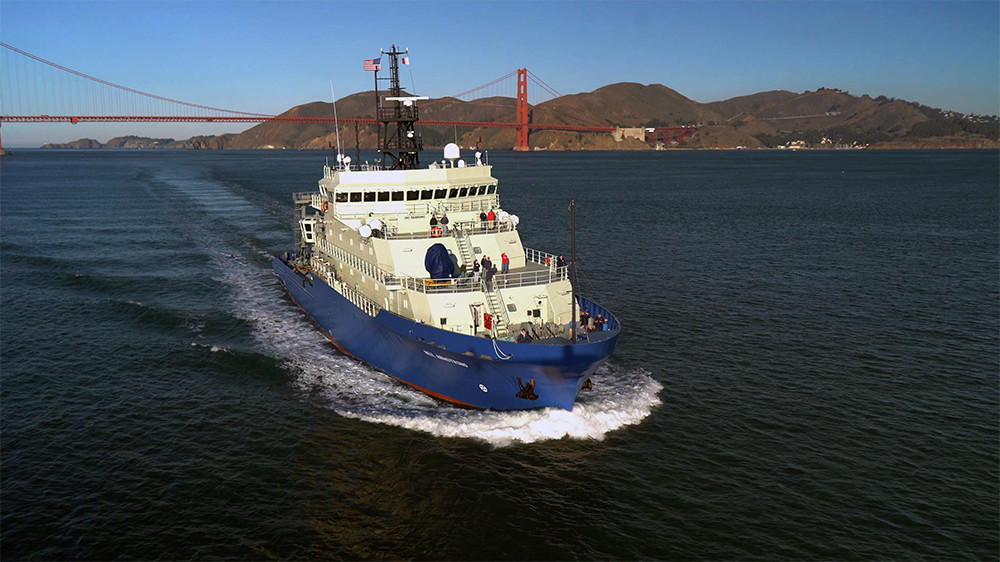 Specifications
Length: 238 feet
Beam: 50 feet
Draft: 15 feet
Speed: 11.5 knots cruising
Endurance: 40 days
Range: 11,500 nautical miles
Complement: 24 scientists, 20 crew
Lab space: 1,732 square feet
Deck space: 4,510 square feet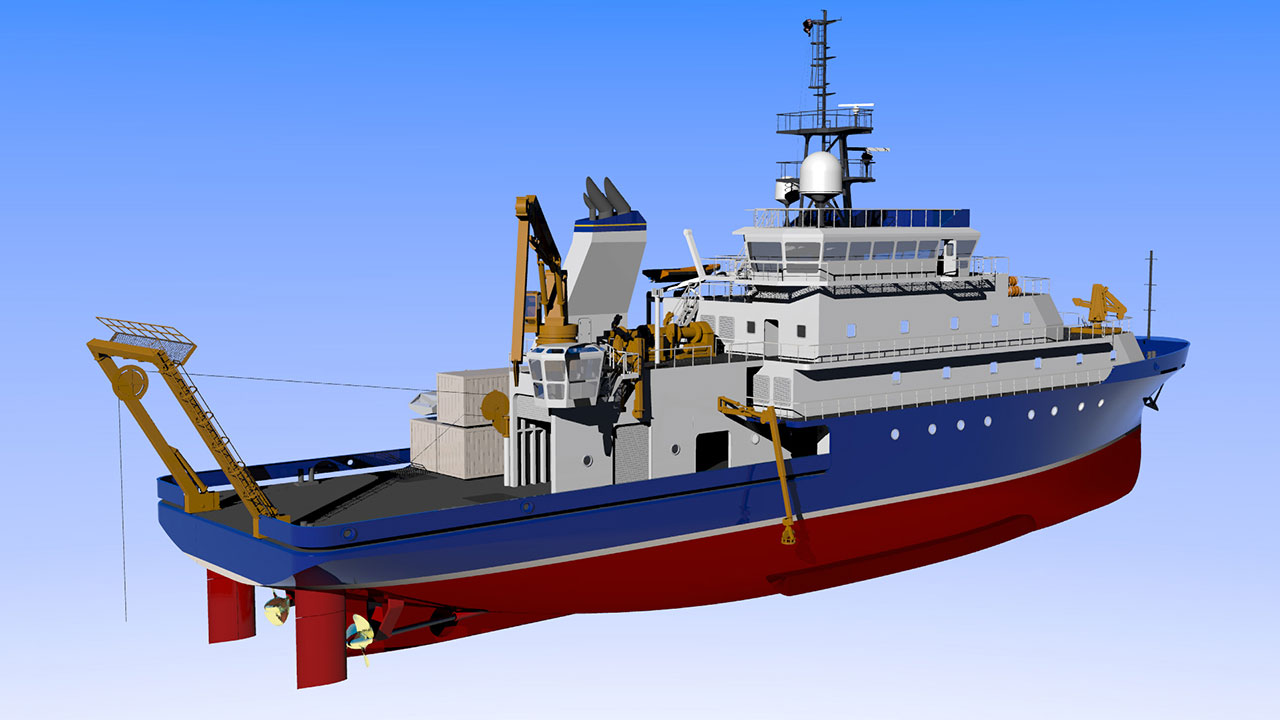 May 2010
The U.S. Navy selected the Woods Hole Oceanographic Institution to operate AGOR-27, first of its new Ocean Class of Auxiliary General-purpose Oceanographic Research vessels to replace the aging Knorr and Melville. (Image by Guido Perla & Associates)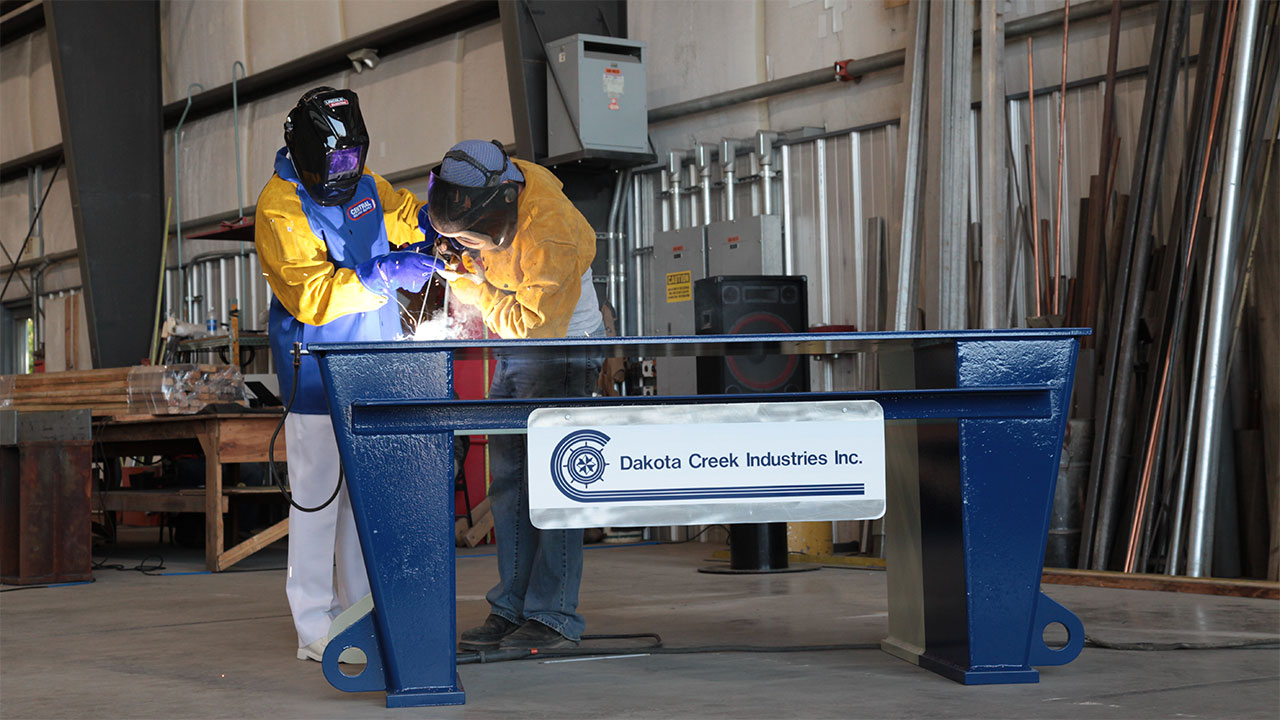 August 2012
In a ceremony at Dakota Creek Industries in Anacortes, Wash., WHOI president and director Susan Avery welded her initials into the traditional first piece of steel in AGOR-27's hull, signaling the start of construction. (U.S. Navy photo by Mass Communication Specialist 1st Class Joan E. Jennings/Released)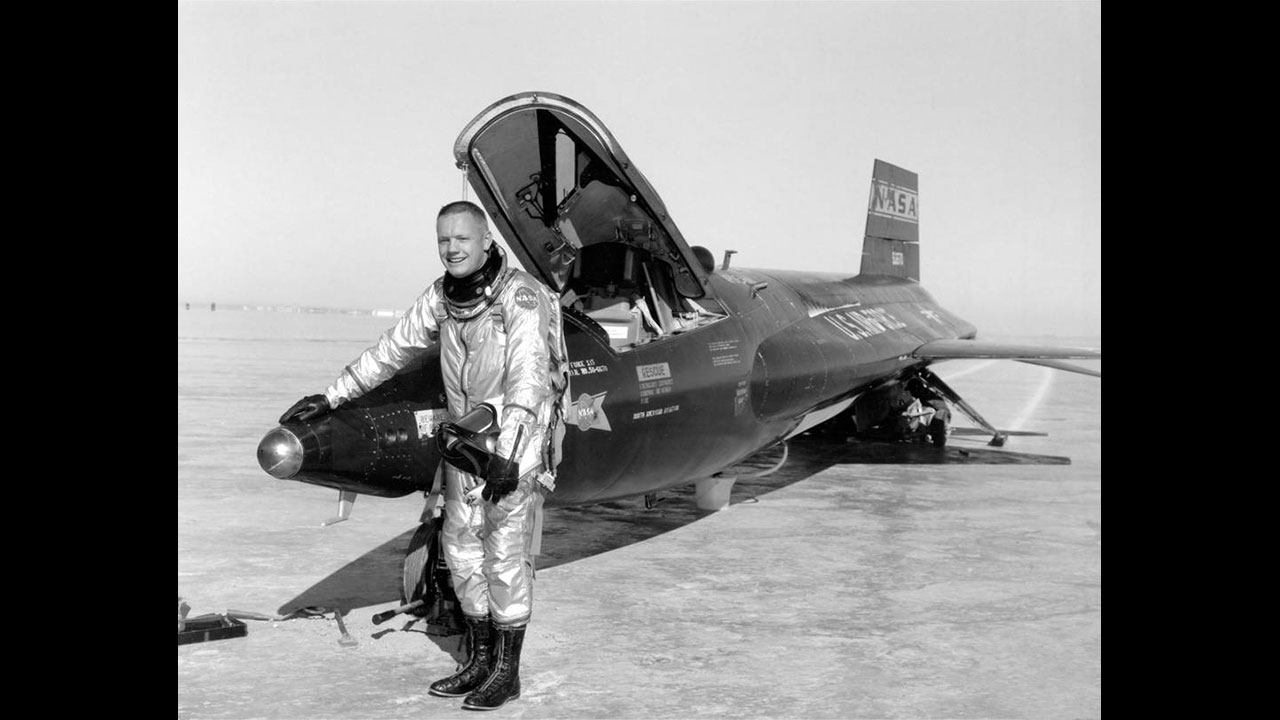 September 2012
The U.S. Navy announced that AGOR-27 would be named R/V Neil Armstrong after the former Naval aviator and first man to set foot on the moon, and that its sister ship, AGOR-28, would be named Sally Ride. (Photo courtesy of NASA)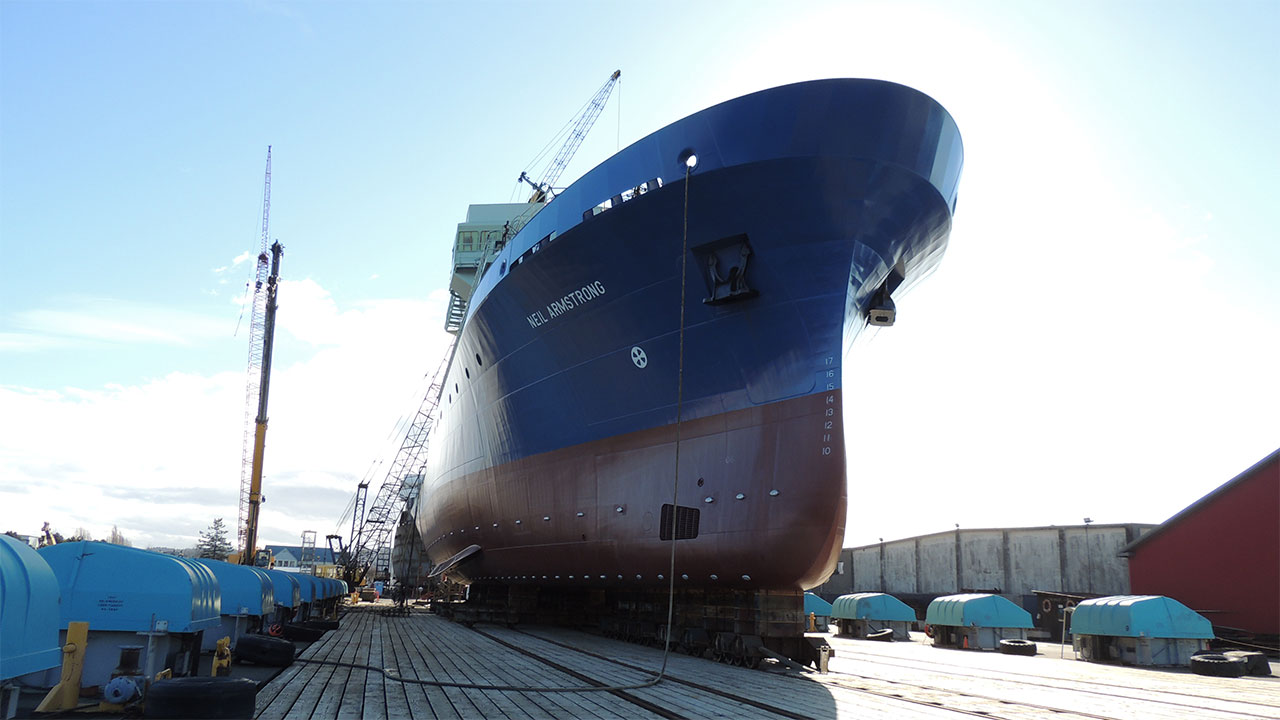 February 2014
Workers at Dakota Creek prepared Neil Armstrong to be lowered into the water for the first time. (Photo by Gary McGrath, Woods Hole Oceanographic Institution)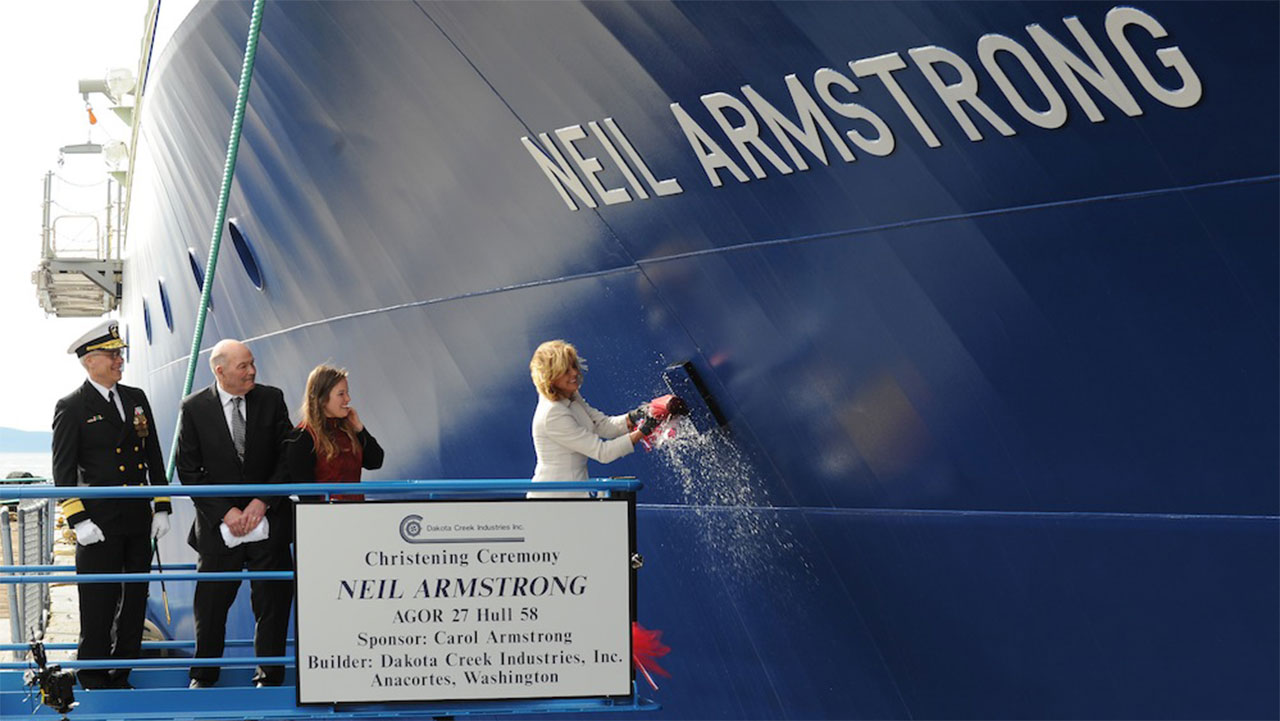 March 2014
Carol Armstrong, with other members of the Armstrong family in attendance, christened the new ship named after her late husband. (U.S. Navy photo by John F. Williams/Releases)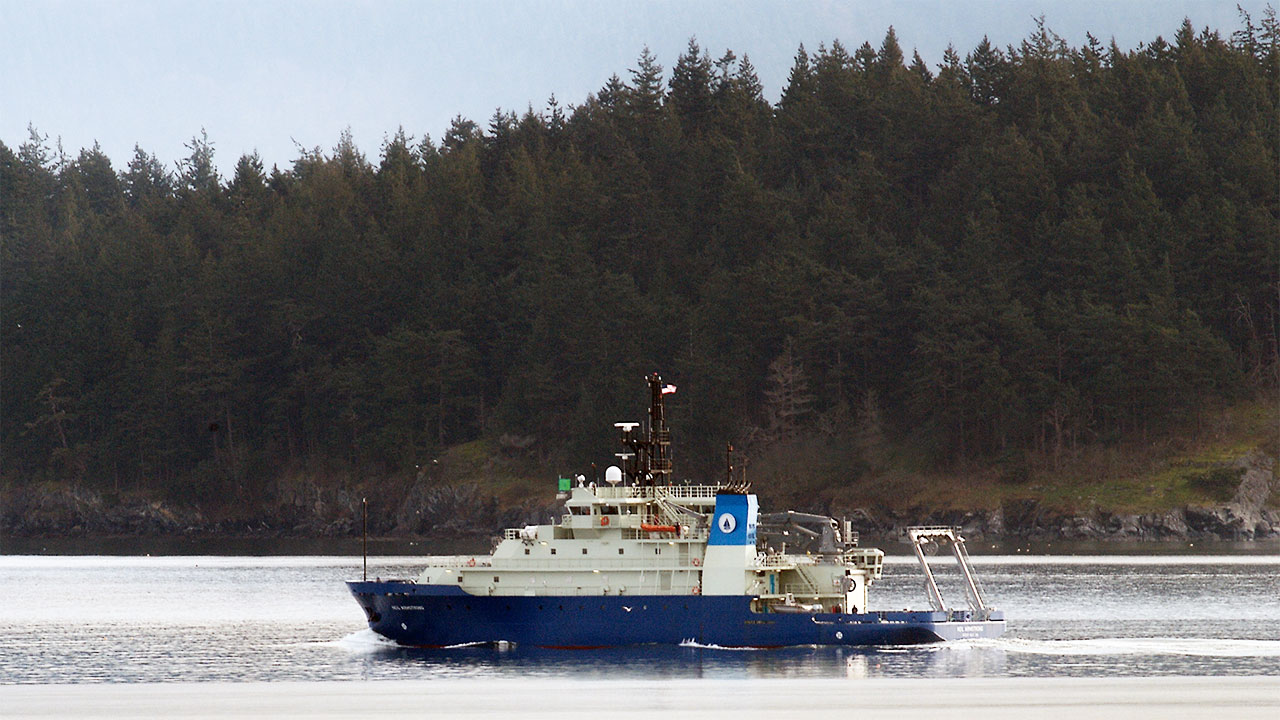 September 2015
After successfully completing its acceptance trials in the waters near Anacortes, Wash., Neil Armstrong was officially handed over to the U.S. Navy, which then transferred operation of the ship to WHOI. (Photo courtesy of Paul Bueren, Scripps Institution of Oceanography)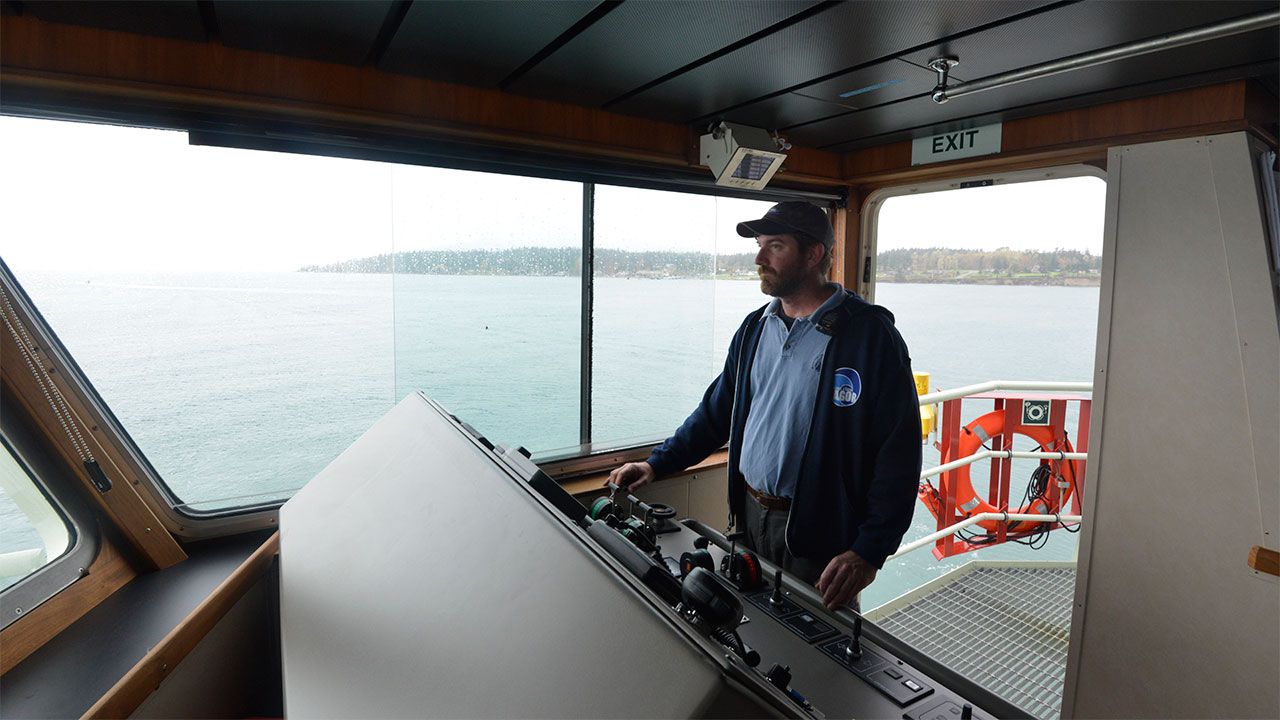 October 2015
Captain Kent Sheasley guided Neil Armstrong away from the dock in Anacortes, Wash., to begin the first leg of the ship's inaugural voyage to San Francisco, the Panama Canal, and the U.S. East Coast. (Photo by Ken Kostel, Woods Hole Oceanographic Institution)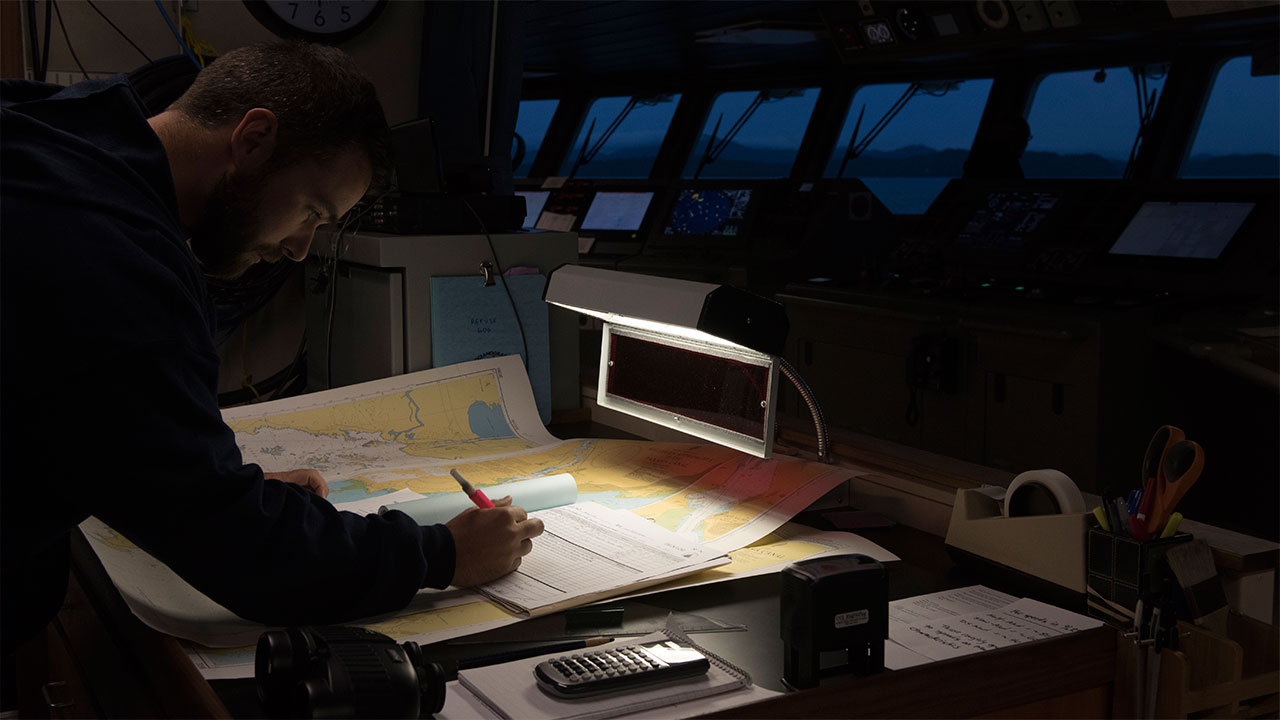 November 2015
Mike Singleton, third mate on Neil Armstrong reviewed charts of the Panama Canal prior to passing from the Pacific to the Atlantic as part of the ship's inaugural voyage. (Photo by Chris Linder, Woods Hole Oceanographic Institution)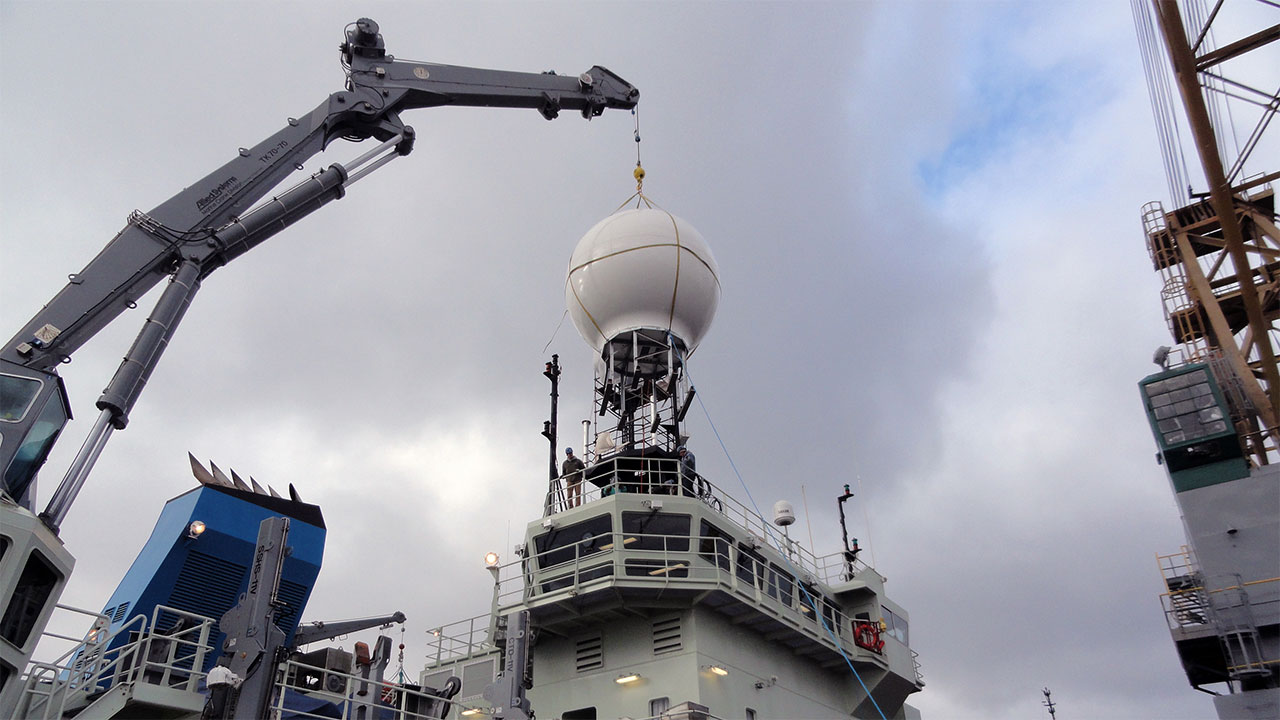 December 2015
Neil Armstrong arrived in Charleston, S.C., to begin installation of its general-purpose science equipment, including the main satellite antenna. (Photo by Dave Wellwood, Woods Hole Oceanographic Institution)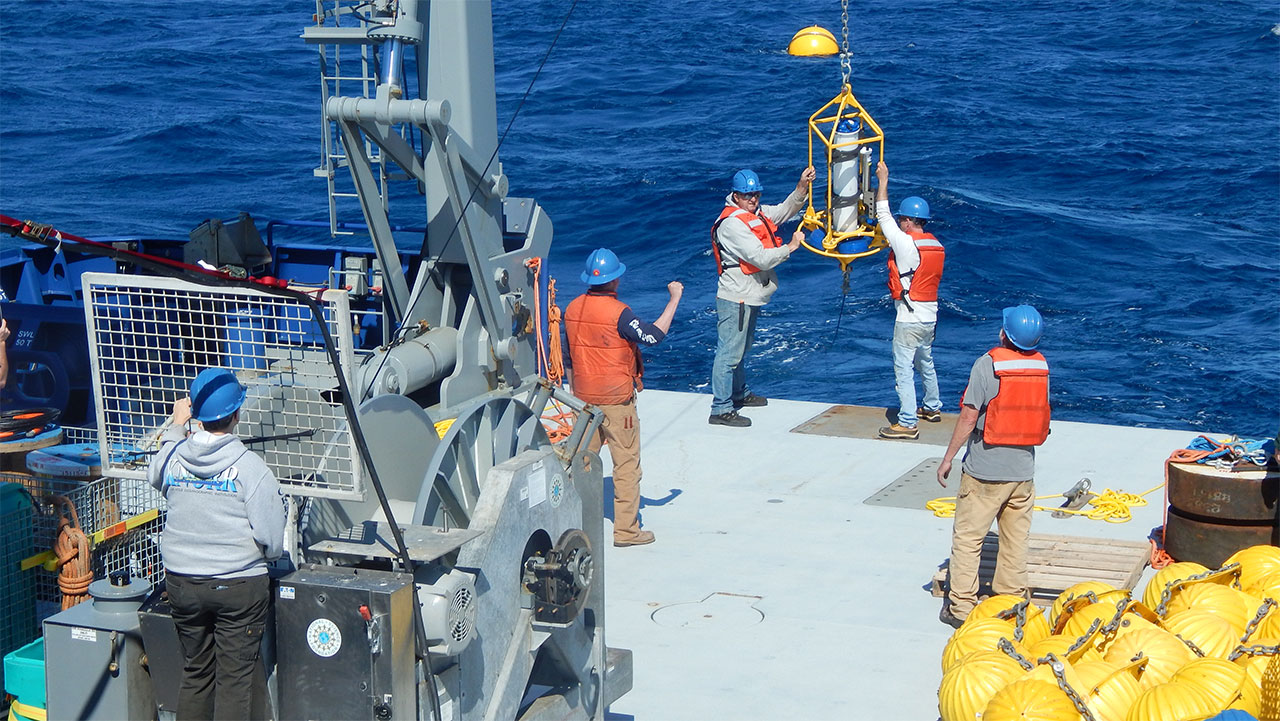 February 2016
Neil Armstrong began the first of several science verification cruises designed to test the ship's scientific instruments and gear-handling capabilities in meeting actual research objectives. (Photo by Pelle Robbins, Woods Hole Oceanographic Institution)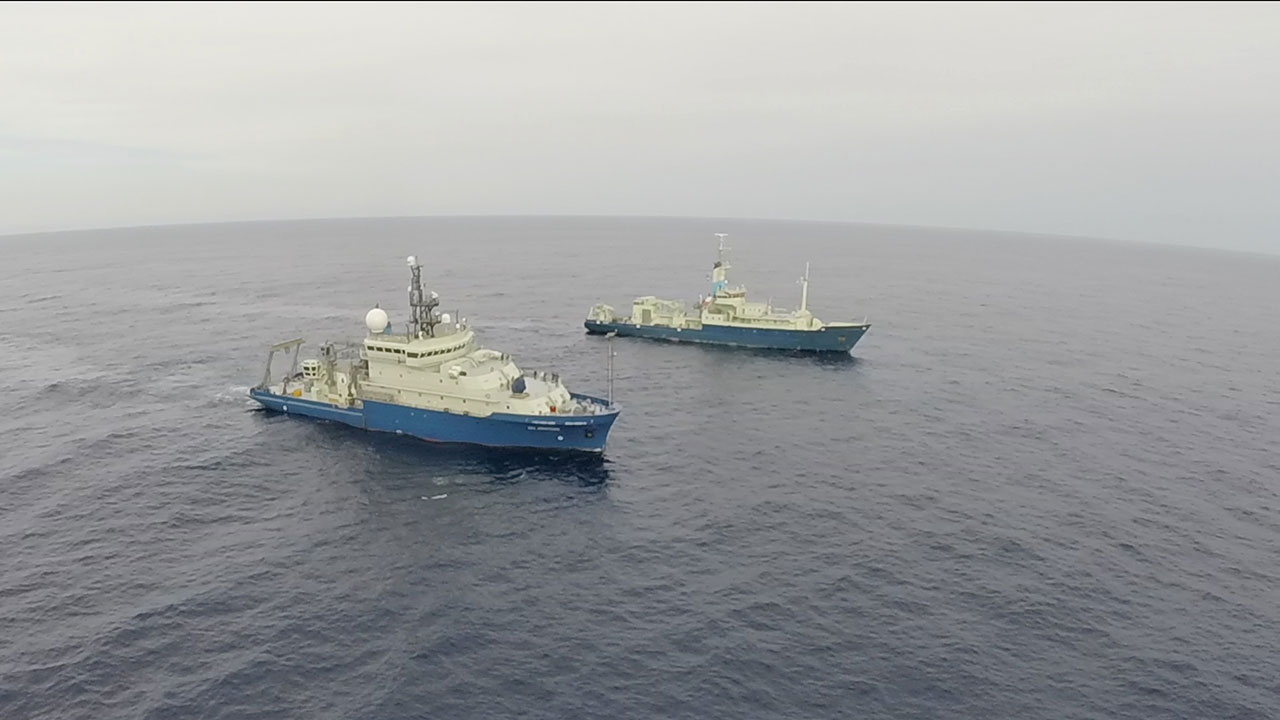 March 2016
During its second science verification cruise, the ship met up with its predecessor, R/V Knorr (now the Rio Tecolutla) traveling from Woods Hole to its new home in Mexico. (Photo courtesy of Kent Sheasley, Woods Hole Oceanographic Institution)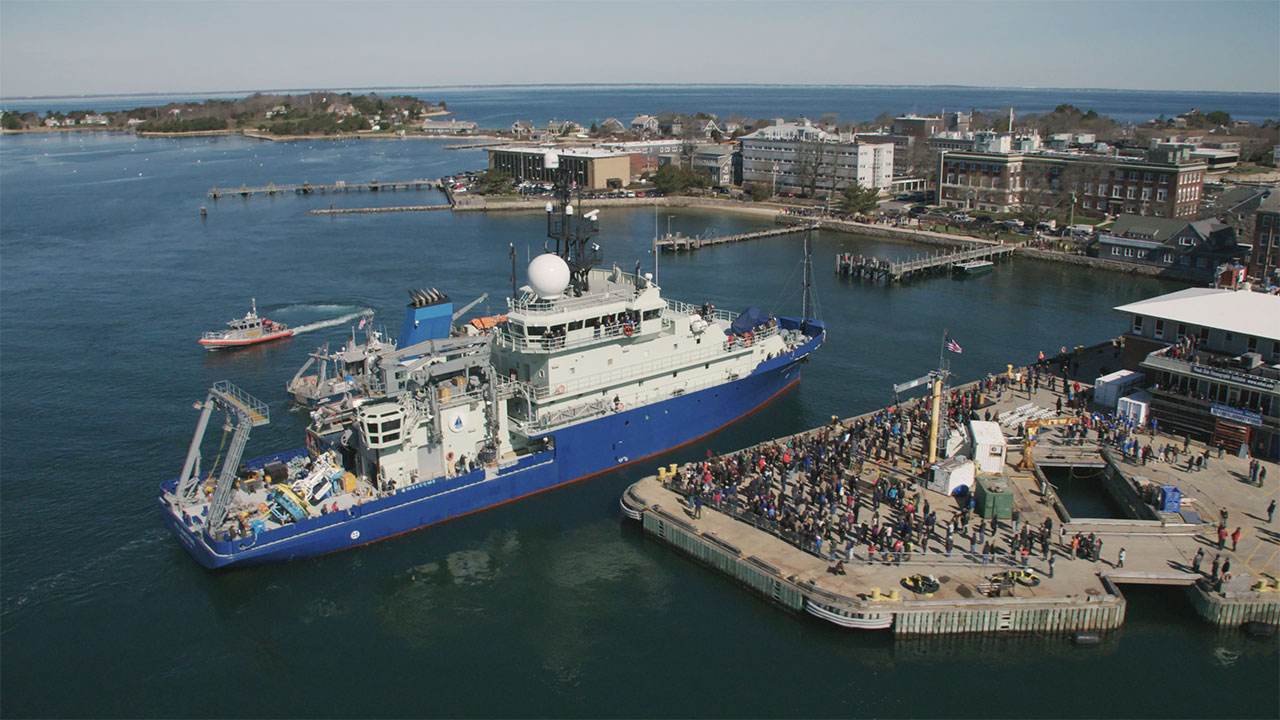 April 2016
Neil Armstrong arrives in its homeport of Woods Hole for the first time to a jubilant crowd on the WHOI dock. (Image by Daniel Cojanu, ©Woods Hole Oceanographic Institution)
https://player.vimeo.com/video/181882891
R/V Neil Armstrong in the North Atlantic
Illuminating the ocean with sound
Sailors for science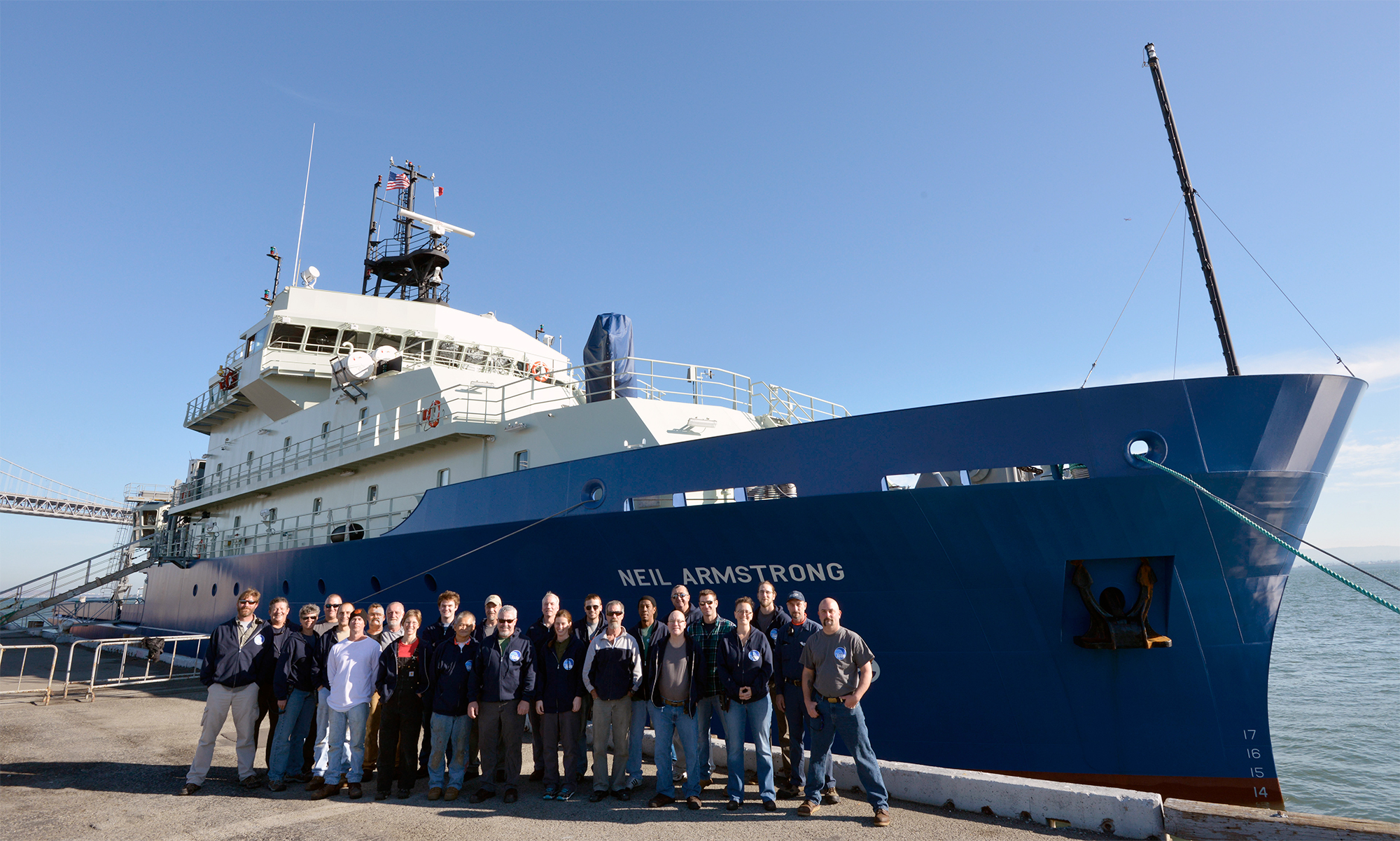 Neil Armstrong may be a new ship, but its crew includes many old hands. Most transferred from Knorr, a ship and crew known for their ability to get the job done, even in difficult conditions. Learn more about the different crew positions and their roles in helping ensure the success of seagoing ocean science.
The man behind the name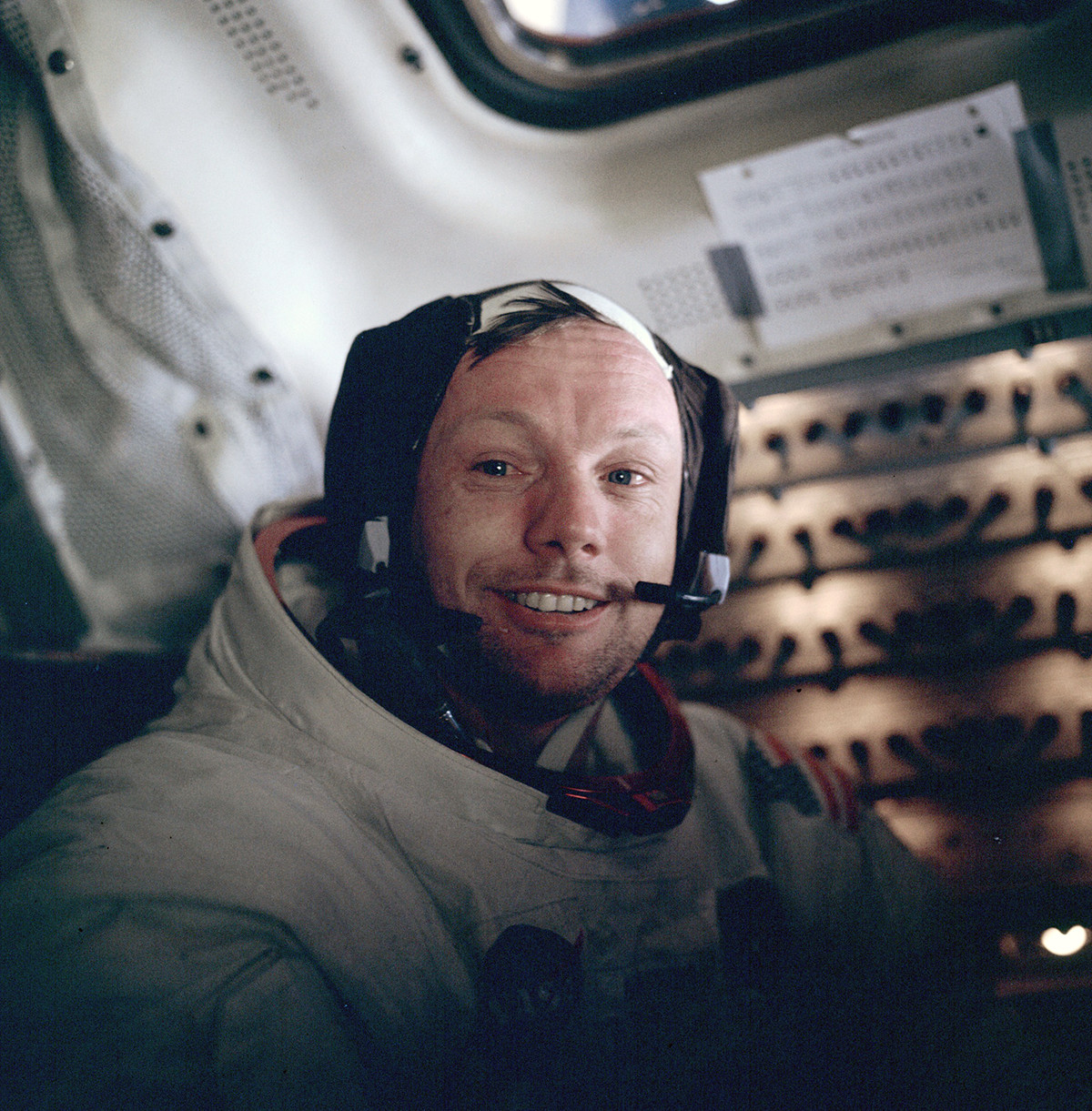 Neil Armstrong was a naval aviator, test pilot, and astronaut who pushed the boundaries of exploration. As the first human to walk on the moon, his view of our home gave us a greater appreciation of our place in the cosmos and a unique look at the oceans that cover 70% of Earth's surface.
Armstrong's legacy of exploration will continue with the ship that bears his name and in the scientists and crew who extend our ability to explore and understand Earth's ocean frontier.
R/V Neil Armstrong is owned by the U.S. Navy and operated by the Woods Hole Oceanographic Institution through the University-National Oceanographic Laboratory System for the benefit of the entire ocean science community.
She's a vessel with a heart of steel and a mission to expand the bounds of knowledge.
Kali Armstrong, granddaughter of Neil Armstrong