Featured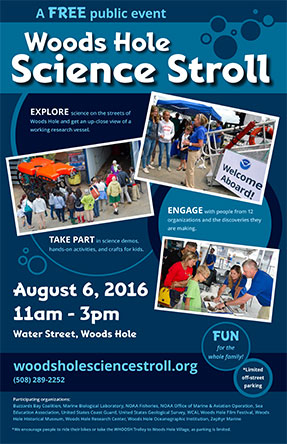 Saturday, August 6, 2016 • 11:00 a.m. - 3:00 p.m.
Walk the length of Water Street in Woods Hole and enjoy this free public day of interactive science sponsored by Woods Hole science organizations. Tour the NOAA ship Bigelow, see ocean robots, explore science displays, animal touch tanks, and hands on activities. Fun for the whole family! Parking in Woods Hole is limited. We encourage people to ride their bikes to Woods Hole or take the WHOOSH Trolley.
Tuesdays • 3 p.m. • WHOI's Ocean Scienc Exhibit Center, 15 School Street, Woods Hole

Science Made Public is an annual, summertime series of publicly accessible talks by scientists and engineers at the Woods Hole Oceanographic Institution.
Calendar of Events

Other Events and Notes of Interest
PEANUT BUTTER CLUB: July 29
Presents the video "Chasing Pluto"on Friday, July 29, at noon, in Redfield Auditorium, 45 Water St., Woods Hole. Watch as the New Horizons spacecraft captures our first clear view of Pluto's icy surface. Sponsored by the Information Office. Coffee, tea, and cookies served. Donations accepted.
WHOI SUMMER WALKING TOURS
Launched from the WHOI Information Office at 93 Water Street in the center of Woods Hole village, the tours take approximately one hour and fifteen minutes and provide excellent background on the research conducted at WHOI and on the history of the Institution. Tours are free and run in July and August, Monday through Friday at 10:30 a.m. and again at 1:30 p.m. Please contact the Information Office for a reservation as space is limited. Telephone (508) 289-2252 or email information@whoi.edu. These tours are recommended for a teenage to an adult audience.
WOODS HOLE HISTORICAL MUSEUM
Exhibits are open 10:00 a.m. – 4:00 p.m., Tuesday- Saturday.
Gallery 1: Science Connection: - Woods Hole and Japan
Gallery 2: Historic Cod Fish
For more information, please visit visit woodsholemuseum.org or call (508) 548-7270. The museum is free and open to the public.
SPLASH LAB AT THE OCEAN SCIENCE EXHIBIT CENTER:
Hands-on activities for kids using water, and fun for kids of all ages – at the Ocean Science Exhibit Center, located at 15 School Street in Woods Hole. Splash Lab will be held on Wednesdays and Thursdays from 1:00 – 3:00 p.m. No reservations necessary. For more information, call (508) 289-2663.
WOODS HOLE SCIENCE STROLL: August 6
The nonprofit organizations of Woods Hole have joined together to host a free public day of interactive science along Water Street on Saturday, August 6, from 11:00 a.m. - 3:00 p.m. Explore science on the streets of Woods Hole and get an up close view of a working research vessel and a Coast Guard rescue boat. See ocean robots, explore science displays, animal touch tanks, and hands-on activities. Fun for the whole family! Reservations are needed for the ship tour of the NOAA Ship Bigelow – reserve your space at www.woodsholesciencestroll.org. Limited off-street parking is available, so the organizers encourage people to ride their bikes or take the WHOOSH trolley to Woods Hole Village. Visit www.woodsholesciencestroll.org.
WOODS HOLE FILM FESTIVAL:
Celebrates its 25th year from July 30-August 6. Besides being the 25th anniversary, the big news is that recent projection and sound improvements to Redfield Auditorium and Lillie Auditorium will make for an exceptional film-going experience! This year's program is notable for the number of films from other countries—more than 30—as well as those made by women—more than a third—mirroring the trend found at many major festivals this year, such as Tribeca and Cannes. There is also a large contingent of emerging and independent filmmakers with a special emphasis on New England filmmakers, especially those from the Cape and Islands. The "Bringing Science to the Screen" program includes 14 feature length and short documentaries about the environment on topics ranging from seeds and trees to fishing and farming, many of them set on the Cape and Islands. For tickets and a complete listing of this year's films visit www.woodsholefilmfestival.org or visit us on Facebook.
WOODS HOLE PUBLIC LIBRARY: Week of July 18
An evening event celebrating Elaine Pear Cohen will be held at the library on Monday, July 18, at 7:30 p.m. Elaine Pear Cohen was an artist, art educator, author, and activist in the Woods Hole/Falmouth community for fifty years. The evening will start with a very short slide show of Elaine and her work narrated by her friend and co-author Ruth Gainer. Models of many of her sculptures will be on display. Refreshments will be served. Thanks to life-long Woods Hole summer resident Nancy Lassalle, the library will be offering a third summer season of lectures and films about dance in America. The talks will be held on four sequential Tuesday evenings in July and August, starting July 19 at 7:30 p.m. All will be held in the lower level meeting room and will start at 7:30 p.m. The first will be given by Iris Fanger, who will talk about the dance duo of Irene and Vernon Castle, who swept the international stage with their ballroom dancing in the 'teens and 'twenties. Ms. Fanger, who holds a doctorate in theater history from Tufts University, has long been a highly respected and prolific dance critic in Boston and New York. Locally, Ms. Fanger serves as a director on the board of the Woods Hole Research Center. The second evening in the Lassalle Dance Series will present Jane Pritchard, dance curator of London's Victoria and Albert Museum talking about Anna Pavlova. Her talk will be interspersed with clips of films of Pavlova. The third evening will feature Reggie Wilson who is coming over from Martha's Vineyard where he is working on a production at The Yard. The fourth presentation will be given by Laura Ingaglia about Jacob's Pillow and its international dance festivals. Dr. Charles Wyttenbach will give a talk and slide show at the library on Wednesday, July 20, at 7:30 p.m. His photographs are from his recent trip to Botswana, and will feature African mammals. Dr. Wyttenbach, who was on the Biology faculty at The University of Kansas from 1966 until his retirement in 1997, has been an avid photographer since he was a teenager. These events are free and open to the public. For more information, call the library at (508) 548-8961 or visit the website www.woodsholepubliclibrary.org.
WOODS HOLE PUBLIC LIBRARY: Week of July 25
On Monday, July 25 at 7:30 p.m., local film-maker Kristin Alexander will give a presentation at the library, featuring water restoration methods developed by Dr. John Todd of Falmouth, one of the founders of the New Alchemy Institute who has since developed new methods of water purification. Kristin will screen two short films: "Green Eco-Machine" showing Dr. Todd's earlier water restoration work using a natural process. "The Grafton Project" was filmed by Kristin Alexander and Daniel Cojanu, another filmmaker living in Woods Hole. The film shows the restoration of the Blackstone River corridor in Grafton Mass., where polluted water from the old mill goes through a natural restoration process designed by Dr. Todd. At the end of the films, Dr. Todd himself will speak. On Tuesday, July 26 at 7:30 p.m., Jane Pritchard of London will present an illustrated talk about the renowned ballerina Anna Pavlova. The iconic ballerina Anna Pavlova spent almost seven years on the American continent, the equivalent a quarter of her performing career. This illustrated presentation looks at the importance of the ballerina and her tours in North and South America. The talk will be richly illustrated with archival photographs of the ballerina in her prime. Woods Hole summer resident Esther Rowland has written a memoir about her life, which has spanned much of the Twentieth Century. She will give a talk at the library on Wednesday, July 27 at 7:30 p.m. She has called the book: Fellow Traveler, a concept that holds three meanings: first, her journey through life with her husband of 63 years Lewis P. (Bud) Rowland, M.D; second, a description of some of their more memorable travels; and third, the political connotation of a political path she and Bud chose as members of the non-communist left. Copies of Fellow Traveler will be available for sale at the library on the evening of Esther's talk. These events are free and open to the public. For more information, call (508) 548-8961 or visit the website www.woodsholepubliclibrary.org.