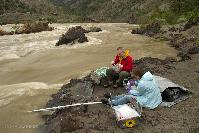 Sampling the Fraser near Lillooet (Chris Linder)




Biogeochemistry of the Fraser River

Collaborators:


Bernhard Peucker-Ehrenbrink, Valier Galy, Zhaohui Aleck Wang (WHOI)

Timothy Eglinton, Daniel Montlucon (ETH-Zurich)

Max Holmes, Robert Spencer, Kate Bulygina (Woods Hole Research Center)

Sharon Gillies, Steven Marsh, Alida Janmaat (University of the Fraser Valley)



The Fraser River drains a large area (~250,000 km2) of British Columbia in southwestern Canada. The basin spans a wide range of topography from its headwaters in the Canadian Rockies, through a deep canyon in the central plateau, and finally a narrow floodplain cutting through the Coast Mountains, before flowing into the Pacific Ocean at the city of Vancouver. The basin has experienced anthropogenic stress (mining, agriculture, logging, urbanization near Vancouver) since European settlement in the mid 1800s, yet it is one of the most pristine large river systems in the world. Significantly, it bears no dams on its main stem and very few on its principle tributaries, making it possible for sediments mobilized anywhere in the basin to reach the delta. The exceptional geological and hydrological diversity of the Fraser basin make it an excellent testing ground for distinguishing the geochemical signatures of source materials of organic and mineral material carried by the river, as well as how these signals are modified during transit and over seasonal cycles. Based on basin-wide field campaigns and 2 years of time series sampling near the delta, we are characterizing the inputs of material from various portions of the drainage basin, and how these inputs vary over time to produce the integrated signal observed far downstream. This project depends on significant involvement of local collaborators to maintain high resolution time series sampling. Colleagues at the University of the Fraser Valley in Abbotsford, B.C., have involved undergraduate students in sample collection, and some of these students have visited WHOI to analyze their own samples.

Check out the Fraser River Expeditions Blog!