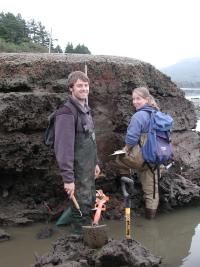 A series of earthquake deformation cycles are represented in this outcrop along the Oregon coast. Each cycle is composed of salt marsh peat abruptly overlain by intertidal muds. The contact between the peat and overlying mud is sharp and indicates instantaneous subsidence of the land into the intertidal zone. Visible are fine horizontal horizons that represent eroding tsunami deposits overlying salt marsh peats. (Alan Nelson)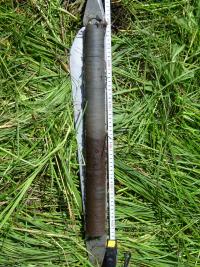 Salt marsh peat sharply overlain by intertidal muds




Coseismic vertical land-level movement

Development of a transfer function allows for very precise reconstructions of former sea level using a statistically-based relationship between modern foraminifera and their correlation to elevation in the tidal frame and fossil foraminifera found in sediment cores.

For these studies the transfer functions are primarily used to estimate megathrust-induced coseismic subsidence along the Oregon coast of the Cascadia subduction zone and the west coast of Aceh province adjacent the Sumatra subduction zone.