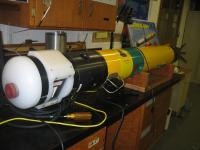 Extra long REMUS-100 Hull & Harbor Vehicle outfitted with an Imagenex Scanning Head Altimeter, Imagenex Delta T Sonar Head and forward and aft tunnel thrusters for station keeping stability. (Amy Kukulya)




Using a REMUS AUV for Harbor Security, Hull inspections and Underwater Archaeology.

Collaborators:
Mike Purcell, Roger Stokey

A third project I am team leader for is our Hull and Harbor Inspection vehicle. Integrating new model sensors like scanning altimeters, cameras, tunnel thrusters, etc. require drawing modifications that I occasionally make in high pressured situations and, therefore, also require me to make creative hardware changes. I most recently had to rebuild this entire vehicle over a one week operation at AUVFEST. I had to troubleshoot multiple leaks, multiple dead sensors (ADCP, Inertial Navigation System), failed thrusters, shorted circuit boards, communication issues, just to name a few. As you can imagine, it takes expert knowledge and strong determination to successfully accomplish these types of detail-oriented vehicle repairs. The HH vehicle is planned for future operations and I am working towards making several vehicle enhancements including the addition of a dual frequency sidescan sonar, upgrading endcap wiring, analyzing sensor performance and overseeing the fine-tuning of this vehicle. I expect the Hull and Harbor vehicle to continue its development as a hull inspection and underwater archaeology tool through the summer and beyond.