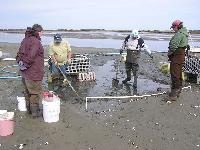 Dr. Smolowitz (MBL) and Dr. Leavitt (RWU) at a healthy clam plot in Barnstable Harbor.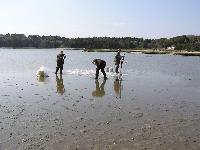 Placing nets in Pleasant Bay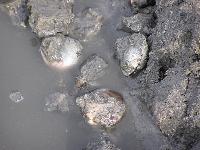 Examples of healthy quahogs. (R Gast)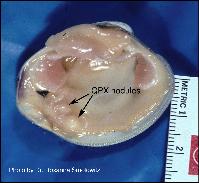 QPX infected clam (R Smolowitz)




Environmental Detection of Quahog Parasite Unkown (QPX)

Collaborators:
Roxanna Smolowitz Marine Biological Laboratory
Dale Leavitt Roger Williams University
Eugene Burreson & Corrine Audemard Virginia Institute of Marine Sciences

In 1995, significant mortality in cultured hard clams, or quahogs (Mercenaria mercenaria) from multiple sites in Provincetown and Duxbury, Massachusetts, devastated the local industry. Growers turned to Woods Hole researchers who, with emergency funding from Sea Grant, identified a parasite as the cause. Since that time, the parasite (named QPX for quahog parasite unknown) has been detected in cultured and wild clams in other northeast U.S. locations.

While QPX research has led to many important discoveries about the parasite, important questions remain unanswered, including the environmental source of the QPX organism. One theory proposes that QPX is found naturally in all Atlantic coast sediments and infects hard clams during stressful environmental events. Recent studies suggest that, while climate stress and adaptation may play a part in the occurrence of the disease in some stocks, this may be only part of the story. Another theory suggests that QPX is present only in the fauna and/or sediment of specific bays or estuaries, or that QPX is associated with a specific alternate or carrier host. Examining these theories will provide scientists, hard clam growers and natural resource managers with answers about the QPX agent and its distribution mechanism.

Using traditional histological and molecular tools, WHOI biologist Rebecca Gast and Marine Biological Laboratory pathologist Roxanna Smolowitz, along with colleagues from Virginia Institute of Marine Sciences and Roger Williams University, will screen for the presence of the QPX organism in samples of sediment, water, algae, and invertebrates from sites where QPX infections have occurred and where they have not. This project will identify potential alternate hosts or environmental refuges that may harbor the QPX organism outside of the clam. Performing surveys at two distant sites that are both impacted by the disease helps to identify commonalities, and will assist in developing aquaculture management plans.