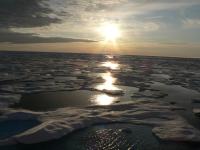 Sea ice in the Canada Basin (Daniel Montluçon)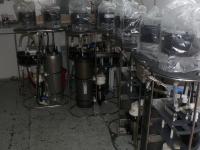 Pumps ready to collect particles (Daniel Montluçon)




Organic Carbon Cycling in the Canada Basin of the Arctic Ocean: Isotopic and Biomarker Evidence

Collaborators:
David Griffith (WHOI), Ann McNichol (WHOI), Valier Galy (WHOI), Daniel Montlucon (ETH Zurich), Tim Eglinton (ETH Zurich)

In the last decade, the Canada Basin of the Arctic Ocean has undergone major changes in the extent of summer sea ice coverage, and in the distributions of nutrients and primary productivity. What is less well-understood is how these changes will translate to the dark basin below where the fate of surface-exported organic carbon and organic carbon derived from coastal and terrestrial primary productivity is decided. As part of the Beaufort Gyre Exploration Project (http://www.whoi.edu/page.do?pid=66296) at WHOI, suspended particulate matter was collected by in situ filtration in 2008 and 2011. The stable isotopic composition of fatty acids displays a pattern more similar to coastal and estuarine environements than open-ocean settings, suggesting prominent bacterial heterotrophy. A source of 13C-depleted fatty acids is also indicated in the mid-water column along with the influence of re-suspended sediments in the deepest 1000 meters. Radiocarbon analysis of suspended particulate organic carbon also indicates significant variability between 2008 and 2011 at particular depths, and intact polar lipid analysis further describes the bacterial lipid source in the deep basin.

Presentation:
Shah, S.R., Griffith, D.R., Galy, V., McNichol, A.P., Van Mooy, B.A.S., and T.I. Eglinton. Isotopic Indications of Microbial Metabolic Activities in the Arctic Ocean. Organic Geochemistry GRC 2012.


Publication:
Shah, S.R., Griffith, D.R., Galy, V., McNichol, A.P., T.I. Eglinton. Prominent bacterial heterotrophy and sources of 13C-depleted fatty acids to the interior Canada Basin. Biogeosciences, 10, 7065-7080, 2013. doi: 10.5194/bg-10-7065-2013.