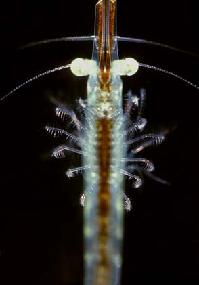 Mysid shrimp are a small crustacean species used for the regulatory evaluation of environmental endocrine disruption




WHOI Ocean Life Institute Postdoctoral Scholarship

Collaborators:
-Laboratory of Environmental Toxicology and Aquatic Ecology (Ghent University, Belgium)
-Laboratory of Chemical Analysis (Ghent University, Belgium)
-Marine Biology Section (Ghent University, Belgium)
-US-EPA's National Health and Environmental Effects Research Laboratory (Gulf Breeze, FL)
-Other 'mysid people'

My postdoctoral research at WHOI started in November 2003 and will run until May 2005 with funding from WHOI's Ocean Life Institute. My goals are to acquire and apply the necessary skills in molecular biology to further unravel hormonal regulation and its disruption by chemicals in marine invertebrates. This includes developing techniques to identify and quantify the genes and hormones involved in growth, reproduction and early development in ecdysozoans (animals that grow through molting). In addition, I have worked on cloning specific enzymes (cytochrome P450s) from vertebrates and invertebrates.
Presently, I am looking into the hormonal regulation and disruption of early development, moulting, growth and reproduction of mysid crustaceans, which takes me back to my PhD roots. This research should provide crucial understanding in the effects of hormone disruptors in an important group of invertebrate species. Furthermore, there is an urgent need from a regulatory perpective to develop methods to predict effects of environmental endocrine disruptors in invertebrates. In this perpective, mysids are the only invertebrate model that is presently being considered in regulatory testing by EPA in the USA.