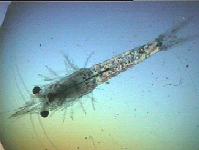 The European mysid Neomysis integer (Crustacea: Mysidacea) was used as a test organism




The energy metabolism of the estuarine mysid Neomysis integer (Crustacea, Mysidacea) as a biomarker for endocrine disruption in estuaries.

Collaborators:
-Tim Verslycke, Laboratory of Environmental Toxicology and Aquatic Ecology (Ghent University, Belgium)
-Malcolm Jones, Stephen Roast, Plymouth Environmental Research Center, Plymouth, UK)
-Jan Mees, Flanders Marine Institute (Belgium)
-Ketil Hylland, Norwegian Institute for Water Research (Norway)

A new methodology (Cellular Energy Allocation, CEA) to assess the energy budget was adopted for the mysid Neomysis integer in this 2-year European Exploratory Project (2001-2003).

The energy metabolism is under hormonal control is consequently a likely target for the effects of endocrine disruptors. The project looked at using energy metabolism as a biomarker for environmental endocrine disruption by means of laboratory and field experiments. CEA interlaboratory protocol validation was an important part of this project.