WHOI's Ocean Science Café
June 19, 2019 @ 6:30 pm

-

8:00 pm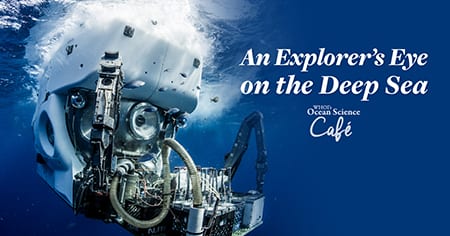 An Explorer's Eye on the Deep Sea:
A Conversation with Alvin pilot Bruce Strickrott
Join Bruce Strickrott, pilot of the famed deep sea sub, Alvin, on a journey of discovery and deep-ocean exploration. The presentation will feature images and video of some of the world's most interesting and exotic areas around the globe and highlight the history of Alvin, including the sub's involvement in the 1986 exploration of the RMS Titanic; the skills required to pilot a sub, and the future of human-piloted diving operations with Alvin.
Doors open at 6:00 p.m. • Food and drinks will be available for purchase.
This is a FREE event but you must RSVP.
For any questions, please contact the WHOI Visitor Center at (508) 289-2252 or email information@whoi.edu.
About the Speaker
Bruce Strickrott is a Certified Deep Submergence Vehicle Pilot and an ocean engineer. He has worked as a member of Woods Hole Oceanographic's Alvin Group since 1996 and has made more than 350 dives in Alvin. He holds a Private Pilot license, and is qualified as a PADI (Professional Association of Diving Instructors) Rescue Diver.