Featured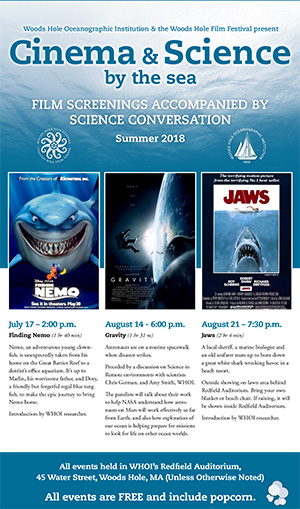 July and August
Redfield Auditorium, Woods Hole Oceanographic Institution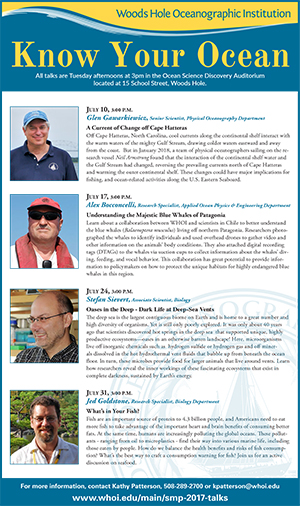 Tuesdays in July and August at 3:00 p.m.
WHOI's Ocean Science Discovery Center Auditorium, 15 School Street, Woods Hole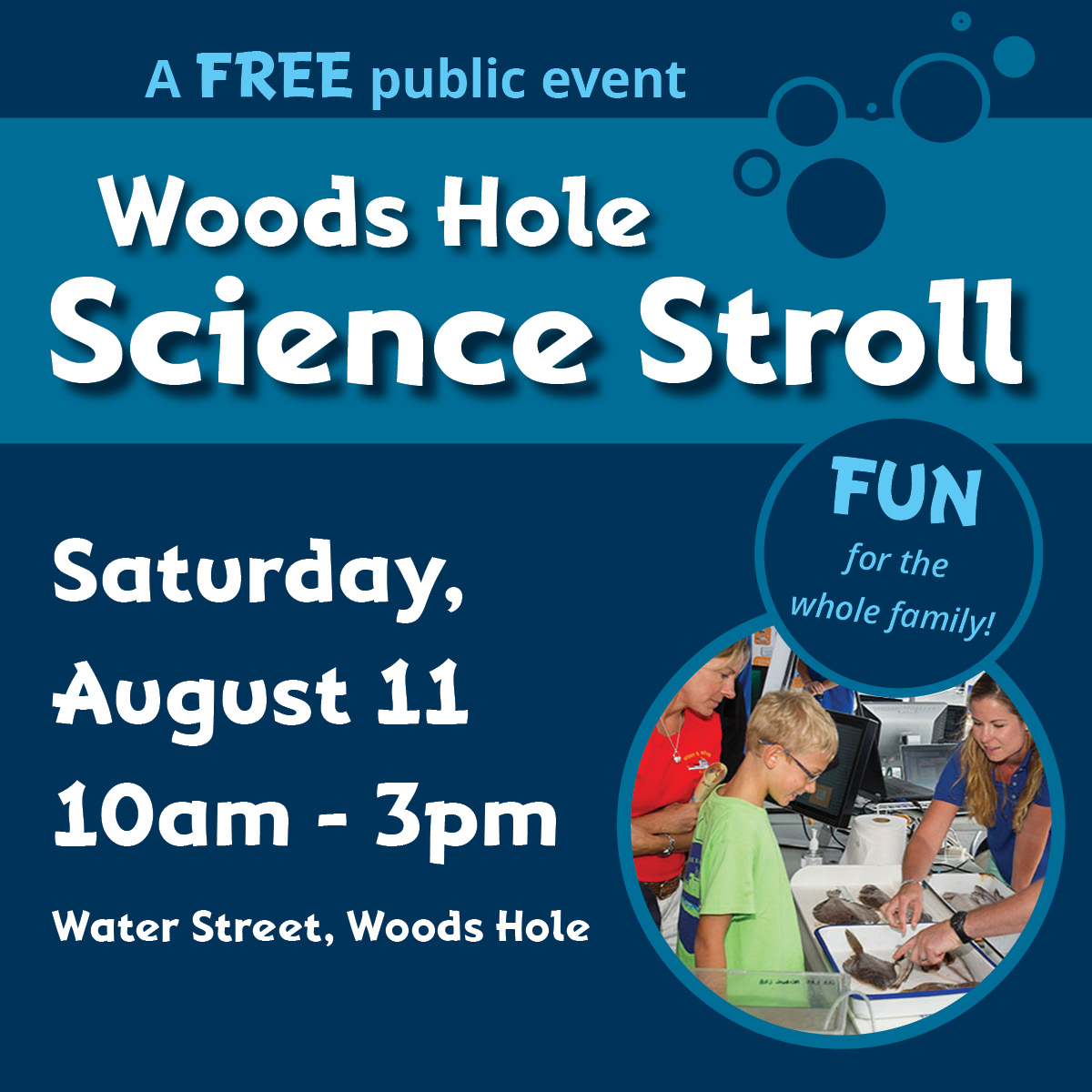 Saturday, August 11, 2018 • 10:00 a.m. - 3:00 p.m.
Water Street, Woods Hole, MA
Calendar of Events

Other Events and Notes of Interest
PEANUT BUTTER CLUB: July 20
Presents the video "What Are Animals Saying?" on Friday, July 20, at noon, in Redfield Auditorium, 45 Water St., Woods Hole. Can we crack the code of animal communication? Sponsored by the Information Office. Coffee, tea, and cookies served. Donations accepted.
WOODS HOLE FILM FESTIVAL - BRINGING SCIENCE TO THE SCREEN:

The Woods Hole Film Festival begins its 27thth year on Saturday, July 28, running for eight jam-packed days through Saturday, August 4, at multiple venues in Woods Hole and Falmouth. The festival's intimate environment and inspiring setting enables filmmakers and audiences from around the world to watch films together experience and to engage in thought-provoking and meaningful conversations. Each year, due to its location and connection with the local science institutions, theFestival attracts a strong slate of science related films under the umbrella program "Bringing Science to the Screen." This year's "Bringing Science to the Screen" program, funded in part by a grant from the Falmouth Fund of the Cape Cod Foundation, features seven feature-length films, 10 short ones and one panel discussion about science and storytelling. For a list of films, please visit: http://www.woodsholefilmfestival.org/festival-2018/201-bringing-science-to-the-screen/
THE WHOI 2018 GEOPHYSICAL FLUID DYNAMICS (GFD) PROGRAM: June 18 - August 10
Begins on Monday, June 18 with lectures running through August 10. This year's principal lecturer will be Professor Andrew Woods from the University of Cambridge. If you would like to receive weekly lecture schedules by email, please contact Julie Hildebrandt at jhildebrandt@whoi.edu. All lectures will be held at Walsh Cottage.
"KNOW YOUR OCEAN" SCIENCE CHATS: July 17
On Tuesday, July 17, at 3:00 p.m., the WHOI Ocean Science Discovery Center will host a presentation by Alex Bocconcelli, research specialist in the Biology Department, titled "Understanding the Majestic Blue Whales of Patagonia." Learn about a collaboration between WHOI and scientists in Chile to better understand the blue whales (Balaenoptera musculus) living off northern Patagonia. Researchers photographed the whales to identify individuals and used overhead drones to gather video and other information on the animals' body conditions. They also attached digital recording tags (DTAGs) to the whales via suction cups to collect information about the whales' diving, feeding, and vocal behavior. This collaboration has great potential to provide information to policymakers on how to protect the unique habitats for highly endangered blue whales in this region. The "Know Your Ocean" Science Chats are free and open to the public. The WHOI Ocean Science Discovery Center is located at 15 School Street in Woods Hole. Visit our website (www.whoi.edu/main/kyo-2018-talks) or for more information or call (508) 289-2700.
WOODS HOLE PUBLIC LIBRARY: Week of July 16
A display of "Sailor's Valentines" created by Cape Cod native Gregg Roberts will be on display at the library throughout the month of July during the library's normal open hours. Based on an historic maritime craft, the pieces are made entirely of shells, most found in the Caribbean. Later in the month, Mr. Roberts will talk at the library about his work. In the meantime, the Valentines on display will be for sale, as are postcards of his other works. For more information visit www.woodsholepubliclibrary.org. The library has begun the new season of its Social Justice Book Club. Summer resident Ruth Gainer is to leading the group and its discussions. All the books chosen for the group focus on issues of poverty, racism, and the justice system. This year, Ruth has expanded the program so there will be a total of four books read and discussed. In each case, copies of the book will be available at the library and also at Eight Cousins Books, for those who wish to own their own copy. On July 25, participants will be discussing When They Call You a Terrorist: a Black Lives Matter Memoir, by Patrisse Khan-Cullors and Asha Bandele and on August 8, participants will be discussing Give Us the Ballot, by Ari Berman. The library is seeking donations for its 4th Annual Accessories & Adornments Sale of women's jewelry, pocketbooks, wallets, backpacks, scarves, hats, belts, gloves, and sunglasses. For gentleman we seek donations of ties, wallets, backpacks, belts, gloves, scarfs, sunglasses, hats (no baseball hats, please). Donations can be dropped off at the library on 581 Woods Hole Road before Friday, August 3, during regular library hours. Parking is free. If you have any questions, please contact Suzanne Currier at (774) 313-0544 or suzcurrier@comcast.net. All proceeds of the sale will directly benefit the libraries operating budget and programming. For more information, call the library at (508) 548-8961, or visit the library's website www.woodsholepubliclibrary.org.
WHOI OCEAN SCIENCE DISCOVERY CENTER & GIFTSHOP:
Located at 15 School Street, Woods Hole, is open daily, 10 a.m. - 4:30 p.m. For more information, call (508) 289-2663. WHOI merchandise is available year-round by visiting our online store at http://shop.whoi.edu/.