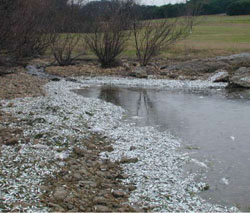 Golden Algae
Of the non-cyanobacterial inland HAB taxa, Prymnesium parvum (also referred to as "golden algae"), is likely the most problematic in U.S. waters. P. parvum has caused large fish kills worldwide since as early as the 1930's, and was first suspected of killing fish in Texas in 1982 and confirmed in 1985. P. parvum generally blooms in brackish water and has killed millions of fish in Texas. P. parvum has also been confirmed in New Mexico, Colorado, Wyoming, North Carolina, South Carolina, Georgia, Arkansas, and Alabama and has been suspected in Oklahoma and Nebraska. In New Mexico, P. parvum has entered into stream environments where it threatens the survival of the Pecos bluntnose shiner, which is listed as a threatened fish species.
Prymnesium parvum Blooms Kill Fish in Brackish Water Systems
An emerging problem in the US is the impact from golden-algal blooms caused by Prymnesium parvum, a species that thrives in brackish water typical of rivers and reservoirs in parts of Texas, Oklahoma, and Wyoming. Fish kills attributed to P. parvum were first documented in the US in 1985 in Texas. Since that time, 41 different fish kills have been linked to P. parvum in Texas, killing over 18 million fish worth an estimated $7 million. The majority of major kills have occurred since 2000 as this toxic alga has been found in an increasing number of river basins in the state. Local communities have experienced huge financial losses as tourists stay away and fishing guides lose their customers. P. parvum poses a threat to cultured as well as native fish in rivers and lakes. In the 1940s, it caused significant fish mortality in Israeli aquaculture ponds. It continues to pose a threat to cultured fish. In 2001, P. parvum killed the entire year's production of striped bass at Texas' Dundee State Fish Hatchery with over 5 million fish lost.
Additional Resources

Texas Golden Alga Facts
Golden alga facts including tips for recognition, reporting, and health and safety in PDF format. To obtain hard copies please e-mail hab@tpwd.state.tx.us
Last updated: July 11, 2016