Planned Giving
Most of us face real limits on what we can contribute during our lifetime. Planned giving helps individuals make a significant philanthropic investment that supports the vision and strategic plans of the Institution, creates a continuing remembrance of your values, makes a difference to a program or project of your choice, and provides evidence of your generosity—leaving a lasting legacy of which we all can be proud.
When you plan your philanthropy to WHOI, the Institution can better plan for its future. Through legacy planning, donors can:
Minimize gift, estate and capital gains taxes
Diversify assets without incurring capital gains tax
Maximize charitable deductions
Maximize effectiveness of your gift
The choices are yours. To learn more, download Lasting Legacies: A Guide to Planned Giving (pdf).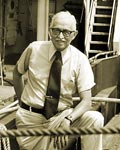 Paul M. Fye
The Paul M. Fye Society
Supporters who choose planned gifts to WHOI become members of the Paul M. Fye Society. Paul Fye served as the Institution's fourth director from 1958 to 1977. During his 19 years of service, the Institution acquired the Quissett Campus and completed construction of new research facilities, modernized its research fleet, including development of the deep submergence vessel Alvin, inaugurated the Joint Program in Oceanography with MIT, and increased substantially its scientific staff and endowment. His example inspires us still.
Members of the Fye Society receive:
Oceanus Magazine
Invitation to the annual Fye Society gathering
Invitations to science presentations
Our monthly e-newsletter
15% discount at WHOI Store (online or in Woods Hole)
Participation in the ASTC Passport Program (free admission to over 250 participating science museums; see below)
For more information about planned giving and the Paul M. Fye Society, please contact us at (508) 289-4895.