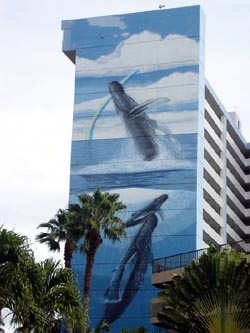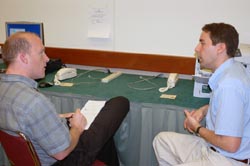 Related Multimedia

Related Links
No Dramamine Required
Whale watching trips, with their days of gentle breezes and breaching humpbacks, make whale research seem idyllic. But more often the work means spending queasy days peering through a high-powered telescope on a lurching research ship.

So Mark Baumgartner decided to look for whales from underwater. Last spring, the WHOI biologist sent four robotic gliders into the teeth of a northeaster off Cape Cod, Mass. His ship had just enough time to launch the gliders before beating a hasty retreat. The gliders dropped quietly below the 30-mph winds and 17-foot seas and started listening.

Gliders look a little like a scuba tank with wings (the ones Baumgartner used were similar to the spray glider). They can navigate through the water to pre-specified locations, without using propellers. Instead, they adjust their buoyancy, and as they rise or sink the specially shaped wings push the craft forward.

With no propellers, gliders use very little power, meaning they can operate for a month or more at a time, day and night. Better yet, the movement is virtually silent. It's perfect for recording whale songs.

Baumgartner equipped three gliders with audio recorders and flew them in a triangle formation about 5 km (3 miles) apart from each other. They determined their location at least every hour and checked their course accordingly. After five days the gliders were recovered with recordings of three kinds of endangered whales: right, sei, and humpback.

All three gliders heard the whales loud and clear, from as much as 5 km (3 miles) away. They also recorded the time of each call and their own locations, allowing Baumgartner to calculate where the whales were.

A fourth glider Baumgartner used during the same period had a sonar-like instrument called an ADCP that had been modified to measure zooplankton. This glider followed the others and brought back a detailed record of whale food from the expedition.

This spring, Baumgartner is sending another glider team out for a three-week whale search. Last year's five-day mission was limited by computer memory, not battery life. So getting the gliders ready for the longer mission was a simple matter of upgrading their flash memory cards from two gigabytes to eight.
* * *
A Freshwater Bacterium Makes the Jump to Salt Water
While Baumgartner chased after the largest creatures in New England waters, WHOI biologist Rebecca Gast was looking for some of the smallest: bacteria called Legionella. She was looking because after decades of treating coastal waters as safe dumping grounds, people are beginning to worry about diseases emerging from them.

Legionella causes legionnaire's disease, a form of pneumonia that was discovered when it sickened many of the delegates at a 1976 American Legion meeting in Philadelphia. The infection can spread to the nervous and digestive systems, causing confusion, fatigue and nausea as well. The bacteria are common in most fresh water, including institutional drinking supplies, air conditioners and humidifiers.

Legionella can survive up to a few days on its own in sea water. But sometimes it winds up inside an amoeba, where it can survive much longer. Worse, living inside the amoeba ramps up the bacteria's anti-immune defenses, making infections much more virulent in humans.

Gast studied Mount Hope Bay, a shallow stretch of water wedged between the suburbs of Fall River, Mass., and Bristol, R.I. Here, as in many coastal areas, sewage stations discharge wastewater into the bay. "It's treated sewage," Gast said at a poster session yesterday, "but it's still rich in nutrients and organic matter. It's not tap water."

Gast sampled water and mud from four parts of the bay on each of a half-dozen visits during 2005. After culturing her samples, she found a total of 32 Legionella strains from all four sites and most of her visits. The highest numbers were collected near a sewage outfall.

So far, the Legionella strain responsible for the disease hasn't turned up, but Gast says it's only a matter of time and sampling.

Next, Gast plans to expand her search by looking for Naegleria, which causes fatal meningitis, and Giardia and Cryptosporidium, two diseases familiar to backpackers who forget to filter their drinking water.