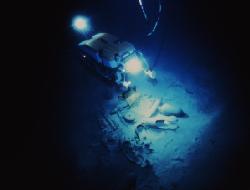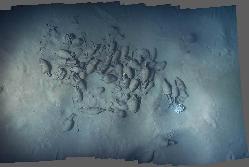 Related Files

Related Links
Roman, late Medieval, and 19th century shipwrecks, plus "Amphora Alleys"
Skerki Bank is a geographical feature in the western Mediterranean Sea, located along the route between ancient Carthage and Ostia, the port of ancient Rome. In 1989, Dr. Robert Ballard led a team of engineers and archaeologists on a project to discover and document an ancient shipwreck near Skerki Bank. Dr. Anna Marguerite McCann was the chief archaeologist on that project. Using the Jason ROV, the team investiagted the site of a 4th century A.D. late Roman vessel which they named Isis.
The Skerki Bank survey area held other cultural remains, including scores of ceramic transport jars called 'amphoras'. The team mapped the locations of the amphoras scattered near Isis, and speculated that other shipwrecks might lie undetected nearby.
In 1995, Dr. Ballard returned to Skerki Bank with the submarine NR-1. The submarine is a nuclear-powered research vessel belonging to the United States Navy. It can reach depths of 3000 feet, and is equipped with cameras, lights, and powerful search sonars. During the 1995 expedition to Skerki Bank, the crew of NR-1 discovered three more shipwrecks: one from the Roman period, a late medieval wreck, and a 19th century sailing vessel. The team also mapped a scatter of hundreds of amphoras lying on the sea floor. Some of these amphoras were arranged linearly, and were dubbed "Amphora Alley". Based on these discoveries, Dr. Ballard planned a new expedition to the area.
In 1997, Dr. Ballard and Dr. McCann assembled an international team of engineers and archaeologists and returned once again to Skerki Bank. Underwater vehicles for the project consisted of the Navy's submarine NR-1, and the WHOI Jason ROV. During a six-week field season, the team documented the three wrecks located in 1995, identified and documented a second "Amphora Alley", and discovered four additional shipwrecks. The four 'new' wrecks included two more from the Roman period and two 19th century sailing vessels.
In 2003 Dr. Ballard and a team of engineers and archaeologists again returned to Skerki Bank. This time the vehicle systems were the new Hercules ROV and Little Hercules ROV, of Dr. Ballard's Institute For Exploration.The goals of the project were to learn more about the Skerki Bank sites, demonstrate new camera and vehicle technologies, and develop methods and techniques for archaeology in deep water.
Skerki Bank: A laboratory for archaeology in deep water
The Skerki Bank area has become a laboratory for archaeology in deep water. In 1989 and 1997 Skerki served as the proof-of-concept site for archaeology in deep water. Between those projects, Ballard and the crew of NR-1 conducted a broad-area search and survey project in 1995. In 2003 another multi-institutional team refined techniques and methods for robotic archaeology. Some of the pioneering work performed at Skerki Bank over the years includes:
first archaeology project in deep water

precision acoustic microbathymetric site mapping

high definition imaging

digital photomosaicking

closed loop control of underwater robotic vehicles

robotic manipulation and recovery of artifacts

robotic archaeological excavation

archaeological conservation of artifacts recovered from deep sea

in situ caching of artifacts
Skerki Bibliography
Robert D. Ballard, The Lost Wreck of the Isis (Toronto: Madison Press Books, 1990) [children's book]
A.M. McCann, J. Freed, "Deep Water Archaeology: A Late Roman Ship from Carthage and an Ancient Trade Route near Skerki Bank off Northwest Sicily" Journal of Roman Archaeology Supplementary Series No. 13, 1994.
R.D. Ballard, A.M. McCann, D.Yoerger, L. Whitcomb, D. Mindell, John Oleson,
Hanumant Singh, Brendan Foley, Jonathan Adams, and Dennis Picheota, "The Discovery of Ancient History in the Deep Sea Using Advanced Deep Submergence Technology," Deep-Sea Research I Volume 47 No. 9 (September 2000): 1591-1620.
Anna Marguerite McCann, "Amphoras From The Deep Sea: Ancient Shipwrecks Between Carthage And Rome" Rei CretariÆ RomanÆ Favtorvm Acta 36, 2000: 443-448.
Anna Marguerite McCann, "An Early Imperial Shipwreck In The Deep Sea Off Skerki Bank" Rei CretariÆ RomanÆ Favtorvm Acta 37, 2001: 257-264.
Anna Marguerite McCann and John Peter Oleson, "Deep Water Shipwrecks off Skerki Bank: The 1997 Survey" Journal of Roman Archaeology Supplementary Series Number 58, 2004.