People Directory : Kevin W. Becker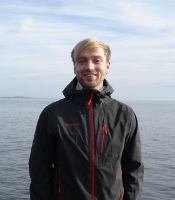 Kevin W. Becker
Postdoctoral Investigator
Marine Chemistry & Geochemistry
Office Phone: +1 508 289 2347
WHOI Mailing Address:
Woods Hole Oceanographic Institution
266 Woods Hole Rd.
MS# 04
Woods Hole, MA 02543-1050
Education
2015 - Dr. rer. nat., Geosciences, University of Bremen, Bremen, Germany

2011 - M.Sc., Geosciences, University of Bremen, Bremen, Germany
2009 - B.Sc., Geosciences, University of Bremen, Bremen, Germany
Research Interests
Organic geochemistry

Microbial lipidomics

Biomarker research

Microbial ecology

Development of analytical methods
Research Statement
As an organic geochemist, I work at the interface of biology, chemistry and geology and my overarching research interests revolve around the role of microorganisms in the regulation of global biogeochemical cycles. Understanding microbial transformations in the oceans is important for predicting future carbon sequestration and nutrient cycling. I am particularly interested in studying the ecophysiology of microbial communities in energy- and nutrient-limited environments, such as the open oligotrophic ocean and marine sediments. To this end, I investigate molecular-level responses of marine organisms to their changing environment, i.e. the information encoded in the molecular and isotopic composition of microbial membrane-forming lipids. By using the emerging field of lipidomics, I aim to contribute to our understanding of how and why organisms leave their particular chemical signals and to provide new insights on the microbial processes that drive biogeochemical processes in the modern ocean and the geological past.
Publications
[12] Brankovits, D., Pohlman, J.W., Niemann, H., Leigh, M.B., Leewis, M.-C., Becker, K.W., Iliffe, T.M., Alvarez, F., Lehmann, M.F., Phillips, B. Methane- and dissolved organic carbon-fueled microbial loop supports a tropical subterranean estuary ecosystem. Nature Communications 8, 1835. doi: 10.1038/s41467-017-01776-x
[11] Elling, F., Könneke, M., Nicol, G.W., Stieglmeier, M., Bayer, B., Spieck, E., de la Torre, J.R., Becker, K.W., Thomm, M., Prosser, J.I., Herndl, G.J., Schleper, C., and Hinrichs, K.-U. (2017). Chemo­taxo­nomic char­ac­ter­iz­a­tion of the thau­marchaeal lip­idome. Environmental Microbiology. doi: 10.1111/1462-2920.13759
[10] Elvert, M., Pohlman, J.W., Becker, K.W., Gaglioti, B., Hinrichs, K.-U. and Wooller, M.J. (2016). Methane turnover and environmental change from Holocene lipid biomarker records in a thermokarst lake in Arctic Alaska. The Holocene 26(11), 1766-1777. doi: 10.1177/0959683616645942
[9] Becker, K.W., Elling, F.J., Yoshinaga, M.Y., Söllinger, A., Urich, T. and Hinrichs, K.-U. (2016). Unusual butane- and pentanetriol-based tetraether lipids in Methanomassiliicoccus luminyensis, a representative of the seventh order of methanogens. Applied and Environmental Microbiology 82(15), 4505-4516. doi: 10.1128/AEM.00772-16
[8] Braun, S., Y Morono, Y., Becker, K.W., Hinrichs, K.-U., Kjeldsen, K.U., Jørgensen, B.B., Lomstein, A.A. (2016). Cellular content of biomolecules in sub-seafloor microbial communities. Geochimica et Cosmochimica Acta 188, 330-351. doi: 10.1016/j.gca.2016.06.019
[7] Hamann, E., Gruber-Vodicka, H., Kleiner, M., Tegetmeyer, H.E., Riedel, D., Littmann, S., Chen, J., Milucka, J., Viehweger, B., Becker, K.W., Dong, X., Stairs, C.W., Hinrichs, K.-U., Brown, M.W., Roger, A.J. and Strous, M. (2016). Environmental Breviatea harbour mutualistic Arcobacter epibionts. Nature 534, 254-258. doi: 10.1038/nature18297
[6] Elling, F.J.*, Becker, K.W.*, Könneke, M., Schröder, J.M., Kellermann, M.Y., Thomm, M. and Hinrichs, K.U. (2016).Respiratory quinones in Archaea: phylogenetic implications and application as biomarkers in the marine environment. Environmental Microbiology 18(2), 692-707.
*These authors contributed equally to this work. doi: 10.1111/1462-2920.13086
[5] Becker, K.W., Lipp, J.S., Wörmer, L., Versteegh, G.J.M. and Hinrichs, K.-U. (2015). Rapid and simultaneous analysis of three molecular sea surface temperature proxies and application to sediments of the Sea of Marmara. Organic Geochemistry 85, 42-43. doi: 10.1016/j.orggeochem.2015.04.008
[4] Elling, F.J., Könneke, M., Lipp, J.S., Becker, K.W., Gagen, E.J., Hinrichs, K.-U. (2014). Effects of growth phase on the membrane lipid composition of the thaumarchaeon Nitrosopumilus maritimus and their implications for archaeal lipid distributions in the marine environment. Geochimica et Cosmochimica Acta 141, 579-597. doi: 10.1016/j.gca.2014.07.005
[3] Becker, K.W., Lipp, J.S., Zhu, C., Liu, X. and Hinrichs, K.-U. (2013). An improved analytical method for the analysis of archaeal and bacterial ether lipids. Organic Geochemistry 61, 34-44. doi: 10.1016/j.orggeochem.2013.05.007
[2] Zhu, C., Lipp, J.S., Wörmer, L., Becker, K.W., Schröder, J., Hinrichs, K.-U. (2013). Comprehensive glycerol ether lipid fingerprints through a novel reversed phase liquid chromatography-mass spectrometry protocol. Organic Geochemistry 65, 53-62. doi: 10.1016/j.orggeochem.2013.09.012
[1] Wooller, M.J., Pohlman, J.W., Gaglioti, B., Langdon, P., Jones, M.C., Walter-Anthony, K.M., Elvert, M., Becker, K.W., Hinrichs, K.-U. (2012). Reconstruction of past methane availability in an Arctic Alaska wetland indicates climate influenced methane release during the past ~12,000. Journal of Paleolimnology 48, 27-42. doi: 10.1007/s10933-012-9591-8
----
Google Scholar Citations profile
[back]