| | |
| --- | --- |
| June 1, 2012 - ESPChris update | |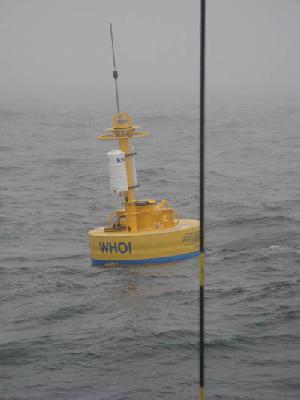 ESPchris taken during the ground truthing surveys in May 2012. The wire in the foreground is the CTD cable from the R/V Tioga.

(WHOI / B. Keafer)


Hi all,
Just wanted to report before the weekend that ESPchris has detected low concentrations of Alexandrium fundyense again. The signal from yesterday was positive, but the intensity was very weak with the value in the 50-100 cells/L range--right at the detection limit.
This result is consistent with the the ground truth observations from last week which indicated that low levels of Alexandrium were located in the coastal waters near Casco Bay and Cape Porpoise, just upstream in the coastal flow from the buoy. It appears that the upstream population has now arrived in the coastal waters near Portsmouth and the Isle of Shoals.
ESPchris is currently processing a sample now (13:20pm on Friday June 1) with another result available later today. I will report again late today if there is any change.
Given the HydroMet Outlook posted yesterday from Dave Valle et al (NWS-Taunton), ESPchris can expect an upcoming period of NE winds accompanying a coastal storm (or two). You can be assured that we are keeping a close eye on the results to determine if there is an abrupt rise in the Alexandrium concentration or Psuedo-nitzschia sp. following the storm(s).
Let's hope ESPchris weathers the conditions next week and reports back,
Bruce Keafer.