| | |
| --- | --- |
| ITP 10 Deployment Operations | |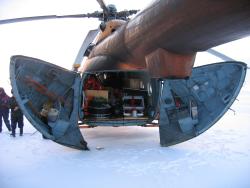 After landing on the selected deployment icefloe, the cargo bay doors of the Russian MI-8 helicopter are opened to unload the ITP instrument and deployment apparatus (and IMB). Photo by John Kemp.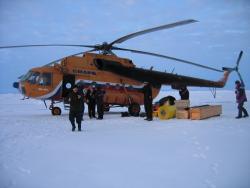 The MI-8 and deployment team after all of the equipment has been unloaded. Photo by John Kemp.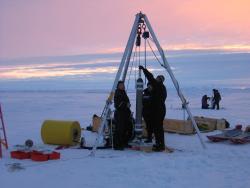 Sergey Unovidov, Sergey Lessenkov, and Brian Hogue attach the ITP profiler to the wire tether in preparation for the inductive modem test before it is lowered into the ocean. In the background the IMB is being simultaneously installed. Photo by John Kemp.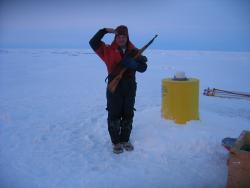 John Kemp on guard of ITP 10 after a successful deployment. Photo by Brian Hogue.

The operation to deploy ITP 10 (and companion IMB) was conducted using the Federov MI-8 helicopter, starting with a reconnaissance that began after midnight. The ITP, IMB, and deployment team of scientists from Arctic and Antarctic Research Institute (AARI) in Russia, Université Pierre et Marie Curie (UPMC) in France, and WHOI were all loaded onto a single MI-8 and transported to the selected icefloe. Once the ice party and gear were unloaded, the helicopter departed to continue to search for suitable sites for the installation of North Pole 35 ice camp. In the colorful twilight which characterizes the darkest time of the night at this latitude and season, both the ITP and IMB were efficiently deployed in several hours. In fact, the operations were performed so rapidly that the ice party had to wait for several hours in light snowfall for the MI-8 to return and transport them back to the ship.