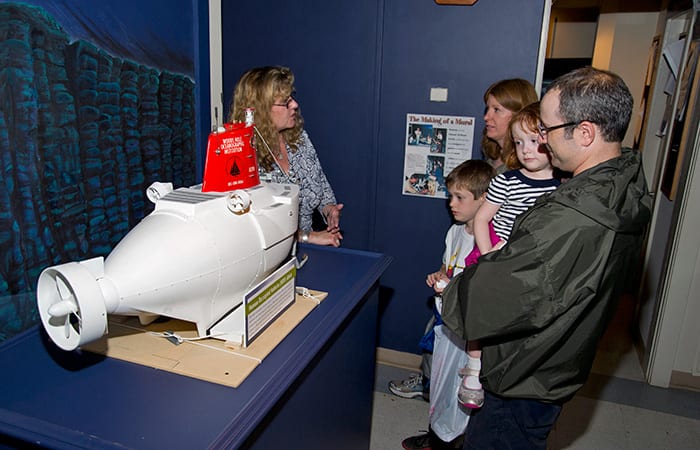 Li'l Alvin
Diving enthusiast builds miniature version of famous sub
Tom Ryder logged hundreds of hours under water during his career as a diver. His experience ranged from searching for murder weapons on the bottoms of lakes to collecting specimens for the Shedd Aquarium in Chicago.
Ryder is also one of those hands-on guys who enjoys building model boats—radio-controlled ones with lots of details and moving parts. So before he retired in 2005, he looked for a project that would not only "keep me out of my wife Marcy's hair," as he put it, but also give him something he could really sink his hands, heart, and mind into.
He decided to make a one-of-a-kind model of a one-of-a-kind vehicle: Alvin, the iconic research submarine whose 50-year resume includes some of the greatest discoveries in and about the deep sea.
"As a diver for many years, I have always had an interest in underwater vehicles," he said, "and I have followed Alvin's exploits since I was young."
At his home in Western Springs, Ill., Ryder, then 62 years old, set out to build a 1/8-scale fully operational model of the 23-foot-long Alvin. He needed detailed descriptions of the sub, so naturally he turned to Woods Hole Oceanographic Institution (WHOI), which has operated Alvin since it came on line in 1964. He correspondended with Dudley Foster, who retired in 2006 after a 32-year career as an Alvin pilot. Foster and others at WHOI provided enough info for Ryder to start building the model of Alvin as it looked in the late 1970s when Foster had piloted it.
"The entire project was a true engineering challenge," Ryder said. It took three years to complete.
Attention to details

He designed and built a ballast system to allow the model to submerge and surface. A solenoid valve vents air out and allows the sub to dive; a second solenoid valve releases propellant from a copper holding reservoir and allows the model to surface.
He also designed a pressure hull that remains watertight as the rest of the model fills with water. The hull contains the electronics and motors to operate propellers and thrusters. It took Ryder six weeks to evaluate and install the electronics and motors necessary to operate the model within the limited space of the pressure hull.
"Whatever could not be purchased needed to be fabricated, and I was fortunate to have a metal lathe and milling machine in my workshop for making the parts," he said.
The body is made of 1/8-inch-fiberglass, with other parts made of brass, stainless steel, and polycarbonate. Two 6-volt batteries supply power for the electronics, motors, four floodlights and additional lighting. Ryder fabricated the floodlights using the bodies of small flashlights that he modified on his lathe. The model is even equipped with a waterproof color television camera mounted on the front, directly behind the sub's sample basket, which allows the model operator to see what's going on while it is submerged. The video is wirelessly transmitted to a small TV on dry land.
In the end, Ryder's 3-foot-long model weighed more than 80 pounds and could be controlled via a nine-channel computerized radio system.
A new home for Li'l Al
The fun was engineering and building it, not having it, though. "The library in our town asked me to display the model of the Alvin as well as some of my other models," he said. The exhibit was presented on the library's website. It also appeared on a website for radio-controlled models, where it was quickly spotted by someone with a predilection for Alvin memorabilia—Bruce Strickrott, an Alvin pilot since 1996 and now Expedition Leader in the Alvin Group at WHOI.
"Bruce originally contacted me in early 2011, and at that time I was reluctant to sell the model," Ryder said. "We communicated again in December of 2012, and I decided it was the right time for my Alvin to have a new home, and we decided on delivery arrangements. I told Bruce that to prevent any damage, the only way I'd do this was if I deliver it myself."
So in February 2013, he and his wife packed the model in their car and drove to Woods Hole. They pulled their SUV onto Iselin Dock, where the real Alvin was in the process of a major overhaul.
"I opened the hatch to our SUV, and it was 'Little Alvin meets Big Alvin,' " Ryder said. "It was a once-in-a-lifetime experience. Dudley and Bruce were there, and they and other staff treated us like VIPs."
What happened next also made Ryder happy. Strickrott decided to put the Alvin model in the WHOI Ocean Science Exhibit Center. Manager Kathleen Patterson had a special case built for it and put it on display at one entrance of the center.
"As people come through the door, it's the first thing they see, and it's impressive," she said. "One of our most popular exhibits is a simulation of Alvin's personnel sphere, and the model of the full sub gives people a better perspective of how the sphere works inside the vehicle. Then they spend time looking at all the other pieces of the Alvin model, from the thrusters to the mechanical arms. I love having Mr. Ryder's model, and I'm glad we could give it a good home."
Ryder has not decided on his next project as yet. "Marcy and I are talking about some travel, and perhaps we'll make an East Coast trip.  Bruce said I will always have visitation privileges to see 'Li'l Al'… and that's a good thing."
Related Articles
Featured Researchers