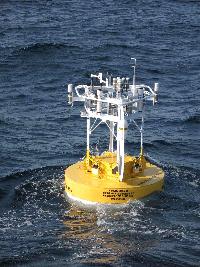 Surface buoy deployed in core of gulf stream, Nov. 2006. Equipped with two ASIMET systems; also equipped with Direct Coveriance Flux System (DCSF) by Ji, Edson, U. Conn. (R. Weller, WHOI)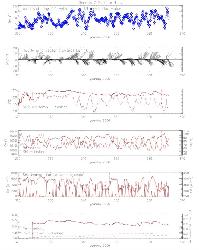 Time series of hourly surface meteorlogical data telemetered from the surface buoy located at 38.5?N, 65?W. Blue diamonds are mean winds courtesy of Kim Edson, U Conn. (R. Weller, WHOI)




CLIMODE

Collaborators:
Postdoc Sebastien Bigorre, Jim Edson (U. Conn.)

CLIMODE CLIMODE, the CLivar Mode water Dynamics Experiment) is a multi-investigator project to study formation of ?Eighteen Degree Water? (EDW). EDW is the subtropical mode water of the North Atlantic. Study of EDW and its formation near a strong baroclinic front will improve understanding of this and other mode waters that form adjacent to strong baroclinic fronts in other locations around the world. These formation regions have energetic air-sea interaction. EDW is created in the winter just south of the Gulf Stream, by convection in the presence of strong shear, with competing effects of vertical/lateral mixing and advection/stirring colluding to set its properties (e.g. Worthington 1959, 1976; Schroeder et al, 1959; Ebbesmeyer and Lindstrom, 1986). CLIMODE will use both winter measurements and year-round observations to assess the role of each of these processes in EDW formation. A mix of surface moorings and subsurface moorings, together with surface drifters and profiling floats, will collect data from November 2005 through November 2007. Two cruises, one in winter 2005-2006 and one in winter 2006-2007 will make ship-based oceanographic and atmospheric observations and deploy a drifting mooring to observe surface forcing and the evolution of the upper ocean in the region south of the Gulf Stream between the two moored profiler moorings. Our work centers on the observations and accurate quantification of the air-sea fluxes in the CLIMODE region. Ocean Cruise 418 initiated our field phase of CLIMODE, sailing from Woods Hole on November 9, 2005 and returning to Woods Hole on November 27, 2005. The objectives of the cruise were to deploy a surface mooring in the core of the Gulf Stream near the annual maximum in air-sea heat exchange for Bob Weller and Jim Edson, two moored profiler moorings on the southeastern edge of the Gulf Stream for Fiamma Straneo, two additional sound source moorings (the two moored profiler moorings also carry sound sources) for Dave Fratantoni, launch surface drifters (Rick Lumpkin), deploy profiling APEX floats (Lynne Talley), deploy bobbing RAFOS floats (Dave Fratantoni), and collect CTD profiles and water samples (Lynne Talley, Susan Lozier). Oceanus Cruise 434 (Nov. 16-Dec. 3, 2006) recovered and redeployed the surface mooring and two moored profiler moorings. The surface mooring is being maintained in the region of maximum air-sea heat exchange to accurately quantify air-sea fluxes there and to observe the vertical structure of the upper ocean. The two moored profiler moorings were deployed on the southern flank of the Gulf Stream where EDW forms. These subsurface moorings had a flotation sphere at a depth of approximately 65 m and instrumentation to observe velocity, temperature, salinity, and nutrients between 630 m and just below the flotation sphere at the top of the mooring. Sounds sources on these moorings as well as on the fourth and fifth moorings deployed during the cruise provided the means to track the RAFOS floats. On the track between the mooring sites as well as at the mooring sites, CTD profiles and water samples were collected and floats and surface drifters deployed. Worthington, L.V., 1959. The 18? water in the Sargasso Sea. Deep-Sea Research.,5, 297-305. Worthington, L. V., 1976. On the North Atlantic Circulation. Johns Hopkins Oceanographic Studies, 6. Schroeder, E. H., H. Stommel, D.W. Menzel and W. H.Sutcliffe, Jr. 1959. Climate stability of eighteen degree water at Bermuda. J. Geophys. Res., 64, 363-366. Ebbesmeyer, C. C. and E. J. Lindstrom, 1986. Structure and origin of 18? water observed during POLYMODE Local Dynamics Experiment. J. Phys. Oceanogr., 16, 443-453.