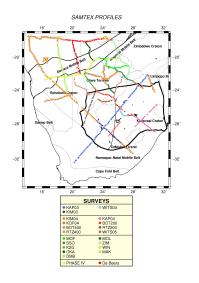 A map showing the locations of MT stations at the end of Phase IV of the SAMTEX project. To date, more than 700 sites along more than 9000km of profile length have been completed.



A Magnetotelluric Transect Across the Kaapvaal Craton: The SAMTEX Experiment
Initiated in 2003, the Southern African Magnetotelluric (MT) Experiment (SAMTEX) is being conducted by a consortium comprising academic, industry and government partners representing five countries from around the world. When completed, it will be the largest land-based MT study yet performed, and to date includes the collection of MT sounding data with broadband (~0.002 s to ~6000 s) magnetotelluric (BBMT) instruments at more than 700 sites. Long period (20 s to ~10,000 s) magnetotelluric (LMT) instruments were installed at approximately a third of the sites to enhance depth penetration. The total length of the profiles is well over 9,000 km, with a BBMT station spacing of nominally 20 km, and an LMT spacing of 60 km (every third BBMT site) and includes a wide variety of Archean and Proterozoic terrains.
The survey is being conducted in order to gain insight into the electrical structure of the crust and lithospheric mantle beneath the cratons of southern Africa and their surrounding terranes, and from that knowledge to infer Archean and Proterozoic processes of formation and deformation. The main profile of the survey, traversing the Kaapvaal craton from SW-NE, is largely coincident with a seismic experiment (SASE) and it is expected that the combined results of SASE and SAMTEX, together with the superb geochemical knowledge, should complement each other and add considerably to our understanding of southern Africa.
More information can be found at the SAMTEX home page. A publication on the main line is now in print at J. Geophys. Res.