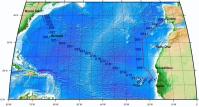 The red line shows the cruise track for take 1 of the US Geotraces North Atlantic Zonal Transect on the R/V Knorr in October 2010. The rest of the stations will be completed in October 2011 on the R/V Atlantis. (Bill Jenkins)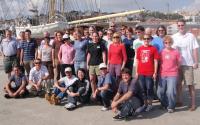 Group photo of cruise participants on the 2010 US GEOTRACES North Atlantic Section. Dan Ohnemus represented our lab and is third from the left, standing. The photo was taken October 14, 2010, in Lisbon, Portugal the day before the ship left.




U.S. GEOTRACES

Collaborators:
Chief Scientists: Bill Jenkins, Ed Boyle, Greg Cutter and many other collaborators

GEOTRACES is an international study of the global marine biogeochemical cycles of trace elements and their isotopes. The GEOTRACES mission is: To identify processes and quantify fluxes that control the distributions of key trace elements and isotopes in the ocean, and to establish the sensitivity of these distributions to changing environmental conditions. Our role will be to collect and analyze size-fractionated suspended marine particles for major and minor element composition.

We completed the first US GEOTRACES transect across the North Atlantic in 2010 and 2011, and are now gearing up for the second US GEOTRACES transect in Oct-Dec 2013 in the eastern tropical Pacific from Ecuador to Tahiti!

See the International GEOTRACES Project Office webpage here.