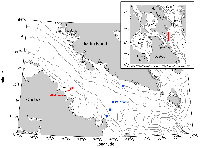 bathymetry (ETOPO5) for the Hudson Strait region. Also shows mooring locations in 2004-2005 (in 2005-06, mooring B was relocated to offshore of A) and the larger Hudson Bay region. (D. Sutherland)




Variability and transport in the Hudson Strait outflow

Collaborators:
Fiamma Straneo, WHOI Steve Lentz, WHOI

This project aims to characterize the transport and variability of the Hudson Strait outflow region using moored observations. The moorings were deployed from 2004-2007 in various configurations across the outflow region. I am looking at the 2005-06 year to try and understand what causes freshwater pulses to be observed on day-week timescales. I will also be helping in constructing a volume and fresh water transport time series for the outflow region, which has not been done int he past.