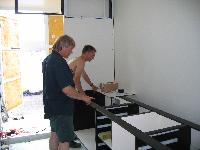 Wolfgang and Heiko assemble the lab at the WHOI dock (BPE 8/23/05)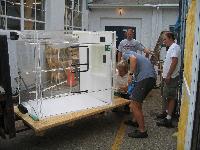 A PicoTrace work bench is loaded into the clean lab. (BPE 08/30/05)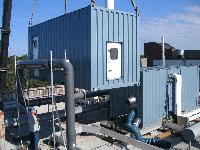 The PicoTrace clean lab is lifted onto the roof of the Clark Laboratory and installed next to the support container van. (BPE 09/03/05)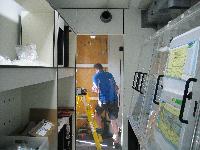 Wolfgang is finishing the installation of the lab on the Clark Laboratory roof. (BPE 09/04/05)




Mobile PicoTrace clean laboratory

Collaborators:
PicoTrace GmbH (Germany) Dr. Alfred Schneider Dr. Wolfgang Kuestner Heiko Fluegger WHOI Facilities Team under the leadership of Ernie Charette and Rick Galat.

In collaboration with PicoTrace GmbH, WHOI has built a trace metal clean mobile laboratory consisting of two container vans. One van houses support equipment (air handling unit, power, gas and water supplies) while the other van has been equipped by PicoTrace GmbH with a state-of-the-art metal-free clean room. The two units are located on the roof of the Clark Laboratory on the Quissett Campus in Woods Hole, but are designed as seagoing laboratories. This lab was designed and built to offer a contamination-free environment for those ultra-trace-element analyses that have been compromised by the fire in the ion microprobe (NENIMF) laboratory in October 2002. Pervasive soot-contamination of all our clean laboratories made extensive clean-up necessary and triggered the design and construction of this new clean lab. This state-of-the-art laboratory is the first clean laboratory of its kind built by PicoTrace GmbH in the USA and has been used by us since 2006 for the most demanding geochemical applications (e.g. stable rhenium isotope analyses).