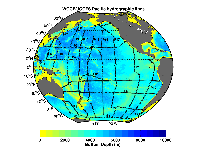 WOCE-era Pacific hydrographic sections used to calculate the underlying circulation to which the observed concentrations of dissolved inorganic carbon and derived concentrations of anthropogenic carbon will be applied. (A. M. Macdonald)




Collaborative Research: Relating Estimates of Natural and Anthropogenic Carbon to the 3-Dimensional Circulation of the Pacific Ocean



Collaborators:
Sabine Mecking (APL/UW)



To predict the progression of CO2 increases in the atmosphere and the evolution of anthropogenic climate change a detailed, quantitative understanding of the interaction between ocean circulation and oceanic carbon sources and sinks is required. We hypothesize that abyssal flow into the Pacific Ocean represents a significant pathway for anthropogenic carbon entering the basin from the south to circulate into the deep North Pacific, while the shallow cell which crosses from the southern to the northern hemisphere supports a pathway for recently ventilated, and therefore carbon rich waters into the intermediate layers of the northern basin. Here, we propose to use the existing 3-dimensional Pacific circulation provided by a synthesis of WOCE hydrography together with JGOFS/OACES measured or derived total inorganic carbon values, pCO2 derived air-sea CO2 fluxes, and a variety of derived anthropogenic carbon estimates based on observations from the same time period to investigate the transport, divergence and air-sea flux of contemporary and anthropogenic carbon in the full Pacific Basin, and to compare these results to those from model and assimilation based studies, and pCO2 based estimates alone.