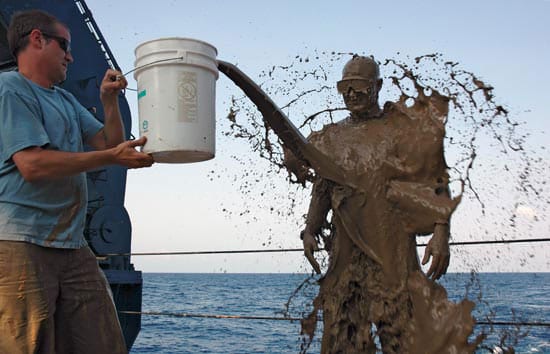 People Around WHOI
Hail the conquering Alvin pilot
Most people receive flowers or a card to honor a special achievement. Seagoing folks have their own sometimes quirky, rituals. When Mark Spear stepped out of the submersible Alvin on May 9, 2006, as Woods Hole Oceanographic Institution's newest deep-sea pilot, fellow pilot Gavin Eppard greeted him with a traditional baptism on the deck of the research vessel Atlantis (top photo at right).
"While my clothes were pretty much ruined, the mud did wash off after just a few showers," Spear worte in an e-mail from the ship. "Actually, I think I was lucky because in the past, kitchen garbage has been used, and that smell lasts for days."
Spear's first solo dive as pilot came, after years of training, during an expedition in the Gulf of Mexico. Spear, an Iowa native and mechanical engineer, is the 36th person to complete pilot training in the 42-year history of the submersible.
Photo by Jeremy Potter, NOAA Office of Ocean Exploration
---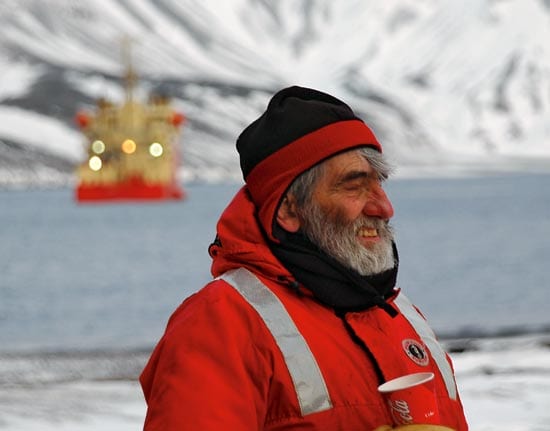 A polar birthday
Celebrating—but definitely not in an easy chair—WHOI biologist Rudolf Scheltema spent his 80th birthday in Antarctica in May 2006. He was co-leader of a research cruise studying how ocean currens and eddies carry larval animals from South America to Antarctica. The research group held a picnic in his honor of frigid Decption Island and toasted Rudi with a glass of well-iced champagne.
Photo by Steve Alexander, Worldoceans.com
---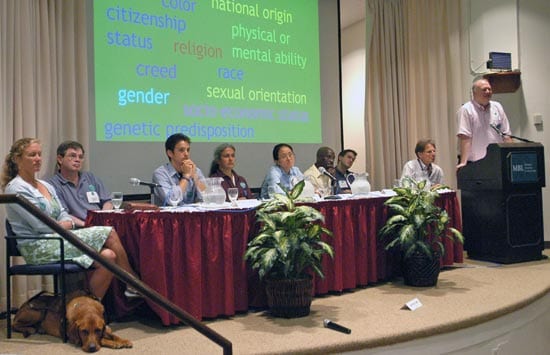 Woods Hole Diversity Day
When Britt Raubenheimer began losing her eyesight, it didn't mean ending her scientific career at the Woods Hole Oceanographic Institution. "It just meant using new technology and developing new, non-traditional ways of doing field research," said Raubenheimer, a scientist in the WHOI Applied Ocean Physics and Engineering Department who shared her story as part of Woods Hole Diversity Day 2006.
The Aug. 10 event, the first of its kind in Woods Hole, underscored the commitment of six local scientific institutions to attracting and retaining a diverse scientific community that welcomes people of all abilities, cultures, and backgrounds.
Joining Raubenheimer (and her guide dog, Whit) for the discussion were members of those institutions, including (from left in bottom photo) Eric Sundquist, United States Geological Survey; Philip Petrone, Sea Education Association; Nadine Laport, Woods Hole Research Center; Wen-lu Zhu, WHOI; Harold Foster, National Marine Fisheries Service; Benjamin Walther, WHOI; and Gary Borisy, Marine Biological Laboratory. Standing is moderator Chance Reichel, president of the Academy of Project Management, Inc.
More than 200 people attended the free event in Woods Hole Village, which included a street festival with food, prizes, and live Brazilian music. For information about ongoing activities associated with Diversity Day, visit www.woodsholediversity.org.
Photo by Jayne Doucette, Woods Hole Oceanographic Institution